By Lucy Komisar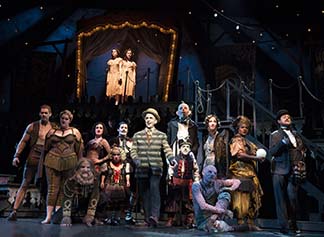 Based on the real story of the conjoined twins, Daisy and Violet Hilton, who in the 20s and 30s had a glamorous career in vaudeville – even touring with Bob Hope – this fascinating musical is colorful, clever, and funny. It also has some subtle, non-preachy things to say about who is a "freak."
The story takes us back to when the sisters —  Emily Padgett as Daisy and  Erin Davie as Violet,  both outstanding  — were teens forced by their stepfather to appear in his carnival.
We get a look at the nature of the individuals who by physical condition appeared to have little choices in life, of their solidarity, and of the meanness of the carnival owner from whom the sisters were rescued by Terry (Ryan Silverman), a vaudeville talent scout, and Buddy (Matthew Hydzik), a voice and dance master.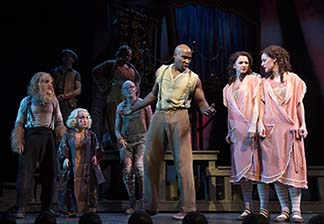 David St. Louis is good as Jake, the sisters' protector, who leaves the carnival, where he played a garish chained African cannibal, to work backstage in their new gig. He has a fine baritone in which to express his feelings for them.
Padgett and Davie are charming as the sisters with very different personalities and goals. That shouldn't surprise, it's true for normal twins. And the Hiltons make a point of wanting to be normal.  Daisy (Padgett has a lovely soprano) wants to be acclaimed. Violet wants to settle down.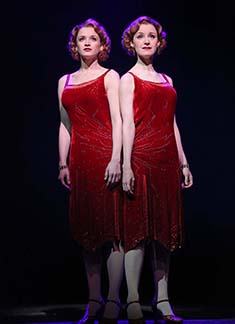 When the young women join the Orpheum Circuit, we see how good they are. Writer Anthony Van Laast turns their disability into a clever, good-spirited theatrical routine that never abuses them.
They sing that "We're very well connected" and "I will never leave you." With the backdrop of Dad's Glue Factory, they do a song-and-dance number called, "I am stuck with you."
Bill Russell's choreography takes full advantage of the jazzy era. Dressed in glittery velvet red strap gowns, they give a new meaning to syncopated dancing. They are shown not as freaks or handicapped, but as glamorous.
When they go to court to win their freedom from the stepfather/carnival owner (Robert Joy) who says he legally controls them, a reporter asks, "If you win your freedom, what do you intend to do? "
Violet says, "Have a cocktail." Daisy says, "Have a man. Their promoters interject, "Earn a living." And they did.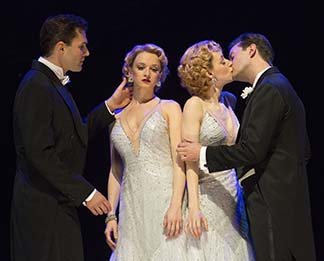 Of course the question of romance comes up pretty soon. The press wants to know about their love life. A great number is "One plus one equals three," in a bed with three hearts: "my baby, her sister and me."
Terry wants Daisy alone and urges her to undergo a dangerous operation to split her from her sister. Buddy says he wants to marry Violet, but there is a major impediment which he hasn't revealed.
A stunning number, "Who will love me as I am?," is suddenly joined by the "freaks" from the sideshow.
Charity Angel Dawson, the carnival Fortune Teller, is a terrific blues singer. Javier Ignacio, who plays Houdini, surprises us by arriving upside-down on a hanging rope and then breaking into a fine baritone. In fact, the singing in "Side Show" is among the best on Broadway.
Director Bill Condon has succeeded in creating a mood that is both upbeat and realistic. It's an extraordinary production.
"Side Show." Book & lyrics by Anthony Van Laast, music by Henry Krieger, directed by Bill Condon,  choreography by Bill Russell. St. James Theatre, 246 West 44th St., New York City. 212-239-6200 or 800-432-7250. Opened Nov. 17, 2014; closes Jan 4, 2015. 12/12/14.