By Lucy Komisar
Here's a case in which it helps to pay attention to the playbill. Michael Frayn's 1982 classic play within a play, or in this case, a farce within a farce, gets a first rate production by Key West's Waterfront Playhouse under the deft hand of artistic director Danny Weathers.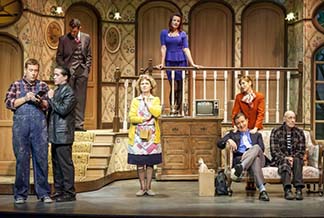 Even if you don't know the script, the opening play called "Nothing On" seems an odd disaster. Roger Tramplemain (Brandon Beach), a real estate agent is taking his girlfriend Vicki (a very good screaming- red-head Erin Mckenna) for a few days at a country house he is supposed to be renting out. The property owners Philip and Flavia Brent (David Black and Susannah Wells) are conveniently in Spain to clock resident days in order to cheat on British taxes. Vicki, who is always angularly posing, has the opportunity to prance around in her underwear. (Non-salacious attire is by Carmen Rodriguez).
Then the Brents sneak back. Doors open and bang shut as Vikki in her underwear seeks to elude them. Mrs. Clacker, the cockney maid (a terrific Joan O'Dowd), runs around balancing a plate of sardines which you think have to be glued to the plate. At the wrong moment, a burglar (the wonderful Tony Konrath) climbs through a window.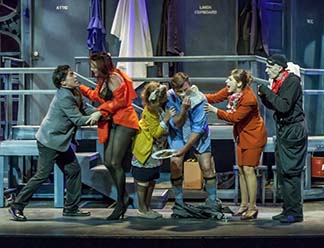 "Noises off" is a theatrical stage direction indicating that sounds are coming from offstage. And we find out soon enough, in the second act, what is going on there. And why the "actors" are destroying the "play" we just saw.
The play in effect is a series of jokes about the theater, based on the notion that what goes on backstage is even more interesting than what happens on. Especially when the one of the crew is in love with the director, who is sleeping with one of the actors; when everyone cooperates to keep the booze away from one of their number; and when wrong cues and pratfalls, forgotten lines that mangle the script and boisterous quips that spark it all coalesce in perfect timing that sometimes races, then collapses into a weird, quiet calm.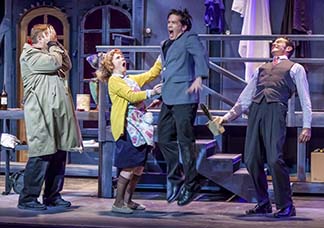 The stage manager picks up a microphone and announces, "The curtain will rise in 2 minutes." A few minutes later, someone else retrieves the mike and declares, "The curtain will rise in 3 minutes." We see the exits and entrances, and watch the "actors" fight over scenes, upstaging each other. Things go more than awry. "I love a technical," declares cynical, sarcastic director Lloyd Dallas (Matt Hollis Hulsey) who alternatively screams at the actors and supplies the insecure among them with outlandish motivations.
The result is a wonderfully satirical treatment of both the real actors' world and the traditional classical farce. And both the real story and fake story highlight the human realities – desire, jealousy, betrayal — evident in both.
"Noises Off." Written by Michael Frayn, directed by Danny Weathers. Waterfront Playhouse, 312 Wall Street, Key West, FL. (305) 294-5015.   Dec 16, 2014 to Jan 10, 2015. 1/22/15