By Lucy Komisar
A jazzy glorious sound fills the living room of the Harry Truman Little White House, in Key West, where the 33rd president took winter vacations, playing poker with his buddies. It comes from the rich, luscious voice of Miriam Pico and the fine jazz piano of David Chown.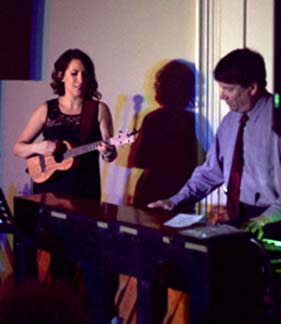 A few times a month, cabaret takes over the building built in 1884 where Truman during his presidency spent some winter weeks. The living room, except for the intimate collection of a few dozen round tables for the cabaret shows, is as it was then.
Pico and Chown, who are based in Traverse City, Michigan, appear in Key West  from time to time. They sometimes have a New Orleans sound. A flavor of Spain or Elton John. Pico does "Send in the Clowns" with high drama. And "Those were the Days" enhanced by her guitar. Every song becomes a story, and something better than you expect.
I liked her terrific "Bobby McGee" with a rocky, jazzy, country sound and the stirring phrase, "Freedom's just Another Word for Nothing Left to Lose."
Chown's fingers fly over the tinkling, mood-changing keys of the piano, creating an elegant, vivid sound.
The series at the Little White House was started a few years ago by Key West cabaret singers Bobby Nesbitt and Carmen Rodriguez, who perform there and at other venues on the island.
You can buy wine and get free hors d'oeuvres before the show and at intermission.
"Pico and Chown, Back in Town" – Songs from the Great American Songbook, Jazz, Pop and Originals. Truman Little White House, 111 Front Street, Key West, FL. Jan 10-13, 2015. Events Calendar.