By Lucy Komisar
Edward Albee, who is gay, has made a fine dramatic career skewing the gloomy relationships of heterosexual couples and establishing the women as villains. (This may have started because he hated his adoptive mother.) His 1962 "Who's Afraid of Virginia Woolf?" made his reputation.
This 1966 play continues the theme a few years later.   The partners of the two married couples don't sleep with each other, and the daughter of one of them has just left her fourth husband. Most of the blame is on the distaff side. Yes, I know that the director is a woman, Pam MacKinnon. And with her  taught direction, the actors are superb.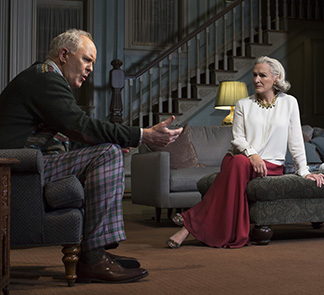 Compared to Virginia Woolf, the main couple is not so horrible. They don't try to almost kill each other. Not overtly. But maybe more subtly. But it's a new riff on the same idea. Married men and women, yuch! Audiences seem to like this. Theatrical Schadenfreude?
The set is upscale suburban "villa" – or that is what they would call it in Europe where the rich are not so nervous about words that denote great wealth. I would guess Greenwich CT. Very upper idle class.  That is not a typo; it's a cut above middle class. They are not working and they have servants.
The living room has a black marble fire place, a long elegant sofa, and a painting that looks like a gallery sold it for substantial bucks. From the high ceiling drops a huge crystal chandelier. The man of the house, in his 60s, Tobias, (the alternately understated  and powerful John Lithgow), is in plaid slacks. What men wore in the Greenwich prep school set.
At the center of the story is Tobias's wife Agnes (Glenn Close), the passive aggressive matriarch, though that is using the term too strongly.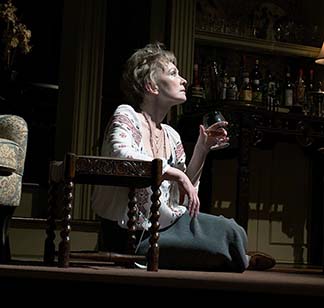 Agnes is thinking about losing her mind, that she might some evening go mad. Close shows her so "to the manor born" that it takes a moment to realize that her remarks are masking deep unhappiness.
Then she segues into, "Sharper than a serpent's tooth is a sister's ingratitude." Agnes's alcoholic sister Claire (Lindsay Duncan) has come to visit. Stay?  Meanwhile, the mild-mannered Tobias sits chomping on a cigar.
In the course of the evening, other individuals, friends and family, descend.
But the backstory is of Agnes, in Albee's view, the woman who oozes a poison that fills the house.
First victim: the husband.  When she declares, "There are no mountains in my life or chasms," he tells her to take drugs. And "be kind, please."
Agnes wishes her sister Claire would fill the bathtub with booze and drown. But then Claire informs us that Tobias and a friend cheated on their wives with the same women. (Do we wonder how she knows?) They get a pass on that, perhaps because their wives are so over-bearing. Lindsay Duncan is a superb Claire, just the right amount of  cynicism mixed (pun intended) with desperation.
Then daughter Julia (the excellent Martha Plimpton) arrives home, having split with her husband.
In a typically Albee bizarre interlude, Tobias tells a shaggy dog story about his cat, who didn't like him. He knows that because she didn't purr. It all seems a little nutty, about love as self-love, self-indulgence and self-pity.
But there's more. The couple's friends Edna (Clare Higgins) and Harry (Bob Balaban) arrive, Edna in mink. They left their house, because they got scared. And they've come to camp out in Julia's room.
Albee understands that if he makes it bizarre enough, he can take an almost TV sitcom story and turn it into a play acceptable to Broadway audiences.
I loved the character Claire, because she is the only one who seems aware of what is going on. She sees through the angst adopted by Edna and Harry who announce they are going to stay.
That creates a problem for Julia, who at 36, at the collapse of her marriage, thinks her parents owe her more than forcing her to give up her room to Edna and Harry.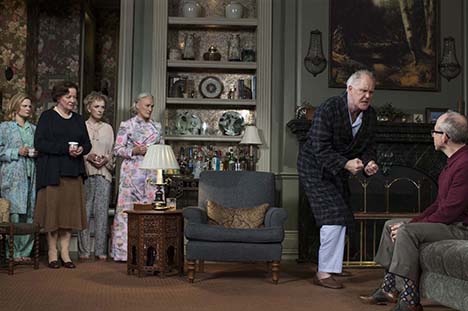 And then it gets ugly, or confused.  Tobias can't figure out if he wants his friends to stay or not. He alternately screams and pleads with Harry, "go, no stay."
Albee wants us to consider this a commentary  on friendship.
After all this craziness, Agnes insists she is "keeping the balance." Ergo the title.
Back to sex, or its lack. Agnes and Tobias stopped sleeping together when their son died and she wanted another child. Tobias refused her wish and took to his own room. It was his way of getting back at her.
It's not clear why Edna and Harry don't have sex. Harry doesn't seem interested, but you get the feeling it's probably the passive-aggressive Edna's fault. Women = passive aggressive, right?
Have to admit that the play is entertaining — the way TV sitcoms are —  even though I found the sexual politics objectionable. And yes, to repeat, Pam MacKinnon is a first-rate director.
"A Delicate Balance" won the Pulitzer Prize for Drama in 1967. I can't tell you who the jurors were. I don't think the majority were women.
"A Delicate Balance." Written by Edward Albee, directed by Pam MacKinnon. Golden Theatre, 252 West 45th Street, New York City.  212-239-6200. Opened  Nov 20, 2014; closes Feb 22, 2015. 2/2/15.