By Lucy Komisar
This is the back story of Grimm's fairy tales, for adults. It's a deconstructed Grimm's.
The show, with music and lyrics by Stephen Sondheim and book by James Lapine, was a brilliant conception when it was first produced in 1986.
Grimm's fairy tales were morality tales. Having the fairy tale characters intersect with their stories, Sondheim and Lapine turn the woods into a metaphor for the challenges of life. The message is that the woods are full of dangers; be careful what you wish for. It's also about community.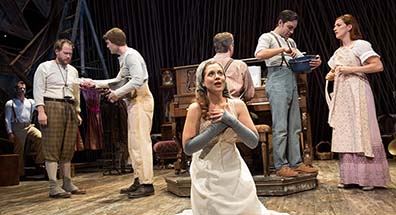 In these fairy tales, the characters wish for life-changing events: the Baker and his wife want a child, Cinderella wants to marry the prince, Rapunzel wants to be saved from the tower.
But the Fiasco Theater's story is sharper, more edgy than it's been in the past, partly because directors Noah Brody and Ben Steinfeld, who also play roles, have smartly eschewed  leafy green woods and use a set (designed by Derek McLane) that looks like a backstage or rehearsal space, with an upright piano and pieces of furniture, a dressmaker's dummy, a ladder, chandeliers hung from the ceiling. Birds are fluttering papers held by the actors, many of whom also play instruments and wait at the sides when they are not in a scene.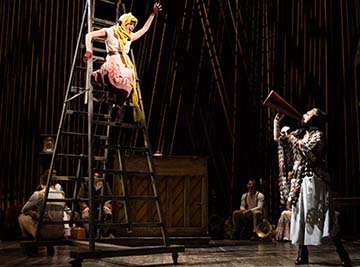 To that, add a bit of camp. Red Ridinghood (Emily Young) fills up her basket for grandmother with goods from the bakery and suddenly filches a bottle of wine. (Later you will see her drunk.) The sisters of Cinderella (Claire Karpen) are played by guys (Brody and Andy Grotelueschen) who move in tandem holding a curtain rod, the curtains being their dresses. Rapunzel (Young), with knitted blonde hair, perches on a ladder.
There's corruption: The Witch (Jennifer Mudge) from next door, with a crocheted shawl, has put a spell on the Baker's family because his father stole her garden greens. There's a riff on Jack and the Beanstalk: "I give and you take, everyone tells tiny lies. The end justifies the beans." When Jack's mother (Liz Hayes) sells his beloved Milky White cow (a charming Grotelueschen), the animal heads off carrying a satchel. The lyric "into the wood to sell a friend" takes on a corporate meaning.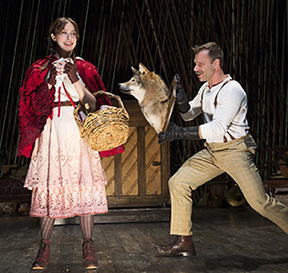 There's other bad stuff. The Wolf (Brody), is a sexual predator. He sings a wolfish "Hello, Little Girl. And later Little Red sings "I Know Things Now," about sex. But the Wolf will be beaten. At the start,  his head is a stuffed trophy on a plaque. She would be another one. Then a mark of his defeat, Red is seen wearing a cape of wolf's fur.
There are feminist jokes: "I have no children says the Baker's Wife (Jessie Austrian). "That's OK too," says Jack's mother. The Witch promises the Baker couple a child in return for a milky white cow, a red cape, blonde hair, and golden slippers. The Baker's Wife wants to help find the items, but her husband is a bit incompetent, jerky, and insists on doing all himself. She is cleverer. She sings, "It Take Two," about relationships. Then  she gets the objects herself.
Cut to the chase, they get their wishes. But then what? The Baker's Wife, with a baby, wishes they had more room. All are threatened when a giant climbs down the beanstalk to retrieve  the harp Jack (Patrick Mulryan) stole when he climbed it. (It grew from the beans, remember.) When the giant  crushes some dwellings, the Baker's Wife declares, "We are moving."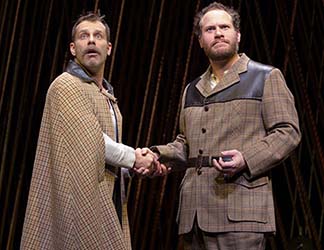 The princes who married Cinderella and Rapunzel are bored.  They are  looking around for new women, and their descriptions of the ladies they desire  fit Sleeping Beauty and Snow White. One says, "I want unattainable women."    The poor guys sing of their (hokey) "Agony."
And what has happened to the community that existed earlier when people helped each other in their quests? Now you hear, "Doesn't anyone care a giant has fallen from the sky?" and "No one cared when there was giant in my backyard." Who's to blame? "Your Fault," the characters sing. The fairy tales have descended into reality. But what a witty, clever reality we see.
The actors have elegant voices solo and in chorus. Jessie Austrian as the Baker's Wife, Claire Karpen as Cinderella and Emily Young as Little Red Ridinghood and Rapunzel are particularly good. But then so are Noah Brody as the Wolf and Cinderella's prince, Ben Steinfeld as the Baker and Jennifer Mudge as the Witch. What a multi-talented company! Not to leave out pianist and music director, Matt Castle and costume designer Whitney Locher. Of course, Sondheim's music and lyrics impart  his usual sophistication  to Lapine's smart revisionist Grimm's. Watch  the video for a taste.
"Into the Woods." Music and lyrics by Stephen Sondheim; book by James Lapine; directed by Noah Brody and Ben Steinfeld; choreography by Lisa Shriver. Fiasco Theater production, presented by Roundabout Theater Company, Laura Pels Theater, 111 West 46th Street, New York City. 212-719-1300. Opened Jan 22, 2015, closes April 12, 2015. Running time 2:40. 1/6/15.