By Lucy Komisar
March 30, 2015
In a talk to the Council on Foreign Relations Thursday, Afghanistan's president, Ashraf Ghani, spoke of the international drug trade and grand corruption damaging his country.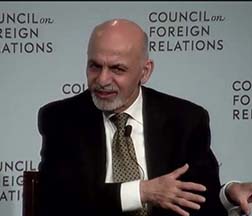 He said: "The global criminal economy is 1.7 trillion [dollars] a year. Afghanistan is certainly among the 20 top contributors to this because of the heroin trade. But heroin has been sidelined as a phenomenon and its impact.
We have at least 15"or 35 people who are worth $10 to $20 billion, and they have yearly income from this trade, it's 300 to $500 million. We"they fuel insecurity. So, that, again, needs to be understood."
And, "The first problem is grand corruption. Corruption is the system." He emphasized that "corruption has become very deep and entrenched and we have to break it."
So, I asked him this: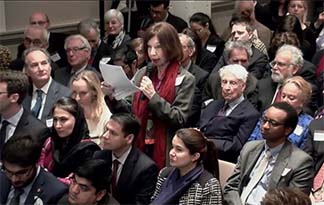 You talked a number of times about the grand corruption and also about the international drug trafficking that has a number of billionaires in your country.
To what extent do you think that this is facilitated especially by the big players, by the international offshore bank and corporate secrecy system, where they can stash their money in accounts that do not have their names?
Do you think that the system, which is controlled by the Western financial powers, should be changed so that bank accounts and shell companies are listed in the names of their true beneficial owners?
GHANI: I am for transparency, across the board.
Robert Rubin, the former Treasury Secretary, was the presider.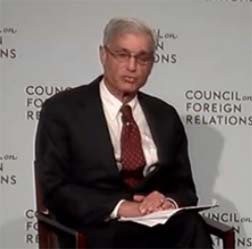 RUBIN: What, Mr. President?
Ghani's response was good only if you read into it the obvious, that opaque accounts are bad. But it was too short an answer, lacking the detail he should have included in a room full of press if he was serious about the issue.
Then, I was curious about Rubin's interjection. Did he not understand? Or was he concerned that Ghani favored banking transparency?
At the casual buffet lunch after the talk, I asked Rubin how he would have answered my question. Did he think offshore bank and corporate secrecy should be abolished?
He had a quizzical look on his face and, replied that he really didn't know about offshore. "Talk to [Treasury Secretary] Jack Lew," he said.
Why Lew, when Rubin had had the same job? Plus, if Rubin, a former director, senior counselor and chairman of Citigroup, doesn't know about offshore banking, one wonders at his expertise. Last time I looked, Citigroup had about 150 offshore subsidiaries. (They are listed in its SEC filing.)
I repeated Rubin's comments to a TV news figure at the lunch with whom I had just discussed Ghani's response. He was also surprised.
Later, I talked to a financial industry person who had contact with Rubin at Goldman Sachs in the late 60s where he worked in the risk arbitrage department. He said, "At Goldman, he helped structure things ˜tax efficiently.' He is very knowledgeable in this area." Tax efficiently is a euphemism for so that you dodge taxes.
When efficiency equals tax cheating
Losing tax receipts to offshore efficiency is something that should have concerned Rubin when he became Treasury Secretary about three decades later. Because he knew from the inside how the system works. But he didn't do anything about it.
So maybe Ashraf Ghani is for offshore transparency. But he won't get any help on changing U.S. or international financial rules from Robert Rubin.
Here's the report I did on Citibank's history of corruption, much of it involving offshore. It was presented at the Public Eye on Davos, the counter Davos, in 2006, when the Public Eye Award in the Tax Category was presented to Citigroup. Though the bank president, Charles Prince, was in town, he did not respond to an invitation to accept the prize. So I did.
Click here for the Council meeting video, audio and transcript. My question starts about 34 minutes in.