By Lucy Komisar
March 16, 2015
You don't expect the CIA director to give away the crown jewels, but you do expect him to take seriously a question about the offshore bank and corporate secrecy system. That is the opaque system of bank accounts and shell companies set up in banking centers and networked islands and mini-states and used by terrorists, criminals, arms traffickers, corporate crooks, tax evaders and the like.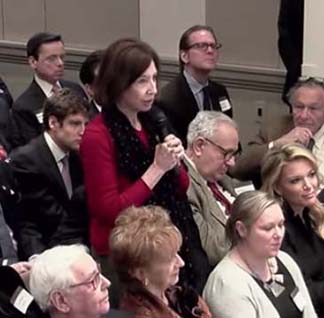 But when I asked him about it at a Council on Foreign Relations meeting March 13th, that was broadcast on the Charlie Rose show that night, he evaded and waffled.
QUESTION: "My name is Lucy Komisar, I'm a journalist. How significant is the use by terrorists, terrorist groups, of the international offshore bank and shell company system, which is also, as we know, used by international criminal groups as well as tax evaders and all kinds of bad guys?
And if it is significant, is this now the time to try to bring some transparency to the system by saying that nontransparent system banks and other institutions cannot have access to the American financial system?"
BRENNAN: "There are a variety of reasons why there needs to be, I think, greater transparency in some of the international financial activities that go on, terrorism being one of them.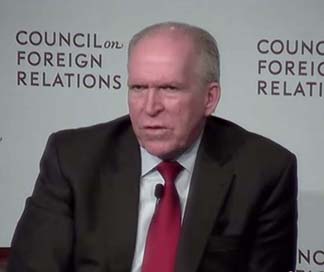 Terrorists have been particularly enterprising and creative in terms of how they take advantage of the opportunities that are out there.
I must say that the U.S. Department of the Treasury as well as other institutions of the U.S. government have been very, very effective and successful working, again, with international partners to try to uncover and uproot this. But it's not just for  tourism purposes, it's for organized crime, narco cartels, and others.
But absolutely, we need to do more."
Evasion comes naturally
So, yes, terrorists are using the system. No, Brennan refuses to say whether transparency should be required of  the offshore system, which could not exist without the complicity of the international financial system, especially the American banks that host the correspondent accounts through which criminal offshore banks move clients money.
U.S. Treasury effective? Sorry, only in specific corporate cases, generally where there are whistleblowers. Not in cases of terrorism. Or has the U.S. figured out where the billions stolen by Iraqi officials, some of which was transferred to Al Qaeda, went?
The U.S. has blocked some banks in North Korea and Syria from access to the U.S. system. So it can do it. If it wants to.
And, by the way, you'd think that now that Washington has Vladimir Putin in its cross-hairs, it would trumpet where his purloined billions are hiding. Hint: he's hiding the mega-cash in the Western-run offshore banking system.
He knows that is safe. The U.S. won't shut down the offshore secrecy system, because the CIA and other intelligence agencies use it for covert action and payments. And because major international corporations use it for tax evasion.
But we didn't expect Brennan to say that, did we? Nor did Charlie Rose follow up as he did on other questions. Most of his role in the meeting was confined to lobbing marshmallows at the fellow.
Here's the video  (my question at 49 minutes in) and the transcript.
Here is the text.
March 13, 2015
CIA's Global Mission: Countering Shared Threats
Speaker:
John O. Brennan
Director, Central Intelligence Agency
Presider:
Charlie Rose
Host and Executive Editor,  Charlie Rose; Coanchor,  CBS This Morning, CBS News
—————————————————————————————————————————-
Transcript
ROSE: Good evening. I'm John Brennan. I'm pleased to be here…
(LAUGHTER)
… to talk about my long and distinguished career at the CIA.
I'm Charlie Rose and we are happy to have John Brennan here at the council for this session. Clearly I'll talk to him. He's going to say a few remarks. Then I'll talk to him for 20 minutes or so. And then we'll take questions from the audience.
You know John has spent"has been head of the CIA since March 8 of 2013, in the CIA from 1980 to 2005, in the White House as an adviser to the president on homeland security and counterterrorism. Had a series of assignments within the CIA, including chief of staff for George Tenet, left in 2005 and came back. Is a graduate of Fordham University and holds a master's degree also from the University of Texas.
I look forward to this, and without further ado, John Brennan. John?
(APPLAUSE)
BRENNAN: Thank you very much, Charlie, and good afternoon, everyone. I also want to thank the Council on Foreign Relations and especially Richard Haass for inviting me to be here today.
Over the past many months, CIA has been in the news for a variety of reasons, most of them unrelated to the many challenges, as well as the opportunities that lie ahead of us on the global stage. So I'd like to begin with a snapshot of some of the international developments and trends that are of greatest concern to the CIA, and talk to you about how we are tackling these challenges.
I thought I would take some time today to focus in particular on the importance of our work with foreign partners and enhancing global security. These relationships are founded on discretion, so we don't talk about them much. But they play an essential role in our efforts to collect relevant and impactful intelligence, provide insightful analysis and to conduct effective covert action as directed by the president.
Last month an extremist gunned down a film director at a cafe in Copenhagen, made his way across town and then shot and killed a security guard at a synagogue. Later the same day the terrorist group ISIL released a video showing the horrific execution of Coptic Christians on a beach in Libya.
The previous month, in a span of less than 24 hours, we saw a savage attack on the staff of the satirical newspaper Charlie Hebdo in France. We saw a car bomb kill dozens at a police academy in Yemen. And we received reports that the extremist group Boko Haram had carried out yet another massacre in Nigeria, claiming an untold number of innocent lives.
And in December, gunmen in Pakistan opened fire on schoolchildren in attack that even by the appalling standards by Pakistani Taliban was shocking in its moral depravity.
These attacks underscore a disturbing trend that we have been monitoring for some time, the emergency of a terrorist threat that is increasingly decentralized, difficult to track and even more difficult to thwart.
While it is true that the United States and its allies have had considerable success degrading the capabilities of core al-Qaeda, various al-Qaeda affiliates and other terrorist organizations have surged in other countries, countries such as Libya, Egypt, Somalia, Nigeria and especially Yemen where al-Qaeda in the Arabian Peninsula has demonstrated a capability to plot attacks well beyond Yemen's borders, including in our homeland.
But no region has gained more of the world's attention than Syria and Iraq where ISIL is waging a campaign of unspeakable brutality against the local population and indeed against anyone who does not share its ideology.
ISIL is well-armed and well-financed. Its fighters are disciplined, committed and battle-hardened. Left unchecked, the group would pose a serious danger not only to Syria and Iraq, but to the wider region and beyond, including the threat of attacks in the homeland of the United States and the homelands of our partners.
This will be a long-term struggle. ISIL will not be rolled back overnight. If there is one thing we have learned over the years, it is that success against terrorism requires patience and determination. Clearly our country will be dealing with terrorism in one form or another for many years to come.
What makes terrorism so difficult to fight is not just the ideology that fuels it or the tactics that enable it. The power of modern communication also plays a role. New technologies can help groups like ISIL coordinate operations, attract new recruits, disseminate propaganda and inspire sympathizers across the globe to act in their name.
The overall threat of terrorism is greatly amplified by today's interconnected world where an incident in one corner of the globe can instantly spark a reaction thousands of miles away. And where a lone extremist can go online and learn how to carry out an attack without ever leaving home.
Indeed, for all of its advantages, the Information Age brings with it an array of new challenges that have profound implications for CIA's mission, implications that go far beyond counterterrorism. The most obvious example, of course, is the tremendous growth of activities in the digital domain, which is full of tremendous opportunity for good, but also serious challenges and vulnerabilities that can be exploited to harm our national security.
Threats in the cyber realm are an urgent national security priority, as America has no equivalent to the two wide oceans that have helped safeguard our country's physical, maritime and aviation domains for centuries.
Every day state actors, criminals, terrorist organizations and hackers of all stripes try to penetrate our nation's digital networks. Government institutions are under constant assault, and private companies are spending enormous sums of money to defend against hacking attempts, denial of service attacks and other efforts to disrupt their networks. The attack on Sony late last year was a reminder of just how serious the threat is and how quickly it can take place.
CIA is working with our partners across the federal government to strengthen cyber defenses, to share expertise and to collaborate with the private sector to mitigate these threats. Together we have advanced our understanding of the threats in the cyber realm.
But just as we have improved our knowledge as well as our capabilities, so too have our adversaries. They are skilled, agile and determined, and matching them will require focus and imagination, not just from government but from private industry as well.
In addition to counterterrorism and cybersecurity, developments in a host of countries across the globe are raising strategic and tactical challenges for policymakers and for our agency. Countries like Iraq, Syria, Yemen, Libya, Afghanistan, Pakistan, Ukraine, Somalia, Nigeria, Venezuela and North Korea.
And in addition to monitoring developments in these hot spots, our analysts track overall trends in global stability. Their findings for 2014 confirm the sense we all get from monitoring daily events that the current international environment is extraordinarily complex.
Developments last year continued a three-year trend of rising instability, marked by severe conflict, by the erosion of state capacity worldwide. We saw more outbreaks of instability than at any point since just after the collapse of the Soviet Union. Matching the rate we saw during the period of decolonization in the 1960s.
The implications of this trend are well known to this audience. Rising instability leads to a growth in ungoverned spaces, a spike in humanitarian crises, a surge in refugees, weapons and fighters across borders, and an emphasis on security over democratic principles among conflict-weary publics.
As CIA tackles these challenges, we benefit greatly from the network of relationships we maintain with intelligence services throughout the world. This is a critically important and lesser known aspect of our efforts. I cannot overstate the value of these relationships to CIA's mission and to our national security. Indeed, to the collective security of America and its allies.
By sharing intelligence, analysis, and know-how with these partner services, we open windows on regions and issues that might otherwise be closed to us. And when necessary, we set in concert to mitigate a common threat.
By collaborating with our partners we are much better able to close key intelligence gaps on our toughest targets, as well as fulfill CIA's mission to provide global coverage and prevent surprises for our nation's leaders. There is no way we could be successful in carrying out our mission of such scope and complexity on our own.
Naturally these are sensitive relationships built on mutual trust and confidentiality. Unauthorized disclosures in recent years by individuals who betrayed our country have created difficulties with these partner services that we have had to overcome.
But it is a testament to the strength and effectiveness of these relationships that our partners remain eager to work with us. With the stakes so high for our people's safety, these alliances are simply too crucial to be allowed to fail.
From the largest services with global reach to those of smaller nations focused on local and regional issues, CIA has developed a range of working and productive relationships with our counterparts overseas. No issue highlights the importance of our international partnerships more right now than the challenge of foreign fighters entering and leaving the conflict in Syria and Iraq.
We roughly estimate that at least 20,000 fighters from more than 90 countries have gone to fight, several thousand of them from Western nations, including the United States. One thing that dangers these fighters pose upon their return is a top priority for the United States intelligence community, as well as our liaison partners.
We exchange information with our counterparts around the world to identify and track down men and women believed to be violent extremists. And because we have the wherewithal to maintain ties with so many national services, we act as a central repository of data and trends to advance the overall effort.
On this and in innumerable other challenges, our cooperation with foreign liaison quietly achieves significant results. Working together, we have disrupted terrorist attacks and rolled back groups that plot them, intercepted transfers of dangerous weapons and technology, brought international criminals to justice and shared vital intelligence and expertise on everything from the use of chemical armaments in Syria to the downing of the Malaysian airliner over Ukraine.
These relationships are an essential adjunct to diplomacy. And by working with some of these services in building their capabilities we have helped them become better prepared to tackled the challenges that threaten us all.
CIA's role in enhancing the capacity of our foreign partners is part of a team effort across our government. Just as the Defense Department helps train foreign militaries and the Justice Department assists in developing criminal justice systems, CIA works with many of our partner services to build their skills, their tradecraft and their technology.
To be sure, if we are to work with a broad range of services around the globe, we must also focus on enhancing professionalism and commitment to the ethics of intelligence. We advocate core principles and practices that are indispensible to any intelligence agency like shunning involvement in the political process, maintaining strict independence and objectivity, and adhering to international norms.
With CIA's support I have seen counterparts develop into sophisticated and effective partners. Over time our engagement with partner services fosters a deeper, more candid give and take, a more robust exchange of information and assessments, and a better understanding of the world that often ultimately encourages better alignment on policy.
Another advantage of building and maintaining strong bilateral and multilateral intelligence relationships is that they can remain, albeit not entirely, insulated from the ups and downs of diplomatic ties. These lengths can provide an important conduit for a dispassionate dialogue during periods of tension, and for conveying the U.S. perspective on contentious issues.
In recognition of the importance of our liaison relationships, I recently reestablished a senior position at the CIA dedicated to ensuring that we are managing relationships in an integrated fashion. To developing a strategic vision and corporate goals for our key partnerships and to helping me carryout my statutory responsibility to coordinate the intelligence communities' foreign intelligence relationships.
This position is one of a number of changes underway at CIA designed to maximize our capabilities for the future. As you have read, last September I asked a group of very experienced officers from across CIA to take a fresh look at our organization, and to make recommendations on how we can ensure that our agency remains highly capable of carrying out our global mission in the years ahead. The result is the major initiatives that we announced last week at the CIA.
That initiative stems from two shifts in the national security landscape that I opened my remarks with today. The marked increase in the range, diversity, complexity and immediacy of the issues confronting policymakers, and the unprecedented pace and impact of technological developments.
Media attention has focused on our efforts to embrace and leverage the digital revolution by, among other things, creating a new directorate within our agency, the first new directorate created in 50 years, called the Directorate of Digital Innovation.
This step does not, as some have suggested, signify a marked change in CIA's core mission. Rather, it is an organizational response to the simple reality that in today's interconnected world we must place our activities and operations in the digital domain at the very center of all of our longstanding mission endeavors.
You also have read about the formation of mission centers within CIA. These are designed to better integrate our great strengths in collection, analysis, technology, support and now digital innovation, and apply them more efficiently and effectively across the CIA against the nation's most pressing security issues and interests.
And finally, we are pushing ahead on two other strategic goals: doing a better job of attracting and developing a diverse and highly talented workforce, and modernizing the way we do business. We seek to build a culture in which our people are intelligence officers first, regardless of whether they practice the discipline of analysis, collection, science technology, digital innovation or support.
And we want a business model that improves our capacity to make the sound strategic decisions needed to build a better agency and run it efficiently, even as we respond to urgent external requirements. We are determined to push decision making down deeper into the hierarchy, which is one reason we created the mission centers, the heads of which will hold considerable responsibility for taking initiative and further enhancing the agility that's always been crucial to the agency's success.
And so before we begin our conversation today I'd like to once again thank the Council for inviting me here to speak at such a timely period of our nation's national security. I look forward to the questions today. Thank you.
(APPLAUSE)
ROSE: Well, thank you, John. We look forward to this. Let me begin by one thing I noticed in your remarks.
You emphasized more than once the relationship with other intelligence agencies around the world. Is that in any way a fallout from the Snowden disclosures or a sense that you want to assure us and the rest of the world that whatever damage had been repaired in our relationship with other intelligence agencies was good and cooperative and functioning?
BRENNAN: Well, two points there.
One is I think it reflects mostly just how complex this world is and how we, CIA, have to rely not only on our U.S. intelligence community partners and other elements of the U.S. government. But we really do have to rely on these partners overseas because the world's a big place.
And as capable as CIA is, we have to make sure that we're able to work with those intelligence community services that have a lot of the eyes and ears on the ground and have the ability to be able to stop terrorists or proliferators or others. So that's I think a critically important component of this new world, which is it's interconnected. It's one that we have to be able to rely on the partners.
And also it's just"also reflects that despite the damage caused by the disclosures, I have found that over the past two years since I've been at the CIA, I have still a steady stream of my foreign partners who emphasize how much they want to be able to continue and build upon the relationship with the CIA.
They see it as critical. They know that we bring to bear the insights, the intelligence, the technologies, the capabilities as well as the approaches that they need to be able to address the many challenges that they face in their area. So I do see the world being more interconnected for a variety of reasons on the technical front, but also in terms of intelligence, law enforcement, and diplomacy.
ROSE: I want to turn to the threat assessment. And we'll talk about the CIA reform that you mentioned that came out last week.
When you look at the threat of terrorism today, what is it that scares you the most about it? You mentioned the fact that there's a real effort to try to monitor the people who are going to Syria and who have passports back to Europe and back to the United States.
BRENNAN: I've worked terrorism for a good part of my career. And I think we see an evolution of the terrorist phenomenon. And that's what I would call"dealing with Palestinian terrorism and even Al-Qaeda over the years, a lot of these organizations were discrete structures and elements.
They tried to sort of migrate their philosophies and agendas to others. But they were almost contained organizations. We've been able to make a lot of progress against them.
ISIL I think demonstrates a very worrisome development because it has basically been a phenomenon that has snowballed in terms of its residence, its appeal. And so they were able to make great strides within Iraq and Syria. Their roots are in Al-Qaeda and in Iraq. And then they branched out to Syria.
And then they established what they refer to as the Islamic Helifit (ph). And unfortunately they have had I think a fair amount of success using the technologies that are available, the Internet, YouTube and other things to present their narrative in ways that romanticize what's going on there. A lot of it's inconsistent with the realities that Iraq and Syria. But this phenomenon now has generated a lot of appeal.
So we see Boko Haram inside of Nigeria pledging allegiance to ISIL. We see these different franchises, whether it be in Libya or in South Asia, other areas, in Egypt that are trying to get on the bandwagon of this phenomenon. And so this is a worrisome sort of global movement and phenomenon that really requires us to work with this broad array of partner services throughout the world.
ROSE: Is what is happening in Tikrit the beginning of rolling back ISIL in Iraq?
BRENNAN: Well, I think there have been a number of things that have helped to contain the rapid spread and growth of ISIL, both in Iraq and Syria. The Iran march toward Baghdad, and I think the Iraqi Security Forces and others were able to bolster the defenses. And then also with the coalition…
ROSE: How close were they in terms of on the march to go to Baghdad?
BRENNAN: Well, they were within the"you know a couple dozen miles. They had sent out some of the vanguard forces to see if they could soften up some of the Iraqi forces. Thankfully I think the Iraqis were able to coalesce in the area and bring to bear the types of capabilities that they needed.
Now the push is against trying to dislodge ISIL from some of the areas of Iraq that they have been able to take over. Tikrit is a good example. And so we see a combination of forces right now, some of the Shia militant groups as well as Iraqi Security Forces, including some Sunni tribal elements, that have brought to bear the resources to push ISIL out of the good part of Tikrit.
I think that is still going to be a rather intense battle because Tikrit is an urban area. But also ISIL has taken on a chin in other areas. We look up in Kobani and al-Alam in the northern part of Syria where for a couple of months ISIL was pummeling that area to try to gain the victory along that Syrian and Turkish border.
So they're not invincible. They can be stopped. And I think that's what's being demonstrated.
ROSE: But could this be accomplished without the support of the Iranians in terms of the Shia militia as well as their own troops?
BRENNAN: Well, it's a hypothetical. I don't know. The Iranians certainly have brought to bear a number of capabilities in terms of advisers. And they're working very closely with their co-religionists, the Shia militias there. And so they've been able to amass a large enough force that they'll be able to push back against ISIL's inroads.
But the coalition strikes that have taken place, a couple thousand strikes, really have softened up a lot of the ISIL forces and have disrupted their logistics networks. So although it's looked upon right now that this is an Iranian-directed Shia militia effort, there have been tremendous efforts made by the coalition in terms of air strikes and successes.
ROSE: And the Iraqi army who fled in Mosul, are they fighting better?
BRENNAN: The Iraqi forces that's melted away in a lot of areas of the north where ISIL came down, I think they've been able to regroup. And so there is training that is going on right now, and a number of Iraqi forces have been able to augment the existing Iraqi forces that are out there. Coalition is engaged in trying to strengthen those forces with training and advice.
So this is going to take time. I wouldn't expect for things to really turn around immediately here. I think this is going to be a long, tough fight. We know that ISIL has a lot of material. They've ransacked a lot of the Iraqi stockpiles.
They also have shown that they're willing to kill themselves in defense of some areas as well as to go on the offense. So this has been a long and bloody fight and I think it's going to continue to be.
ROSE: In Iraq does the combination of the Iraqi forces, the Shia militia and whatever help they're getting from Iran, is that enough on the ground to do the job and push into Mosul, with the help of American air support or coalition air support?
BRENNAN: I think there's going to be a deliberate effort on the part of the Iraqis along with their partners, whether it be with coalition partners or Iranian Shia partners, to move into those areas that ISIL has overrun. And so I think what needs to be done is a very careful, strategic approach so that they don't go into battle unprepared and unready in order to prevail.
I think it's important, both from a military battlefield perspective as well as from a psychological and symbolic perspective that you need to have those victories and successes against ISIL. As I said, they're not invincible. What you need to be able to bring to bear are the capabilities that in fact will be decisive.
ROSE: It has also been said that you can never eliminate them, eradicate them, or even seriously diminish their power unless you're prepared to do something about ISIL in Syria.
BRENNAN: And there is a combined effort. There are"we're working with the government right now in Baghdad. And we're trying to have them make sure that they do the right thing, not just on the military battlefield, but also in terms of the political reforms so that they can get most of the Sunni community involved in this fight against ISIL.
In Syria, though, we have a government that is problematic. And one of the reasons why there has been this great attraction to the region are these foreign fighters. And it's the policy of this administration that Assad is really not part of Syria's future as we see it. And so we need to…
ROSE: But do we need now for Assad to be in power temporarily unless there's a negotiated settlement because we need them as an opposition to ISIL as well?
BRENNAN: Yes. The crisis in Syria, which it is both from a humanitarian standpoint and just from a countrywide standpoint, is not going to be resolved on the battlefield, in my mind.
I think we need to be able to continue to support those elements within Syria that are dedicated to moving Assad and his ilk out. But there has to be some type of political pathway to the future.
ROSE: And do you think Russia wants to be a part of that?
BRENNAN: I think Russia is looking at the problems that have been created by the situation in Syria. There are a lot of Russian nationals that have traveled down from Chechnya, Dagestan, and other areas. And the Russians are concerned about the flow of foreign fighters both to theater as well as back.
And so I think they realized that Assad is problematic. None of us, Russia, the United States, coalition, and regional states, wants to see a collapse of the government and political institutions in Damascus.
What we do want is for there to be a future of Damascus that is going to bring into power a representative government that is going to try to address the grievances that exist throughout the country. It is a multi-confessional country that really deserves a government that is going to try to represent the people that are there.
ROSE: You fear from a collapse of an Assad government those two might replace them?
BRENNAN: I think that's a legitimate concern from the standpoint of what we don't want to do is to allow those extremist elements that in some parts of Syria are ascendant right now. We have ISIL. We have Jabhat al-Nusra, the al-Qaeda element within Syria…
ROSE: Khorasan.
BRENNAN: And the last thing we want to do is to allow them to march into Damascus. That's why it's important to bolster those forces within the Syrian opposition that are not extremists.
ROSE: Do you worry about Iran and Iraq in terms of what happens if in fact the Iranians would like to have a stronger presence in Iraq?
BRENNAN: Well, the Iranians have a clearer interest because they share a border with Iraq. They share quite a bloody history with Iraq as well. There are the Shia co-religionists from Iran inside of Iraq. So, we recognize that Iran has legitimate interests there.
What we need to do is to make sure that it is not going to be the type of Iranian manipulation of the internal political situation inside of Iraq that is not going to allow the Iraqi people to live in a country that has more of a sense of and semblance stability than they have right now.
ROSE: You need coordination on the ground by using the Iraqis as a middle person?
BRENNAN: With the Iranians?
ROSE: Yes.
BRENNAN: Well, I think there are"there's an alignment of some interests between ourselves and Iran clearly in terms of what ISIL has done there. And so we work closely with the Iraqi government. The Iranians work closely with the Iraqi government as well. And so some of these efforts I think through the Iraqi interlocutors are ones that again are trying to advance our common objectives against ISIL.
ROSE: Speaking of Iranians and negotiations that are taking place about their nuclear capability, what is it for you an essential requirement in terms of an agreement? For example, I'm thinking of the kinds of inspection"I'm thinking of the kind of notice you would need. I'm thinking of those kinds of issues.
BRENNAN: Well, clearly there are aspects of Iran's nuclear program that need to be addressed and that will give we, the United States, as well as countries in the region and international partners, comfort that they're not on the march to a nuclear weapons capability. And that involves enrichment capability and what the limits are going to be in terms of what type of enrichment they're going to be able to retain.
Also cutting off other pathways to a nuclear weapon. Trying to make sure that you are going to have the opportunity to inspect facilities with a verification regime so that there's not going to be this break out. And these are the arrangements. And it's a multidimensional package of things that the (inaudible) negotiations right now are looking at.
And I must say in my experience in the government, looking out over the last six years or so as this march toward these negotiations hasprogressed, there has been a very intense, deliberate, careful effort to try to understand all of the different dimensions of the Iranian nuclear program, as well as to address all of the areas of consideration and concern.
This is not something that is being done in any haphazard way. And I must say that looking at what the United States government is doing with our partners and how this has proceeded, I think this has been the most careful and deliberate experience that I've seen as far as negotiations to come out with a result that is going to help the prospects of peace in the region and also to prevent further nuclear proliferation.
ROSE: In other"you're comfortable with an agreement that they're working on now.
BRENNAN: I am comfortable that the parties to the (inaudible) negotiation on the U.S. side are going to have minimum requirements here that we're not going to reduce. That we have to have that confidence and comfort with the arrangements. Again, not just what Iran has agreed to, but allowing us over the course of the agreement to have confidence that the terms of the agreement are being upheld.
ROSE: Turning to Ukraine, what is your sense of what Putin is up to? And did he get involved and in over his head, as some have suggested, and all of a sudden and is in fact looking for a way out? Or do you believe that this is part of a larger idea of expanding Russian influence?
BRENNAN: Well, I think Russia and Putin clearly have strategic ambitions as far as the area along the western border of Russia as far as exerting Russian influence in countries there and concerned about checking what I think they perceived as a Western and NATO influence in the area.
So I think Putin has gotten himself into a point where there is, I think, international consensus about not allowing Russia to continue to march in this direction. Thankfully over the last several weeks, we've had a reduction in the amount of violence that is there.
But I would look to Mr. Putin to say how he actually is going to get himself out of this predicament where the Russian economy is, I think, facing some serious challenges as a result of sanctions and how the international community and Western nations, I think, are united in pursuing this.
ROSE: Is it in our interest to help him find a way out?
BRENNAN: Well, I think it's always in our interest to find a diplomatic and peaceful way out of these problems. And I do think it's incumbent, certainly on the United States as the leader of the Western and free world, to help to shape this. But the countries in that area that have very serious concerns about other types of Russian activities in that region need to have a very strong voice.
And so we see that our partners, you know, the Germans and others, are taking a leading role as well. We need to continue this.
ROSE: Someone in the administration once said to me they worried most of all, they lost sleep most of all over the possibility of some Russian making a mistake and a kind of loose nuke idea. Is that something that causes you to lose sleep?
BRENNAN: I think in any situation where you have"there's almost a game of brinksmanship that's going on as far as the various chess moves, it has the potential forsome type of escalatory cycle that was not the intention of either side. And when there's a lot of violence that is going on, there can be some devastating attack or development that will provoke a reaction and then just a quick series of reactions to that.
And so whether we're talking about a place like Ukrainian or we're talking about, you know, the situation between North and South Korea, that spark, particularly if the tinder is dry, it has the potential.
And that's why I think it's very important for there to be constant attention to these issues that, even though they might be simmering, and it may seem like the situation in Ukraine is simmering right now, this is the time to try to, you know, keep those tensions at bay.
ROSE: How do you do that?
BRENNAN: Very active diplomacy. And sometimes you need to bring to bear the various tools of power, the United States has a lot available to it, and sometimes there are pressures as far as sanctions and other types of international activities.
But I think on these issues, the United States recognizes rightly that there are not unilateral solutions and even pathways here. It's very important for us to be able to work with our partners and to gain a type of international and multilateral consensus.
ROSE: And do we conclude our"do we include in our partners China?
BRENNAN: Absolutely. China plays a very important role on the world stage, increasingly so. Obviously, their economic power is critically important to a lot of, you know, countries in the world. We have regular interaction with the Chinese. We are trying to make sure that as we engage with the Chinese in East Asian issues we're also cognizant of the fact that the Chinese are playing more of a role in various parts of the world. They have strong commercial business interests, but also I think the Chinese recognize that there are also some, you know, geostrategic and political obligations as they continue to move forward in the march.
ROSE: And what are their ambitions?
BRENNAN: I think they see that China's size, capability and power gives it a place on the world stage that will be different than what it was 10 or 15 years ago. And that's why I think they are looking at the various superpower relationships and trying to define them in a way that are going to advantage Chinese interests in the coming decade or two.
Xi Jinping is pursuing, I think, a very, you know, careful, strategic approach as far as how to expand China's influence on a number of areas.
ROSE: And consolidating power and increasing his military.
BRENNAN: Yes. And keep the Chinese economic engine going. It's been, you know, decreased a bit. The costs of, you know, world development, but also he needs to be able to fuel his domestic engine of growth as well.
ROSE: In your forum, you talked about sovereign security in his speech, in his talk, you talk about sovereign security. And you think about China in terms of cyber espionage, even, some suggest, the government acting on behalf of corporations. What's the threat from China on the cybersecurity arena?
BRENNAN: Well, if you look at nation states across the world, engagement in that digital domain, in cyber, there's so much information and activity that is going on out there, and so some countries will believe that any activity in the digital domain is OK if you're going to advance your business and commercial interests.
And I think this is where the norms and standards of behavior in that digital environment are critically important. And there have been a number of discussions that we have had with the Chinese and others about what we think is inappropriate activity in that realm.
But it's not just a question of some of these large nation states and our adversaries in certain areas. There is just a lot of capability that's developing, particularly in private sector companies around the world, so that any country can tap into the capabilities that might exist in these companies and utilize it for their purposes, whether it be for national security, political, commercial, business or whatever.
ROSE: How do you measure the tension between China and Japan today?
BRENNAN: Well, I think when you're looking at Asia, there is, you know, one issue out there, which is North Korea…
ROSE: Right.
BRENNAN: …that is a problem and for the countries' threat region. You know, China, South Korea, Japan and other states, with the unknown actions of a Kim Jong-un as far as where he's going to go next, I think this is worrisome.
Now, there are issues that certainly divide South Koreans, the Chinese, the Japanese. What we would like to be able to see is the greater dialogue between those countries.
ROSE: And we're committed to their defense, South Korea and Japan.
BRENNAN: Oh, I think there are alliances and relationships and treaties that sort of underscore just how important our relationships are with a number of those countries.
ROSE: Talking about the reform and all the levels of reform that you initiated"when you went to the CIA, I understood you're saying that we'd like to see the CIA do less paramilitary kinds of things. Was that true? And do you still believe that?
BRENNAN: The CIA, over the course of its history, has played a very important role on so many different areas and one area has been in the covert action field.
ROSE: Right.
BRENNAN: And most every president since we stood up back in 68 years ago or so has utilized the CIA's covert action authorities. A lot of times, that covert action authority requires some paramilitary capability.
I believe that the CIA needs to retain that paramilitary capability so that should the chief executive and the president decide that we need to be able to apply it in order to protect and advance our national security interests, the CIA needs to be prepared to do that.
What my concern is, that the CIA has a lot of responsibilities worldwide, I want to make sure we're able to address those different responsibilities capably, across the board and not swing too wildly one way or another.
When I look back over the last 15 years, since 9/11 with the situation in Iraq and Afghanistan and the counterterrorism efforts, we have had to utilize a number of those paramilitary skills and capabilities working with our partners in order to address these threats that we face. And thankfully, the CIA had that capability and the experience.
So it's not as though I'm trying to diminish it. What I'm trying to do is make sure"and this is part of the motivation behind some of the reforms"is to fulfill our responsibilities across all of those areas that we have globally.
ROSE: Before I turn it over to this audience, talk to me a bit about the CIA and its analytical function and how you see the challenge of the next 15 years and how you have to change and adjust to that challenge.
BRENNAN: The world is becoming more and more challenging. Nation states are under increasing challenge and threat. More and more, we see individuals in different quarters of the world who are identifying with sub-national groups and organizations. And so just the authority of nation states and governments, I think, is being looked at in a different way than it did just 20 years ago.
And so this is one of the things that we really have to be able to understand and anticipate and work with foreign governments, because if you're going to have basically a dissolution of the nation state structure that we've had for centuries, it's really going to be even a more chaotic world.
On the analysis, we have to not only help to inform policymakers about those trends and developments worldwide, but analysis for CIA has taken on many more dimensions than it did when I first joined the agency in 1980.
At that time, CIA's analytic work was really exclusively limited to the finished, all-source analytic products that we give to the president and others. Now, analysis drives so much of our activity, whether we're talking about collection, whether we're talking about different types of operational activities or covert action. That analytic insight, taking full advantage of the intelligence that we get through various means as well as taking advantage of the increasingly rich, open-source environment in social media, so that we're better able to inform our activities as well as better inform our policymakers.
So analysis is becoming more and more of a driver of so many different elements of CIA's mission.
ROSE: OK.
Questions?
Yes.
QUESTION: George Schwab, National Committee on American Foreign Policy. Thank you very much for a very informative session.
Given the fact that a terrorist is often considered by many to be a freedom fighter, how would you distinguish a terrorist action from a criminal action?
BRENNAN: Well, quite frankly, I think frequently and most often they fall into both categories, because if somebody's carrying out an act of violence, and usually terrorism and international terrorism is carried out by a sub-national actor or even a nation state for political purposes and directing that violence against a noncombatant, that constitutes terrorism according to most classical definitions.
But if you're carrying out that act of violence, at least in most countries of the world, that would be a criminal activity. So sometimes people make, I think, this false dichotomy between a criminal act and a terrorist act; they are both. And I think what we need to do is to uncover whatever types of terrorist activity is going on, because of, you know, the need to protect our people, but also for the upholding of the rule of law.
And this is one of the things that we work very closely with our partners, that even if a terrorist is not carrying out an attack in their country, their use of the country, whether or not it's their financial institutions or their borders or safe havens, this is something that should be in fact illegal and uncovered, uprooted, and criminalized.
ROSE: Back here.
Chris?
I'll try to get to as many people as possible.
QUESTION: Thank you. Chris Isham with CBS. Could you explain a little bit about the ideological dimension of the war on terrorism. You mentioned ideology fuels many of the organizations we see today. But this administration continues to be very reluctant to identify Islamic extremism as that fuel. I wonder, do you think that's a good idea to continue to resist that?
BRENNAN: Well, quite frankly, I'm amused at, you know, the debate that goes on about, boy, you know, unless you call it by what it is you don't know what you're fighting. And let's make it very clear that the people who carry out acts of terrorism, whether it be al-Qaeda or the Islamic State of Iraq in the Levant, are doing it because they believe that it is consistent with what their view of Islam is.
It is totally inconsistent with what the overwhelming majority of Muslims throughout the world. And so by ascribing it as, you know, Muslim terrorism or Islamic extremism, I think it really does give them the type of Islamic legitimacy that they are so desperately seeking, but which they don't deserve at all.
They are terrorists, they're criminals, many of them are psychopathic thugs, murderers, who use a religious concept and masquerade and mask themselves in that religious construct"and I do think it does injustice to the tenets of religion when we attach a religious moniker to them.
The Muslims I know and people I have worked with throughout the Middle East throughout most of my career find it just disgraceful that these individuals present themselves as Muslims.
So I think we have to be very careful also in the characterization, because the words that we use can have resonance. And so if things that we talk about publicly, you know, this is, you know, Islamic extremist, a lot of these individuals are proud of being referred to as Islamic extremists. We don't want to give them, again, any type of religious legitimacy because what they do has no basis in any upstanding religion.
ROSE: Yes, right there.
QUESTION: Hi. Dina Temple-Raston with National Public Radio. I wonder if you can clarify the conflicting assessments that we're seeing regarding ISIL. We hear in some cases that they're on the rise, that there are a thousand foreign fighters joining them every month. We also hear about divisions within ISIL and foreign fighters, for example, fighting with or having divisions with people who are local fighters.
Can you give us a better assessment of what's going on with ISIS?
BRENNAN: Well, I might say all of the above because it's neither black nor white here. I do believe that you still have a significant number of individuals who are traveling to Iraq or Syria trying to join up forces with ISIL as well as attaching themselves to different franchises around the world.
At the same time, though, I think the great image of ISIL in terms of its being able to prevail and be successful inside of Iraq and Syria is being pierced because we see that they are having setbacks, we see that there is some dissension in the ranks, we see that a lot of the requirements that are attendant to having control of territory and having the responsibility to run it administratively is not really the strong suit of some of these thugs who are joining this bandwagon.
So I do think we're seeing right now some very significant indicators that ISIL's engine is suffering. That doesn't mean that it is out of steam, it means that it is going through, I think, a phase of its development and, hopefully, of its ultimate demise that is, I think, consistent with some of the experiences of other groups.
ROSE: What would you measure success? How would you measure success against ISIL?
BRENNAN: First of all, I think that success has to be preventing their further encroachment in Syria and Iraq as well as trying to work with our partner services to identify those elements that are cropping up in other places.
But those are some milestones. And I think success is going to take time, it's going to take, you know, years in order to further diminish and discredit, not just their capabilities, but also their attractiveness and appeal.
And we need to expose just how murderous and psychopathic these individuals are.
ROSE: I'm watching"yes, the one"yes, there. I promise to get to the back as well.
Yes?
QUESTION: Thank you. Paula DiPerna, NTR Foundation. This is probably an unpopular suggestion, but is it feasible or how feasible would it be to do a little selective Internet disruption in the areas concerned, a la a blockade, digital blockade, and then an international fund to indemnify business loss?
BRENNAN: OK. First of all, as we all know, the worldwide web, the Internet, is a very large enterprise. And trying to stop things from coming out, there are political issues, there are legal issues here in the United States as far as freedom of speech is concerned. But even given that consideration, doing it technically and preventing some things from surfacing is really quite challenging.
And we see that a number of these organizations have been able to immediately post what they're doing in Twitter. And the ability to stop some things from getting out is really quite challenging.
As far as, you know, indemnification of various companies on some of these issues, there has been unfortunately a very, very long, multi-year effort on the part of the Congress to try to pass some cybersecurity legislation that addressed some of these issues. There has been passage in the Senate.
I think it's overdue. We need to update our legal structures as well as our policy structures to deal with the cyber threats we face.
ROSE: Yes. Here, sir, and then…
QUESTION: Thank you. Director, my name is Roland Paul, I'm a lawyer, I've been in the U.S. government a couple of times. Concerning the Iranian nuclear situation, I understand from the press there may be about 10,000 enrichment centrifuges that are active. Are most of these in hardened sites that it would take extraordinary munitions to destroy?
BRENNAN: Well, I'm not going to get into some specific details about sort of the Iranian nuclear program. But what's being taken into account right now in these negotiations are, what are the sites where enrichment could take place, and what are the processes and procedures that are going to give us some confidence that there's not going to be this type of either production or capability that is going to be outside of any type of inspection regime?
I think we need that verification. It's critically important.
ROSE: Is it fair to say you worry most about a cover site that you don't know about now?
BRENNAN: I think we would always worry about something we don't know about now.
(LAUGHTER)
ROSE: Yes?
QUESTION: My name is Lucy Komisar, I'm a journalist. How significant is the use by terrorists, terrorist groups of the international offshore bank and shell company system, which is also, as we know, used by international criminal groups as well as tax evaders and all kinds of bad guys?
And if it is significant, is this now the time to try to bring some transparency to the system by saying that nontransparent system banks and other institutions cannot have access to the American financial system?
BRENNAN: There are a variety of reasons why there needs to be, I think, greater transparency in some of the international financial activities that go on, terrorism being one of them.
Terrorists have been particularly enterprising and creative in terms of how they take advantage of the opportunities that are out there.
I must say that the U.S. Department of the Treasury as well as other institutions of the U.S. government have been very, very effective and successful working, again, with international partners to try to uncover and uproot this. But it's not just for tourism purposes, it's for organized crime, narco cartels, and others.
But absolutely, we need to do more.
ROSE: OK, here. No, behind you, and then you.
QUESTION: Nick Platt, Asia Society. The rapportage on your reform program has suggested that you plan to integrate the analytical and operational side of the CIA to an extent that's never been done before.
Having dealt with both from a distance over the years, I'm curious as to how you're going to do that and what your plan is.
BRENNAN: We have integrated a lot of the operational and analytic elements over the course of the past 20 years, more and more so. We have a counterterrorism center that is tremendously capable because we've been able to bring to bear operational capabilities, analytic, technological, and others.
We do it overseas a lot. We have individuals, analysts and operators and others, who are working cheek-to-jowl on these issues.
In the war zone, it's tremendously effective as far as being able to make sure that we have the experts who can work with the operators and others.
I believe that it's important for us to be able to migrate that model into other areas, so we don't just wait for a war to develop or a crisis to develop or dealing with terrorism challenges. I think we have the ability to bring that expertise, that capability, in a way that preserves the independence, objectivity and integrity of analysis, because CIA really is the central point within the U.S. intelligence community to provide that objective all-source analysis.
And it's been my experience, and I headed up the analytic effort in CTC about 20 years ago, that you can maintain an objectivity as well as you can empower the other elements of the CIA's mission to bringing to bear that analytic capability.
ROSE: I promised to get to the back, so someone on the aisle there, whoever can get closest to a mike.
QUESTION: James Sitrick, Baker & McKenzie. You spent a considerable amount of your opening remarks talking about the importance of liaison relationships. Charlie alluded to this in one of his references to you, on the adage"the old adage has it that the enemy of your enemy is your friend. Are we in any way quietly, diplomatically, indirectly, liaisoning with Mr. Soleimani and his group and his people in Iraq?
BRENNAN: I am not engaging with Mr. Qasem Soleimani, who is the head of the Quds Force of Iran. So no, I am not.
I am engaged, though, with a lot of different partners, some of close, allied countries as well as some that would be considered adversaries, engaged with the Russians on issues related to terrorism.
We did a great job working with the Russians on Sochi. They were very supportive on Boston Marathon. We're also looking at the threat that ISIL poses both to the United States as well as to Russia.
So I try to take advantage of all the different partners that are out there, because there is a strong alignment on some issues"on proliferation as well as on terrorism and others as well.
ROSE: Yes, sir, here and then here.
QUESTION: John Whitencase (ph). This is a somewhat related question. How disruptive was our withdrawal from Iraq on our intelligence capabilities in Iraq and the greater Middle East, especially unilateral HUMINT capabilities?
BRENNAN: Well, I think you're referring to the drawdown of U.S. military forces there at the end of 2012. And a lot of times people think that when U.S. military leaves intelligence leaves as well. A lot of times that's when the intelligence mission really has to kick in to, you know, a higher gear because we have to offset some of those losses.
But we rely heavily in a lot of parts of the world, to include in Afghanistan, for a military footprint that allows us to nest within a security structure.
So it's challenging, but CIA doesn't get to, you know, design all of our presence overseas. We have to take advantage of whatever opportunities we have and working in places where there's not an official U.S. presence.
ROSE: Here? And go back to the back as well.
QUESTION: Hi. Megyn Kelly with Fox News. Can you speak a little bit about the importance of actually capturing terrorists? Are we still doing that? And where are we keeping them and how are we interrogating them now in today's day and age under this president?
BRENNAN: Well, I think it's critically important that terrorists be captured. And a lot of times they are captured here or arrested here in the United States and the Bureau and others do a great job of it.
What we need to be able to do is to work with our partners, again, to identify individuals and to have them captured. And so there are places throughout the world where CIA has worked with other intelligence services and has been able to bring people into custody and engage in the debriefings of these individuals either through our liaison partners and sometimes there are joint debriefings that take place as well.
So although there are not a lot of, you know, public pieces on Fox News about somebody that might be picked up in different parts of the world, this is a…
QUESTION: (OFF MIKE) We'd like there to be.
BRENNAN: Yeah, I know they'd like there to be. But there are a lot of examples where we're getting some very good insights into what terrorist organizations are planning and plotting. And a lot of times, we rely on the partner services in order to have the understanding about what's going on in that country so they can illicit better information.
ROSE: Yes, here, and then I'll go to the back there. You're all raising your hand, so I can't distinguish between you from this angle.
QUESTION: I'm going to try to stand up. Sarah Leah Whitson, Human Rights Watch. Two days ago, ABC News ran some video and images of psychopathic murderers, thugs in the Iraqi security forces, carrying out beheadings, executions of children, executions of civilians. Human Rights Watch has documented Iraqi militias carrying out ISIS-like atrocities, executions of hundreds of captives and so forth.
And some of the allies in the anti-ISIS coalition are themselves carrying out ISIS-like atrocities, like beheadings in Saudi Arabia, violent attacks on journalists in Saudi Arabia"how do you think Iraqi Sunni civilians should distinguish between the good guys and the bad guys in this circumstance?
BRENNAN: It's tough sorting out good guys and bad guys in a lot of these areas, it is. And human rights abuses, whether they take place on the part of ISIL or of militias or individuals who are working as part of formal security services, needs to be exposed, needs to be stopped.
And in an area like Iraq and Syria, there has been some horrific, horrific human rights abuses. And this is something that I think we need to be able to address. And when we see it, we do bring it to the attention of authorities. And when we see it, we do bring it to the attention of authorities. And we will not work with entities that are engaged in such activities.
ROSE: Here? Yes, sir, somebody right here. Yes, right there, and back to the back next.
QUESTION: Donald Gregg, former CIA. What does all this do to the daily presentation of intelligence to the White House? How is the PDB doing and is it different from what it was 20 years ago?
BRENNAN: The PDB is doing very well.
ROSE: This is the president's daily briefing?
BRENNAN: President's daily brief that has been in place for many, many decades. I was the president's daily briefer back in the Clinton administration and had the great honor and privilege to bring to the president and the vice president every day the intelligence jewels and the insights.
The director of national intelligence by statute now is the president's primary intelligence adviser, so he is the one that will go to the Oval Office and present the president's daily brief as well as any additional information.
CIA basically provides most of the input into that PDB. We have responsibilities for that PDB that continue to endure. And it is a very, very impactful product.
ROSE: So what's the difference in briefing Bill Clinton and Barack Obama? Who asks the better questions?
(LAUGHTER)
BRENNAN: Oh, boy. They're two of the most impressive individuals that I have had the opportunity to engage with.
ROSE: Having said that…
(LAUGHTER)
BRENNAN: Well, because they have a tremendous ability to absorb information, digest it, but then also correlate it. And I remember sometimes briefing President Clinton on something that I had briefed him two or three months previously, and I'd be briefing him something new and he'd be able to bring it back up and I had since forgotten it.
And the same thing with President Obama.
They both have rapacious appetites for information and there's an intellectual curiosity there.
ROSE: President Obama specifically, have you seen an evolution in how he views national security? You were in the White House when he came into the White House and you're now at CIA. Has there been an evolution in how he assesses the threat to the United States, the tools that he wants to use, his willingness to use the employment of force?
BRENNAN: Well, I certainly think that there has been a natural evolution. Any president who comes into office doesn't really have a good appreciation of what they're going to encounter during their term. And over the past six years, the president has, I think, faced more of the strategic and significant national security challenges than, you know, a lot of predecessors.
So I think he has gone to school. He understands the complexity. He also understands the interdependence of a number of these issues as well as the importance and the imperative of working with a lot of our partners.
The United States doesn't have the unilateral ability to shape the course of world events; it does not. It has to be working with a lot of our partners. And so I think the president's looking at, whether it be terrorism or Ukraine or North Korea or cyber issues, I think he recognizes just how complex the world is.
And what he has told me and CIA and the intelligence community is that we need to continue to evolve ourselves so that we're better prepared to deal with the challenges that are ahead of us and not just, you know, be dealing with the challenges of the 20th century.
ROSE: OK. One more here. Yes, sir, right there in the middle. Yes, sir?
QUESTION: Bruce Gelb, Council of American Ambassadors. Mr. Brennan, this is one of the most interesting in the 25 years that I've been listening here in this room. Your grasp of what's going on is amazing. However…
(LAUGHTER)
BRENNAN: I was waiting for that.
QUESTION: I have a question, and that is, do you really not believe that there is in the Muslim community a worldwide caliphate group that has been operating from the standpoint of the Muslim Brotherhood and beyond that for years, that in your view really does not exist and has nothing to do with Muslim terrorism?
BRENNAN: I think within the Muslim community over the course of decades, centuries, if not millennia-plus, there are elements that have a very extremist, radical and, I think, warped perspective about what the role of their religion is and how it has to dominate, whether it be society, culture, politics, whatever.
And I think the same is true in a lot of other religions and cultures and societies. And I think those radicals and extremists find expression at different times throughout our history, and sometimes in a very bloody fashion.
But I would be very reluctant and cautious to try to interpret that then as something that is inherent to a religion or cultural society.
I think sometimes individuals develop these perspectives and warped views based on a variety of factors and conditions. And we look at the people who are joining ISIL right now, they come from all different backgrounds and stripes, some very educated and professional, some who just are attracted to a war zone where they can carry out violence for whatever, you know, reason.
So I think we have to be thinking more about what are the dynamics at play that contribute to this growth. But we've been facing this for millennia in the globe in terms of how people will use violence to pursue their objectives.
And unfortunately, I think religion has been one of the most common bandwagons that some of these individuals have jumped onto. But it's not specific to one religion or one society, one people.
ROSE: One last question I'm going to ask. Beyond weapons of mass destruction, some have argued that the CIA did not see the Arab Spring coming, it did not see Ukraine, it did not see the rise of ISIL. If those were mistakes, why?
BRENNAN: You said if those were mistakes, so this is…
ROSE: Do you believe the word? Do you believe that the CIA saw the rise of those three things as significantly as it should have?
BRENNAN: I think certainly we had identified a number of developments and trends that were leading in that direction. And the Arab Spring, I think for years the CIA and the intelligence community were pointing out some of the authoritarian regimes within the Middle East and the Arab world were vulnerable to this type of popular reaction.
Were we able to, you know, determine and forecast that there was going to be a Tunisian fruit salesman that was going to self-immolate, that was going to then set Tunisia and then the Arab world on fire? No. But those conditions, I think, were something that was identified.
But I think it gets to the point that there have been so many developments recently, and a lot of them are populist when we look through the Middle East, that the traditional ways of intelligence collection may not lend themselves to giving that insight.
So having somebody, you know, in a senior government position who's going to be whispering in our ears might be giving us not the right perspective. We need to have a better sense of what's happening in the streets.
And that's why looking at sort of social media and other things you can maybe have a better sense of the barometric conditions in a country that are going to be more conducive to the forming of a storm.
In Ukraine, people say, well, you didn't predict that Putin was going to do this or that. Well, I think we identified what were the pros and cons and what his calculus was, but quite frankly, I think Putin as well as other leaders have not determined what their next chess move is going to be until they see what their opponent's chess move is, and they will then pivot accordingly.
So intelligence is not a panacea as far as having a crystal ball. What we need to be able to do is to help policymakers understand some of the forces that are at play and how certain developments and actions may affect that calculus. And that's what I think is important for CIA, particularly in this world where we have so many challenges across the board.
I mean, we haven't even talked about Africa and Latin America, things that are going on in Venezuela, Cuba, Nigeria. This is something that I think we need to stay attuned to because we do have this global mission, it requires us to have all different types of access to information, human sources, you know, different types of technical capabilities, having the insights, having the expertise, being able to work with individuals in the Council and other parts of the private sector that we will be able to flesh out our appreciation and understanding of developments.
ROSE: John, thank you for coming.
John Brennan with the CIA.
BRENNAN: Thank you. Thank you.
(APPLAUSE)