By Lucy Komisar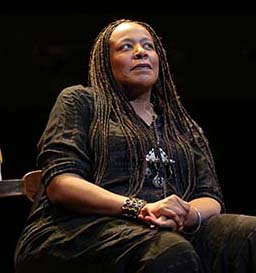 Dael Orlandersmith's "Forever" is a powerful blend of fact and fiction about this talented writer/performer's growing up as the daughter of an abusive, alcoholic mother in Harlem. And her discovery of the roots she chooses to adopt after a visit to the P¨re Lachaise cemetery in Paris where great artists, writers, musicians, are buried.
Orlandersmith has done fine autobiographical works in the past, among them "Yellowman," about a dark, over-weight black woman falling in love with a light-skinned black man. So one knew that this production would be dark in the psychological sense. But the story takes one by surprise.
With long reddish-brown cornrow braids and a billowy black sack dress with a heavy silver pendant, at a set which has only a folding table and two spindle-back chairs, she relates the story of her life.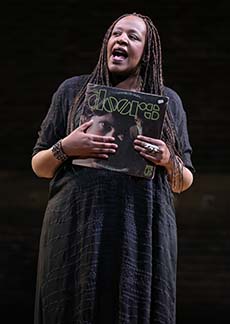 She is as good an actor as writer, pulling one into her story. She is compelling. And director Neel Keller keeps this story honest instead of melodramatic.
The main reality is that her mother was a drunk. Orlandersmith was born by Caesarian section and thinks that after that her mother hated her. Subtly, she suggests that she was disliked for being fat. The billowy dress shows that she still is. It's a part of her life she only alludes to, but one thinks it underlies her sense of self. At least till that self became a successful playwright.
Orlandersmith had seen a documentary where a character views the P¨re Lachaise cemetery, the people buried there, the visitors. So she imagines her visit to the cemetery, paying homage to Balzac, Richard Wright, Modigliani, Chopin, Edith Piaf, Jim Morrison.
That is fiction, which replaces the truth, because the story of her growing up is pretty awful. The people in the cemetery will stand in for her mother, will be her ancestors. On a turntable, she plays "The Doors," her cultural connection, especially to singer Jim Morrison.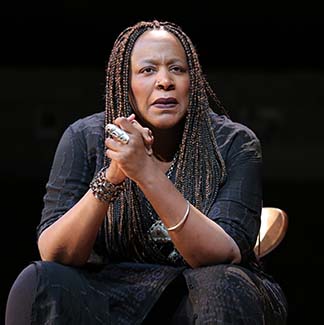 The young woman lived in a dangerous neighborhood. Her best friend also had a mother who drank and was violent. In a horrific scene, Orlandersmith is a teenager raped by her mother's friend. The only kind person she recalls of that incident is the Irish cop who took her testimony. No one was arrested. That is rather curious, since it appears that the attacker was in the apartment at a party given by her mother.
She gets over it, goes to Greenwich Village clubs, to alternative music places, and to theater at the University of the Streets in the East Village. She moves to that free neighborhood. She goes to college to graduate in 1976. She'd now be 55. It's taken decades to open up to this past.
Orlandersmith speaks the story sorrowfully. When he mother dies, she curses her dead body, but then, surprisingly, learns her mother had been a dancer. She wonders about her mother's own sorrows, her connection to art, music and poetry. Her mother once said if she'd only gone to Paris. Did her mother feel blocked by regrets? Does her daughter now forgive her? Now the billowing dress seems to cover a lot of the past.
Forever. Written and performed by Dael Orlandersmith, directed by Neel Keller. New York Theatre Workshop, 79 East 4th Street, New York City. (212) 279–4200. Opened May 4, 2015; closes May 31, 2015. 5/18/15.