By Lucy Komisar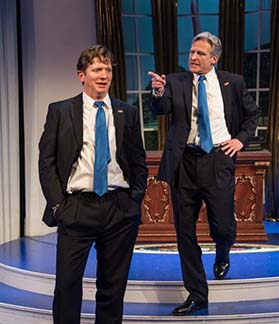 Political satire is often the best political commentary. Take the superb sketch musical comedy by Paul Hodge and Michael Hodge, which skewers Democrats and Republicans with equally well-aimed barbs.
The clever device is that two actors play Bill Clinton, the older, wiser William (Tom Galantich) and the young roué, Billy (a very good Duke LaFoon) to show us the two sides of his personality. There's only one Hillary, but Kerry Butler has enough talent for two.
In the Oval Office, the Wm/Bills sing, "We'll be two for one/ I will get things done/I will have some fun."
The dramas of the Clinton administration are portrayed with fast, smart direction by Dan Knechtges. A combination of vaudeville and cabaret.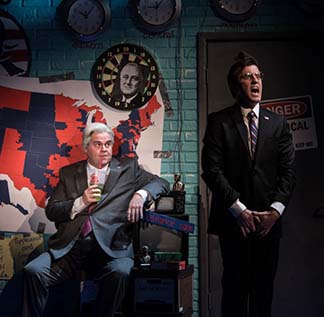 We see Newt Gingrich (a very good John Tracey Egan) in a Capitol subbasement scheming  with Ken Starr (the excellent Kevin Zak). The wall has a dart board with a photo of FDR. They are plotting to destroy Clinton, because he is trying to promote health care.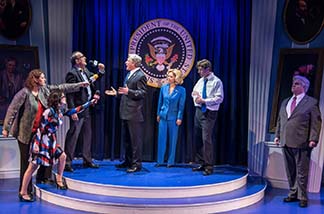 The Republicans are promoting the fake White Water investment scandal where the Clintons lost money. Turning a loss into a scandal was a stretch. But the mainstream media did it.
The Media: "Nothing will arise, but we will bring that nothing to you live. There won't be time to cover anything else like health care."
Clinton in a major faux pas names Starr as special prosecutor in the Monica Lewinsky affair investigation. "When you wish for Kenneth Starr…." Zak makes him a terrific witchy star/starr. He pulls off his clothes to reveal sheer black briefs and leather straps with spikes.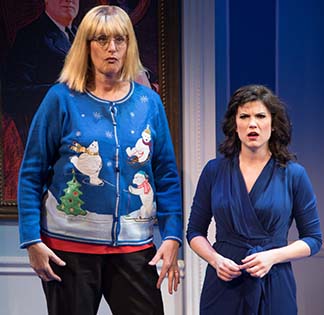 His new friend is a very-New York-accented Linda Tripp (a comic Judy Gold). Moving the entrapment forward, she tells Monica (the very good Veronica J. Kuehn) to write everything down and don't take that dress to the dry cleaners. Starr promises to make Monica a star.
Just to point out that there may be a double standard (or no standard) operating here, Gingrich, who is married to a woman suffering from cancer, tells his new girlfriend, Calista Bisik, Don't get sick or I'll divorce you. Meanwhile, she sings with illicit joy, "I'm fucking the fucking Speaker."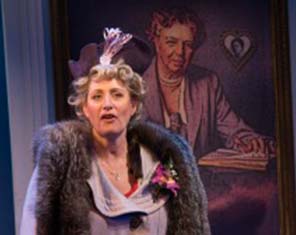 The set features a backdrop with paintings of past presidents with their girlfriends inserted in hearts. Eleanor Roosevelt (a very funny Gold) comes out of a painting and advises Hillary to stay with Bill. Speaking as another two-timed woman, she used her position to work for good. Hillary? Who knows.
The Republican leaders are shown as life-size cardboard cutouts: Delay, Dole, Gramm, Lott, Boehner, Hutchinson. What a perfect graphic metaphor. You've probably forgotten half of them. They sing, "We'll do what we can do the best: nothing."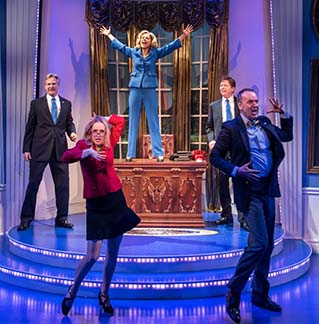 Paul Hodge's music has a good jazzy or country sound. So many superlatives about the cast? With excellent voices and fine comic skills, they deserve it.
"Clinton: The Musical." Book by Paul Hodge & Michael Hodge; music and lyrics by Paul Hodge, directed and choreographed by Dan Knechtges.  New World Stages, 340 West 50th Street, NYC. (212) 239-6200. Opened April 9, 2015; closes June 21, 2015.