By Lucy Komisar
The opening of Shakespeare's The Tempest is powerful and realistic. The thunder shudders, the lightening flickers, water mists up through a  ship's floor boards, passengers and crew list and fall. A couple left the theater with a very young son whose face showed real fear.
The scene depicts the power of natural forces. But  in this case, the power is supernatural. Because the storm has been conjured up by Prospero, former Duke of Milan, exiled to a remote island, who with the help of a magic cape is getting back at the king and brother who betrayed him. He has shipwrecked them on his island.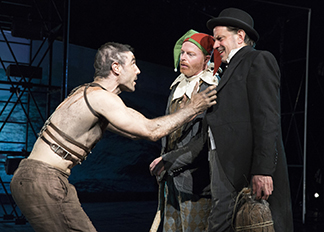 However, the rest of the drama in Michael Greif's production is not of a piece.
The best performance is by  Louis Cancelmi playing Caliban, the bestial son of a witch. Also excellent is Chris Perfetti as Ariel, the androgynous sprite. Both have been enslaved by Prospero. But they  have more human qualities than their master. And they want freedom.
Two of the minor characters, also  well played, are Stefano, the drunken royal butler with bowler hat and suit (a terrific Danny Mastrogiorgio), and Trinculo, the court jester (a very good Jesse Tyler Ferguson), who both engage Caliban. The latter promises his allegiance to Stefano if he will help him kill the oppressor.
The main problem of the show is lead Sam Waterston's Prospero. At one point in the dialogue, his daughter Miranda (Francesca Carpanini), who he took on his exile, says "Your talk, sir, would cure deafness." A good critique of his performance. This star collapsed on his laurels. Was Grief intimidated into not making him change his performance?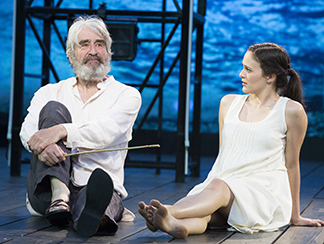 Waterston's voice is of one note: loud, argumentative, angry, never subtle. And he seems to have a speech impediment, or at least unclear diction. He is nervous, jittery, harsh, nasty. Yes, after 12 years on this mostly barren island, he has reasons to be bitter, but neither is he very aristocratic.
Caliban, on the other hand, is the best character of the play. Cancelmi has the body language of the beast, his hands curling like paws, his twists and turns like an animal's. His accent has a burr. His portrayal is brilliant. Caliban at one point says to Prospero, "You taught me language and I know how to curse." He also shouts "Freedom!" One wonders who the animal is here.
And Perfetti's Ariel, with ethereal mood and language, could take flight as he darts and runs as if on wings.
In the tale, the royal party is thrown ashore, and the king's son, Ferdinand (Rodney Richardson) is separated from the others. He ends up at the abode of Prospero and Miranda. Of course, he falls in love.
And there's a big moment — comic in Shakespeare's time — where the father says the two can't sleep together until they are married. Or terrible things will befall Ferdinand. Oh, and Ferdinand's first proposal is that he wants to marry her, as long as she is a virgin.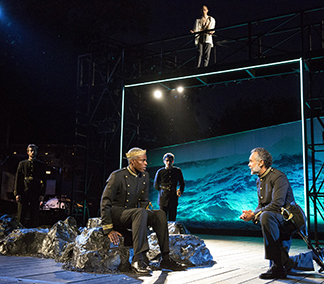 Carpanini just graduated from Julliard, and her lack of experience shows. Nor does Richardson make you think Ferdinand is a prince. Seems more like a fraternity boy. They are a couple for a vacuous TV show.
On the other hand, there's a pretty interesting speech by Gonzalo (the fine Bernard White), the king's councilor, who helped Prospero on his voyage to  exile by secretly providing him with water.
He imagines a country where there is no sovereignty, all things are in common, no weapons, nature shall bring forth abundance. Seems Shakespeare was a leftist.
Prospero says, "We are such stuff as dreams are made on." But there's no sense of that. As he is saved, to return to his position, if the mood is no longer dark, it's still overcast. More realistic is what Miranda says: "Oh, brave new world that has such people in't." She thought the royals she met were wonderful. Shakespeare hints she has a lot to learn. Aldous Huxley, who knew, took the phrase for his dystopian novel.
"The Tempest." Written by William Shakespeare; directed by Michael Greif. Sets by Riccardo Hernandez, soundscapes by Matt Tierney, lighting by David Lander. The Public Theater, at the Delacorte Theater, Central Park at 81st Street and Central Park West. 212-539-8500, for free tickets, go to the website. Opened June 16, 2015; closes July 5. Running time: 2:45. 6/23/15.