By Lucy Komisar
Nathalie Schmidt is a French cabaret singer – and a playwright and screenwriter, theater and film director, artist and actress in plays by Shakespeare, Racine, Sartre and other European classics. A full creative life.
You see a lot of that talent in her cabaret show, Forgotten Lovers, at the Metropolitan Room. Her  acting enriches  a partly comic, partly cynical take on life. As a singer, she hits the right high notes, and she  often sounds like Piaf. She's a personality that the New York cabaret scene needs.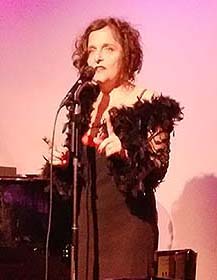 Dressed in a black sheath and feathers, she takes us on a woman's personal journey in search of  bourgeois marriage. Some of the songs are in English, some in French. Alas (or hélas), she has had many amorous encounters with men who don't have marriage in mind.
But now, she is going to Paris to get married. She gives a witty interpretation with her own lyrics to "I Wanna Get Married" (Phil Charig, Milton Pascal, Dan Shapiro).
She  says a dramatic good-bye to past lovers. Such as Johnny. Well, not just any Johnny. It's "Surabaya Johnny" (Bertolt Brecht, Kurt Weill). And to a past life: "Broadway Baby" (Stephen Sondheim).
Along the way, there is amusing repartee with pianist  Andrew David Sotomayor remembering the path she's taken.
Looking back, she sounds very much  like Piaf in "Je Ne Regrette Rien (Michel Vaucaire, Charles Dumont).  It  means I don't regret anything. And Schmidt gives it the Piaf throaty rumble.
Then she takes another look back at the men. "I'm A Fool To Want You" ( Jack Wolf, Joel Herron, Frank Sinatra). And warns those guys, "I'll Be Hard To Handle" (Jerome Kern, Michael Sartor).
Well, it didn't always go her way. So, there's the charmer, "One Hundred Easy Ways To Lose A Man" (Betty Comden & Adolph Green, Leonard Bernstein). And the perky, quirky "Je Ne T'aime Pas"– I love you, no I don't (Maurice Magre, Kurt Weill).
Also, "J'm'en Fous Pas Mal" (Michel Emer). I could care less, or, less elegantly, as she explains, I don't give a f___. Plus Billie Holiday's "Don't Explain." Jazz says it all about relationships, doesn't  it?
Earlier I should have added songwriter, because Nathalie Schmidt writes them, too. Including "It is Hard, Hard, Hard" (Nathalie Schmidt, Jed Distler). And "I Think It's Time." For marriage, really? (Nathalie Schmidt, Jed Distler). She gives it a sound that conjures up  the 40s.
Finally, "Losing My Mind" (Stephen Sondheim). So, the only way out is to fall into the abyss. The sound again is 40s. (They were great years for cabaret.) And "Take Me As I Am." (Nathalie Schmidt, Jed Distler). There she is for the guy. Lucky guy.
Nice, slightly hokey story. Very good cabaret singer sound. And Nathalie Schmidt's acting, of a quality that you don't get at every song joint in town.
Forgotten Lovers. Written and sung by Nathalie Schmidt. Pianist Andrew David Sotomayor. Metropolitan Room, 24 West 22 Street, New York City. 212 206-0440. June 24, 2015. 6/25/15.