By Lucy Komisar
The Fiasco Theater has become the clever modern interpreter of Shakespeare, and this production is no exception. When two rivals for her hand sing "Who is Sylvia?" – the name of a pop song — it gets a laugh, because the sad-romantic song is  perfectly in tune with this contemporary, light-hearted production.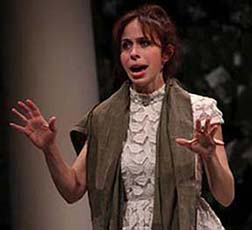 Valentine (Zachary Fine) and Proteus (Noah Brody) are gentlemen friends. Valentin leaves Verona to try his fortune at the court in Milan, and Proteus stays home to woo Julia (Jessie Austrian).
When his father gets him to go to Milan to better himself at court, Proteus and Julia exchange rings and promises. In Milan, Valentine falls in love with Sylvia (Emily Young), the Duke's daughter, who has been promised to Thurio, a rich guy.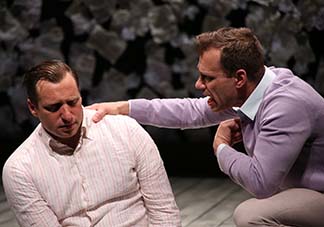 On arrival, Proteus also falls in love with Sylvia and when he learns that Valentine and Sylvia will elope, he informs the Duke (Andy Grotelueschen), who banishes Valentine.
Meanwhile, Julia, disguised as a boy, goes to Milan to find her faithless lover. The rest involves outlaws, rescues, apologies and love conquers all. It's Shakespeare, isn't it?
Since the story is timeless, directors Jessie Austrian and Ben Steinfeld pull it into the present. Julia is a crabby modern young girl, who screeches rather than speaks. When she gets a letter that upsets her, she shrieks, tears it up, cries and pouts.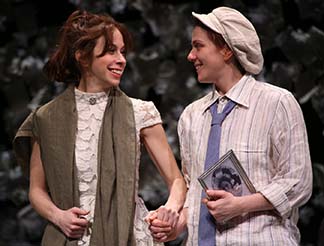 The clothes and even the language seem of the present. The guys and girls are collegiate, a guy in gray pants and purple sweater. There's something TV sitcom about it. Except, the songs are jazzy, which I liked a lot. Helped by accompaniments on guitar and ukulele.
The cast, which works as closely as any ensemble company, is fresh and talented.
After a while, you forget this is 16th-century stuff, it seems like a romcom. And utterly charming.
"The Two Gentlemen of Verona." Written by William Shakespeare; directed by Jessie Austrian and Ben Steinfeld. Fiasco Theater production at Theater for a New Audience, Polonsky Shakespeare Center, 262 Ashland Place, Bklyn. 866-811-4111.  Running Time: 2:05. Opened April 30, 2015, closes June 20, 2015. 6/4/15.