By Lucy Komisar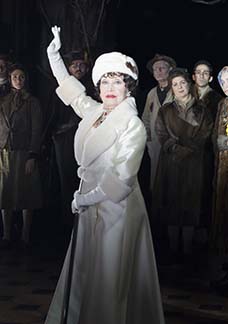 When the music is by John Kander and the lyrics by Fred Ebb, you think dark. "Chicago," "Cabaret," "Kiss of the Spiderwoman." "The Visit" fits perfectly into that very satisfying canon. This is  a stunning production, with director John Doyle using the musical pieces to build the psychological and intellectual tension.
The story is shadowy and shocking, a political fantasy based on the 1956 play by the Swiss Friedrich Dürrenmatt. Writing soon after the end of World War II, he crafted this as a morality tale for our times. It's a chamber opera.
The events take place at a dilapidated railroad station with dried up vines twisted around deteriorating columns.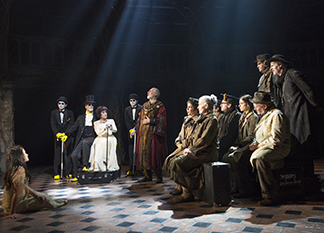 Claire Zachanassian (the excellent Chita Rivera) returns to the town where she grew up. She is very rich. The place has fallen on hard times. The townspeople hope she will spread her largesse over them, and they organize a greeting party, complete with oompah music and songs of welcome.
Turns out she has returned for revenge against the lover who got her pregnant and then spurned her. The townsfolk rejected her as half Jewish, half gypsy. She was forced to leave town.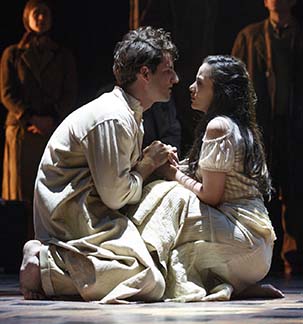 We see her as a young woman, played by Michelle Veintimilla, wordlessly moving in gauzy flowing white, with her lover, young Anton Shell (John Riddle, a fine singer), also in ghostly white.
Claire made her way up in the money world, but at a cost. She tells them, "I married very often and I widowed very well." But she lost a lot in the deals. Even parts of her body, which represent perhaps part of her soul.
Now she wants something in return for her cash. A large black coffin is the not very subtle major piece of the set, and people sit on it and move around it and over it without seeming to notice it.
The mayor and schoolmaster – the important people in town – push Anton (Roger Rees) to the back of the crowd. He is now a shopkeeper, who got there by marrying the daughter of the store's owner. But we learn that it is he who Claire came for.
She has lived for justice.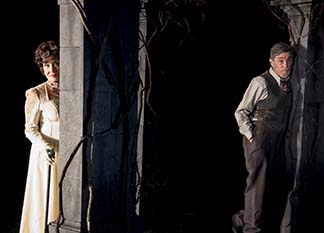 She is bejeweled and accompanied by two eunuchs — countertenors (Matthew Deming and Chris Newcomer) with bowlers over white faces and dark glasses to hide their blindness.
Anton got two friends to testify that she slept with them. Note that the eunuchs are not sleeping with anyone anymore. And Claire  has a curious love-hate feeling toward Anton. Rees is a fine actor but lacks a musical singer's  voice.
Odd things happened to the town after the war. It had become prosperous by making cuckoo clocks, but then the factory was closed. The mineral rich land was kept unproductive. She got justice.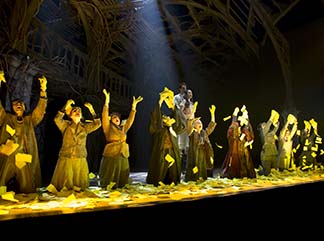 Rivera, who exudes drama and presence, mostly talk-sings but when she sings, her voice is fine.
She offers the towns people riches if they will help fill the large coffin to eke out her final revenge. The schoolmaster (Jason Danieley, with a fine voice) declares, "This is Europe, we are not savages." She says, "I'll wait."
Suddenly, the townsfolk want luxuries. That is represented by them one by one  putting on yellow shoes that represent the coveted gold. They know who the coffin is for. Will they agree to murder for money?
An ironic mood is set with a carnival sound, suggesting underlying darkness and  melancholy.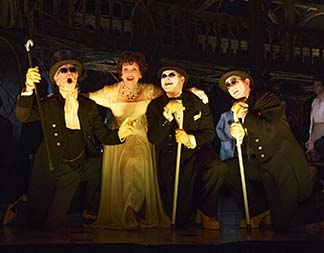 Rivera's  movements as an old woman are so realistic that it's a surprise when she comes on in very good form for a curtain call.
But that was also clear during the kicks-and-canes musical showstopper when Claire's  eunuchs and butler insist that they will never leave her. (Choreography by Graciela Daniele.) The dancer Rivera at 82 can still kick!
"The Visit." Written by Terrence McNally, Music John Kander, Lyrics by Fred Ebb, directed by John Doyle, choreographed by Graciela Daniele, based on 1956 play by Friedrich Dürrenmatt.  Lyceum Theatre, 149 West 45th Street (Between 6th Avenue & Broadway),  212.239.6200. Opened April 23, 2015.