By Lucy Komisar
It's the end of World War II, Liberation in Paris. Former soldier Jerry Mulligan (Robert Fairchild), a New Yorker who wants to be a painter, stays.
This modern jazz ballet with brilliant music by George Gershwin and unforgettable lyrics  by Ira Gershwin is wrapped around  a story inspired by  a 1951 movie.
Jerry  becomes friends with Adam Hochberg (Brandon Uranowitz), a very NY-accented pianist and composer who hits the keys at the Dutois café. Uranowitz is a charmer.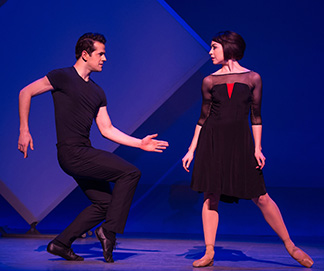 It's still a dark time in the city of light. There's hunger. The men find rooms  at a hotel where artists don't get charged.
But there are some who have means. Henri Baurel (Max von Essen) is the son of a family that produces textiles. He wants to be a nightclub singer.
Mix that with a  dance company with a Russian ballet master that was funded by Nazis.  The  entrancing dancer is Lise Dassin (Leanne Cope).
And then there's what money can buy — including love. All three men love Lise, which is a bit hokey. You see the tug  of art vs. money.  Milo Davenport (Jill Paice), an American heiress, uses her wealth to demand romance. Life without money isn't romantic, she says. It's stressful. She hires Adam to compose a ballet, which will be designed by Jerry, who she has an eye on. Starring Lise, of course. Who is destined for Jerry.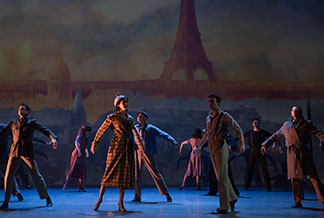 But that's just a backdrop. Good that it makes political/romantic sense, but you soon forget the book by Craig Lucas and focus on the production, the staging, the visuals (Bob Crowley's set and costumes), and the gorgeous dance numbers by Christopher Wheeldon featuring the stunning Cope and Fairchild.
Who needs to talk about plot when there are Gershwin brothers' songs such as  "I've got rhythm"…. "I've got my girl who can ask for anything more." "Someday he'll come along, the man I love." "S'Wonderful." "They're writing songs of love, but not for me." "The melody lingers on." "They can't take that away from me." And "I'll build a stairway to paradise."
Think of this production as a few hours of paradise.
"An American in Paris." Music by George Gershwin, lyrics by Ira Gershwin, book by Craig Lucas, directed and choreographed by Christopher Wheeldon. The Palace Theatre 1564 Broadway, New York City (at 47th Street). 877-250-2929. Opened April 12, 2015. 7/15/15.