By Lucy Komisar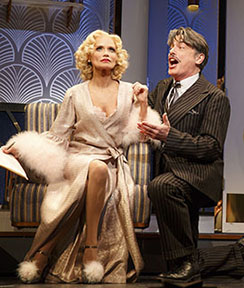 Part operetta, part farce, part screwball comedy, this musical revival is about the behind-the-scenes relationship of Lily Garland (Kristin Chenoweth), a temperamental actress, and Oscar Jaffee (Peter Gallagher), a bankrupt theater producer.
On a luxury train traveling from Chicago to New York, Oscar tries to cajole the glamorous Hollywood star, once his protegée, into playing the lead in a not-yet-written drama, and perhaps into rekindling their romance.
Yes, it's a bit of fluff, but what fluff! Betty Comden and Adolph Green's 1978 creation, based on a film and play of the 1930s, is utterly delightful. Add terrific performances by Chenoweth and Gallagher to the script and lyrics of the two masters, plus music by the jazzy Cy Coleman, and stir with smart direction by Scott Ellis. It's a heady brew.
The shtick is that Oscar  has had a series of flops and is on the ropes, not to mention 250Gs in debt. His only hope is to sign Lily, who he some years ago plucked from a dreary life as Mildred Plotka, a rehearsal pianist from the Bronx, and made a star. And his lover.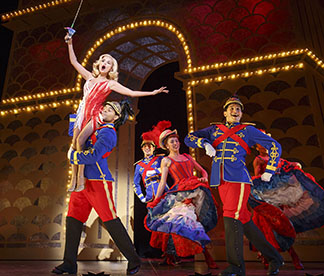 Chenoweth is a scream as the heavy-NY-accented Mildred singing a hokey "The Indian's Lament."
And she is brilliant doing a vaudeville number as the French Veronique, with twirling tricolor flags, a wonderful soprano, a very good French accent and stunning choreography by Warren Carlyle.
When she realizes her talent, and recognizes Oscar, albeit charming and witty, as pretty impossible, she ditches him. Desperate, he plots to meet her on the New York Central Railroad train to New York. This gives costume designer William Ivey Long a chance to outfit the women travelers in elegant outfits. And Gallagher is a charmer in pinstripes and panache. What style!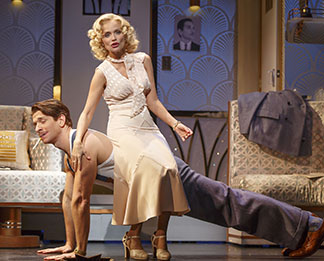 And comedy. Passenger Letitia Peabody Primrose (a very funny Mary Louise Wilson), an oddball member of a prominent rich family, goes around affixing repent stickers to people's backs. And singing against dirty doings.
Oscar and, in the next-door compartment, Lily's boy-toy Bruce (Andy Karl), do an unintentional duet on a subject they deserve: "There is no stronger challenge than an independent woman." We see graphically what that means when she sits on what looks like Bruce's  Pilates plank pose!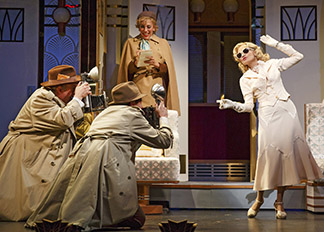 There's a lot of on-the-mark  satire of  self-involved movie stars, viz Lily adopting  an ain't I fabulous  attitude  for photographers  and Bruce slapping his own photo on the wall when he leaves the compartment.
Another memorable moment features the  entr'acte song and tap dance, "Life is like a train," by four bell caps (Rick Faugno, Richard Riaz Yoder, Phillip Attmore and Drew King).
Also, kudos to set designer David Rockwell, for the train engine that chugs toward us with Ms. Primrose perched on the front.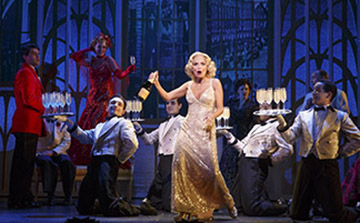 My favorite production number shows how movie stars desiccate film scripts! Lily is imagining a new play, Babette. She says, "I love playing this sophisticated woman who leaves her husband…and her lover…but I was wondering…couldn't she have some moment of religious revelation?   I mean–a repentant sinner…like Mary Magdalen?   A modern equivalent of course… "
She explains, "but I see myself first as this wealthy voluptuary…and then maybe some vision…kneeling at the foot of the Foot of the Cross… …And then, at the end, a pathetic little  figure…say, selling olives in front of the Haymarket." Can you tell me that doesn't happen?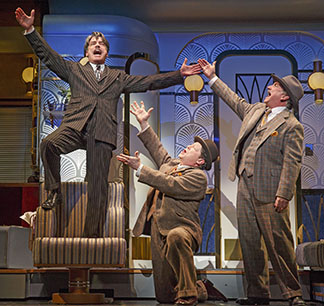 Michael McGrath is good as Owen O'Mally, Jaffee's press agent, and Mark Linn-Baker does fine as Oliver Webb, his manager.
Fueled by charm, wit, sophistication, wonderful voices and choreography, this train leaves the station barreling to triumph.
"On The 20th Century." Book & lyrics by Betty Comden & Adolph Green, music by Cy Coleman, directed by Scott Ellis. Roundabout Theatre Company at American Airlines Theatre, 227 West 42 St., NYC. 212-719-1300.  Opened March 15, 2015; closes July 19, 2015. 6/14/15.