By Lucy Komisar
In the mid-19th century, the King of Siam, now called Thailand, was struggling to modernize his country. Much of the struggle was against himself. He was a despot who thought of himself as a god. He had numerous wives, and everyone — wives, children, commoners — had to keep their heads lower than his, even if it meant prostrating themselves. And King Mongkut had slaves.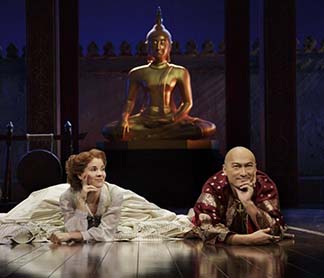 He hired an English governess to tutor his children, especially the crown prince, so Siam could take its place among modern nations. And defend itself against the Europeans in an era of colonization.
Put aside that "modern" England launched the opium wars to force China to accept trade in the drug. Or that Belgium in the Congo….well the Europeans were on the surface more civilized at home.
The governess, Anna Leonowens, who spent five years at Siam's court, wrote two memoirs in the 1870s, and Margaret Landon fictionalized her story in 1944.
Based on her novel, the 1951 musical, "The King and I," with book and lyrics by Oscar Hammerstein II, music by Richard Rodgers, and choreography by Jerome Robbins, was a dazzling success. It still is. Director Bartlett Sher has done a brilliant job – you almost see him waving a conductor's wand over the pageantry. Christopher Gattelli has smartly adapted the original choreography.
Anna (Kelli O'Hara with a rich soprano) is not na¯ve about Asia, having lived in India and Singapore, where she gets the King's job offer. We see her with her young son on a boat arriving at port; it seems to travel straight at us. Servants with baskets and torches illuminating the dawn move down through the audience to the dock  to welcome her.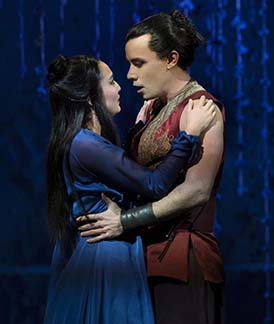 The cultural dissonance is palpable. The King (Ken Watanabe) insists that Anna's head can't be higher than his, and to force her to accommodate, he kneels, then lies flat. He won't admit that she, a woman, is smart. He won't give her the cottage he promised, because he wants her in the palace where he can control her. There's a tough tug of wills.
The stunning sets (by Michael Yeargan), gorgeous costumes (by Catherine Zuber) and exotic dancing evoking 19th-century Siam are in stark contrast to the brutal fact that this King has a slave concubine, the gift of the King of Burma. Young Tuptim (Ashley Park) sings sadly, ironically in a thrilling soprano about "My Lord and Master."
She is in love with Lun Tha (Conrad Ricamora), a young scholar who was charged with escorting her from Burma. Anna, who sees them furtively together, sings the plaintive "Hello, young lovers." Later, their duet is "We kiss in a shadow." Ricamora has an excellent baritone.
The scene where Anna meets her pupils is a glorious spectacle. The kids are delightful as they run and bow to the teacher. The King has numerous wives and 67 children. Anna dislikes the polygamy and reproaches him, "A flock of sheep and you're the only ram/ No wonder you're the wonder of Siam." She tells the wives that women are as good as men.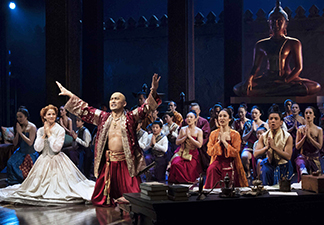 But there's also some charming understanding expressed by his chief wife, Lady Thiang (Ruthie Ann Miles), mother of the crown prince Chulalongkorn (a very good John Viktor Corpuz). Miles has a fine voice and projects a woman of substance and feeling.
The King asks Anna's advice on dealing with Cambodia and the French. "Do I make a treaty, build a wall around Siam, or let the rest of the world in?"
This conversation is as good a place as any to discuss Watanabe's diction problem. Sometimes he can't be understood. And his voice doesn't measure up, it's more talky than it should be. His demeanor is a bit flakey, perhaps to take the edge off his cruelty.
When a British envoy lands and will soon be at the palace, the King wants the Brits to think him civilized. Challenged for a solution, Anna quickly dresses the wives in hoop skirts, which they have difficulty navigating, with a comic result.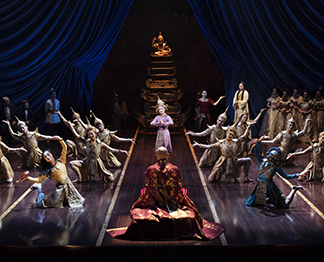 The high drama is encapsulated in "The Small House of Uncle Thomas," the ballet that Tuptim puts on about the slave Eliza's run for freedom to escape "Simon of Legree." Uncle Tom's Cabin had been published a decade earlier. The dance is an elegant Asian-inspired ballet with Simon as a masked warrior.
When the King discovers the lovers' affair and whips Tuptim, Anna accuses him of being a barbarian. He retorts, "There's no barbarian worse than a weak king." Hammerstein is good in showing how a despot frames the choice.
The power of The King and I  is that it combines extraordinary music, lyrics and choreography with real politics and a genuine story of repression. But does the audience understand that as a living reality or a theatrical fairy tale?
Today in Bangkok, students attend Chulalongkorn University, named after the Crown Prince, who ended the practice of prostrating before the King. But advances have come slow. The 1956 film of the play was banned in Thailand. And this May, ten people were jailed for five years by the Thai military, which took power in a coup last year, for l¨se majesté, uploading or sharing on the internet video clips deemed insulting to the monarchy. In fact, the clips were critical of politicians as well as the current royals.   Plus §a change.
"The King and I." Book and lyrics by Oscar Hammerstein II, music by Richard Rodgers, directed by Bartlett Sher. Based on the novel, Anna and the King of Siam, by Margaret Landon; choreography by Christopher Gatelli, based on original choreography by Jerome Robbins. Lincoln Center, 150 West 65th Street, New York City. Running time 2:50. (212) 239-2600. Opened April 16, 2015. 7/19/15.