By Lucy Komisar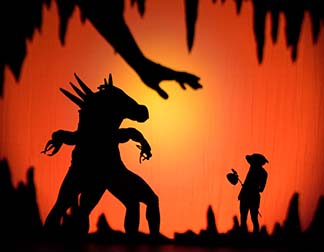 Pilobolus takes dance theater to a new dimension, transforming the performers to silhouetted figures behind a screen, using body artistry to turn dancers into shadows of elephants, café tables, lobsters and a centaur.
It's a clever device that fascinates, though sometimes it seems more like mime or kinetic poses than dance.
The company started in 1971 and did its first silhouette performance in 2007. This production dates to 2009 and has been performed in 32 countries, but only for the first time now in the U.S. Looking at the earlier works, you can see how acrobatic body sculptures led to the new signature style. The skills of the artists, in moments between silhouettes, made me want to see an entire evening devoted just to dance.
The cleverness starts when dancers jump into their clothes. Then, to very modern music, a young girl (Heather Jeane Favretto), puts on makeup, but all the while holds a rag dog.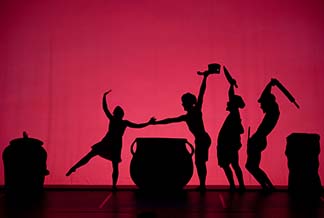 She sleeps on a bed made up of three male dancers and dreams of being grown up. When she awakens, the bodies make a shadowy hilly landscape. Fingers become shoots, a cactus flower; petals engulf her, then spit her out.
The piano music is atonal. Sometimes we hear a flute. A dream hand comes down to tickle her, grasps her head and takes it off, puts it back, then engulfs her torso and she emerges in the shape of a dog. She lies on her back, kicks her feet, wiggles dog ears and tongue.
Now, she sits at a café and barks. The waiters and other patrons (transformed from the table) laugh.
A large pot appears, hands and fingers turn into flames. Cooks chase her with cleavers and a rolling pin.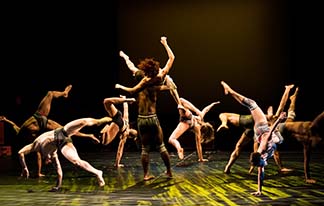 Dancers become a pickup truck, and we hear country music. A guy with a cowboy hat drives the truck, with the dog on the seat next to him.
In the next adventure, the dog is taken by a hunter to a carnival, where we see the figures in front of the screen, along with glittery costumes and rock music: a strongman, a veiled eastern dancer, a sword swallower. When the dog is tied up, it is near a huge elephant"of course made by interconnecting dancers' bodies. When the dog escapes and jumps into the sea, we see dancers become a seahorse, a lobster, a crab.
When the dream is over, the young girl jumps into her parents' arm. She is joyful. So is the audience.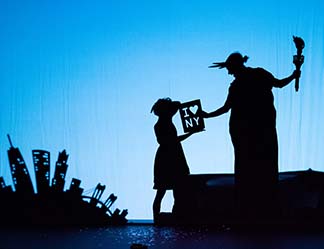 The coda, done especially for the New Yorkers, shows dancers creating the shadow forms of the Statue of Liberty, the Empire State Building, a mammoth in the Museum of Natural History, a subway turnstile, a 42nd Street Library lion, a taxi….there seems to be no end to their imagination and versatility. Pilobolus, which sounds better than it means, is named after a fast-growing phototropic fungus.
"Shadowland." Written and directed by a collaboration of Steven Banks, Robby Barnett, Renee Jaworski, Matt Kent, Itamar Kubovy and Michael Tracy. Pilobolus Dance Theater at NYU Skirball Center for the Performing Arts, 566 LaGuardia Place at Washington Square South, New York City. 212-998-4941,   Opened Nov 22, 2015, closes Dec 6, 2015. 11/27/15.