By Lucy Komisar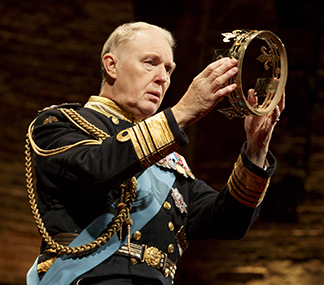 If you take Mike Bartlett's "King Charles III" as the possible future, it makes no sense. But if you take it as a story of hubris and betrayal connected to a critique of British elites, it's right in the realm of current real-life political theater.
It follows the Shakespearean tradition of plays as grand political dramas. In fact, the actors speak in rhyming couplets and sometimes bear resemblances to the Bard's iconic characters.
The idea is that Queen Elizabeth has died and her son Charles (Tim Pigott-Smith, who seems to live the role) is about to be crowned king. However, he gets the idea that, especially when principle is concerned, he ought to be more than a figurehead. And parliament has just passed a bill to limit press freedom in cases that put that at odds with peoples' privacy. You know where that came from. (As in many Shakespearean plays, this one has a ghost. And we know who she is.)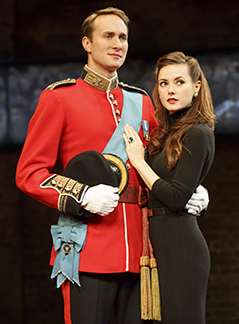 Meanwhile, Charles, who Pigott-Smith plays as a rather diffident fellow, says he wants boldness. He raises the question of press freedom. And says he won't put his pro forma signature to the bill.
But even the opposition leader, Mr. Stevens (Anthony Calf), who opposed the bill (he counts editors among his friends), thinks Charles should not buck tradition. The monarch just signs on the dotted line.
Charles, of course, is terminally na¯ve, not only about politics, but about his family, especially his son William (the cool Oliver Chris), supported by the Lady Macbeth-like Kate (a steely Lydia Wilson), who is salivating for the palace. He is also na¯ve about the vipers in his entourage, especially the palace flack, James Reiss (an unctuous Miles Richardson). The great Shakespearean lather of perfidy is thick.
But surely the Bard never had a character so silly as to hold a teapot and say, as Charles does, "Shall I be mother?"
In fact, Bartlett is really skewering the whole royal establishment. And the politicians that connect with it. At first I had a problem figuring out the parties of the prime minister, Mr. Evans (Adam James), who turns out to be Labor, and the opposition leader, who is Tory, which was not initially made clear. They seemed like mirror images, which may be Bartlett's point.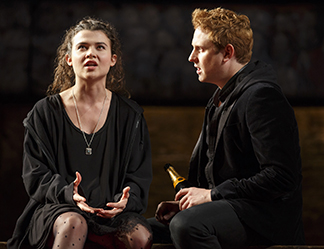 For a moment, you think that maybe one of the royals will opt out of the game. Harry (Richard Goulding), Charles' other son, is as close to a punk (black clothes, albeit no spike hair) as you'd get in the House of Windsor. He has a "whopper" at Burger King and takes up with Jessica (Tafline Steen), a leftist art student, who is exploring Muslims' relationship to pornography. [Is Bartlett risking a fatwa?] He tells Charles he wants to ditch the palace and live with Jess. For a while, Harry steals the show. The leftist is warmly welcomed by Charles, who also thinks it's fine if Harry gives up the profits of his pedigree for her.
When Charles has his weekly meeting with the prime minister, he notes that Britain in some ways may be in decline, "But still we demonstrate the way a just society should work." He is concerned about the privacy bill. But the PM replies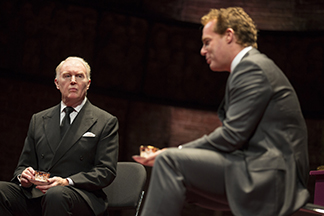 "Your views mean much, but on this subject yes.
I disagree with what you think and if
You want my true intent, I will say more:
That even if there was a chance to change
The bill to take account of what you think.
I would not see it done. The public vote
To choose the members of their parliament
And that is where decisions will be made
Not in this room between the two of us.
But sir, now please, it matters not, because
The law is drawn, and voted on and passed."
Well, the PM has a point there. We are not in the 1500s when the royals ruled. Charles is appealing, but the stuffy politicians are right. Charles sees he is powerless: "Then our weekly meeting's done," he says, adding that he will give time to the leader of the opposition. "Your mother never felt the need," the PM replies.
Charles is studied, calm, concerned about the responsibility he feels and angry that he has been made into a puppet, even threatened, by a country that
"Thatcherated, Reaganized, did place
The profit higher value than the pride
Belonging to the man who travels day
By day upon the Clapham omnibus."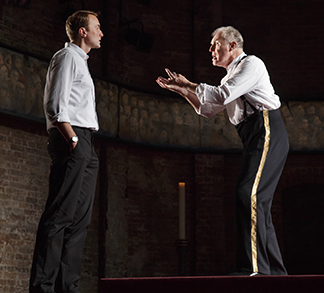 So is he a left-wing royal, railing against the elite? A shrouded ghostly Diana (Sally Scott) gets his grit up by telling him, "You'll be the greatest king we ever had." He says, "Redraft the law with changes that defend the independence of the press …and I will sign." He seems to forget British history, how parliament took power from the royals.
There's plenty more coming, including a privacy threat connected to texted nude photos, street protests outside the palace, family treachery (how sharper than a serpent's tooth….) and Charles in his military uniform confronting a constitutional crisis. Actually, since he's been reminded that Britain has no constitution but governs by tradition, one might call it a "traditional" crisis. Director Rupert Goold does a good job of making this almost a cliff-hanger.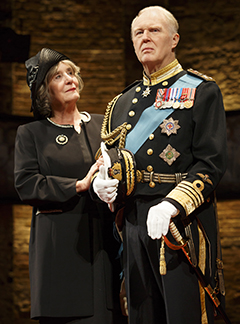 To avoid being a spoiler, I won't allude to the dénouement, except to say that I was disappointed at the minor role played by Camilla (the very mild Margot Leicester), who I'd have expected to have more gumption in fighting for her spouse. This Camilla is no Kate.
All takes place with a backdrop of the flat red bricks of a Romanesque cathedral (set and costumes by Tom Scutt), the space for the Queen's funeral that starts the play and the King's coronation that ends it.
As a political critique of British elites, it's a fascinating, layered, complex work.
"King Charles III." Written by Mike Bartlett, directed by Rupert Goold. Almeida Theatre production, The Music Box, 239 West 45th Street, New York City. 212-239-6200. Opened Nov 1, 2015, closes Jan 31, 2016. 11/17/15.