By Lucy Komisar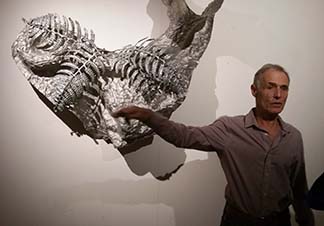 I went to an art opening the other day and discovered the modernization of the ancient art of repoussé. Plus a prominent artist who does political art. All at the new West Broadway Gallery in Soho, in New York City, in an exhibit called American Realism Today.
Robert Lobe has for years created unusual sculptures, presented outdoors and in galleries, that use natural rocks, logs, leaves, and the like as the basis of metal sculptures.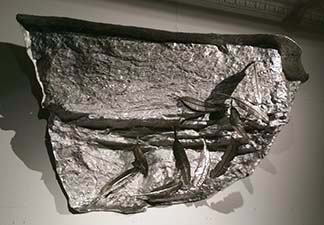 And Neil Jenney does some powerful political statements. The show is at Jenney's gallery.
We see Lobe's aluminum wall sculptures done by metal repoussé. He goes into the woods and hammers aluminum over rocks and logs and then welds or rivets the pieces together in his workshop. He uses both hand and pneumatic tools. The results are stunning.
Lobe's works are in the collections of the Guggenheim Museum, Whitney Museum, Brooklyn Museum in New York, the National Gallery in Washington DC and others.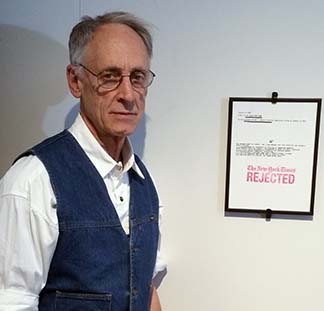 Neil Jenney, known for his realistic and neo-expressionist art, in this exhibit has some pieces that are blatantly political. One is a framed proposed op ed emailed to the New York Times after the Citizens United decision of 2010.
It urged a law requiring that all candidates participate in mandatory debates for as long as 8 hours so all topics could be discussed unrushed and another requiring a debate channel network that would let content, not sound bites, rule. Below, in big red letters, are the words The New York Times, REJECTED.
And he painted a large thanks to Bradley Manning.

Jenney's works are in the Museum of Modern Art, The Metropolitan Museum of Art, the Whitney Museum of American Art, and the Corcoran Gallery of Art in Washington D.C.
I was pleased when he took me to a back gallery, his archive, he said, and showed me one of the series, North America Divided, from the 1990s.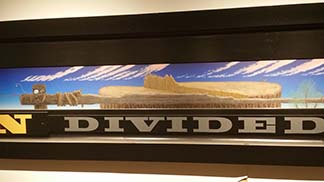 The West Broadway Gallery, 383 West Broadway in Soho, between Spring and Broome Streets, is open Sunday and Monday 11am to 8pm or by appointment, 646 335-5155. The exhibition will be on view until January 14, 2016.