By Lucy Komisar
In Arthur Miller's tragedy of poverty and patriarchy, director Ivo Van Hove strips out the naturalism of sets and real entrances and exits, so you have just the sense of primal actors. Is that why they wear street clothes but go barefoot? To remind us of the natural animal? (Otherwise it's an affectation.)
The surreal sense begins with the pinkish light that suffuses the stage when longshoremen Eddie (a riveting and tragic Mark Strong) and Louis (Richard Hansell) appear after a hard day at the docks. There is chorale music in the background. They are in Red Hook, Brooklyn.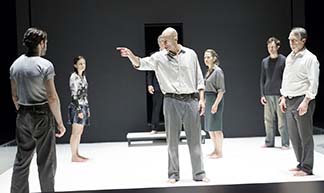 Catherine (portrayed as childish rather than sultry by Phoebe Fox) jumps into Eddie's arms, he caresses her hair, almost flirtatious, touching. She is 17 and in business school learning steno. Wife Beatrice (a tough, cool Nicola Walker) knows there is something wrong.
The dramatic event is the arrival of two young Italian men, cousins of Beatrice: blonde Rodolfo (the charming Russell Tovey) a single guy, and Marco (Michael Zegen), married with three kids. They are illegal immigrants. There's no work for them in Italy. They traveled to the U.S. with the help of the Mafia, which they have to pay off by working as longshoremen, and will stay at the Carbone household, hoping to avoid capture by immigration authorities. Eddie is edgy about them.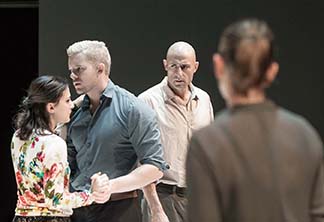 Rodolfo's working-class fantasy is being a messenger with a motor cycle. He also sings and once lived for months on what he earned in tips when he did a replacement act at a hotel. Dock workers call the likable Rodolfo ˜paper doll' because he sings and jokes. Marco wants to make money to send to his wife to buy medicine for his kids.
The mood is not happy at the Carbone home. Beatrice asks, "When am I going to be a wife again?" Lawyer Alfieri (Michael Gould), laconic with a New York accent and striped suit, understands: "A man works hard, he brings up a child, sometimes it's a niece, sometimes even a daughter, and he never realizes it, but through the years – there is too much love for the daughter, there is too much love for the niece."
The characters stand in a minimalist glass enclosure or sit on the surrounding benches, sometimes with their backs to us. We hear the beat of a drum. More primal?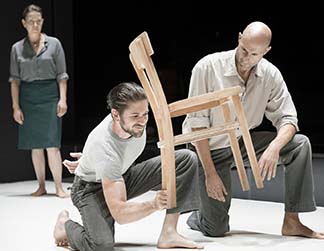 Catherine, who has been kept from dating by Eddie, falls for Rodolfo. Eddie taunts him, "He sings, he cooks, he can make dresses." Eddie, looks dark, morose, possessed, his eyes sunken.
The men play macho games. Marco challenges him to lift a wooden chair from one leg. Rodolfo covers his angst with jokes and songs. Sometimes they all stand as if statues.
As all Miller's works, this is a morality play. The drama explodes in honor vs. betrayal.
Arthur Miller's story line is so deft and clear, that it can be dressed in a variety of directors' garbs – rather like Shakespeare's plays – and still make sense, still keep its focus. The blood and tragedy are Shakespearean as well.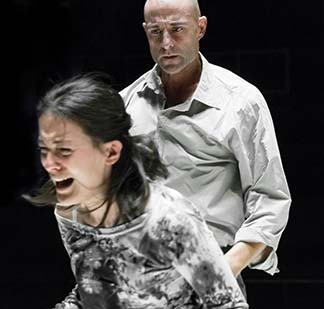 Comparing Ivo van Hove's symbolic production with the naturalistic drama that stared Liev Schreiber and Scarlet Johansson at the Cort Theatre in 2010, I'd say the latter was more subtle, its passion climbing by the minute, while van Hove's starts out immediately as a pre-announced primal fight. It's worth seeing for the same reason you want to see many versions of Shakespeare's plays by innovative directors.
"A View From the Bridge." Written by Arthur Miller, directed by Ivo Van Hove. Lyceum Theatre, 149 West 45th Street, New York City. (212) 239-6200. Opened Nov 12, 2015; closes Feb 21, 2016. 12/22/15.