By Lucy Komisar
John Doyle's staging of "The Color Purple" is a hokey take on Marsha Norman's dramatization of the Alice Walker novel about a young black woman in a society of predatory black men. Musical vignettes in jazz, gospel, ragtime and blues make this a visual chamber opera rather than a story play. The production numbers are appealing, the performers are very fine, so it works as opera. But as drama, the story lacks subtlety.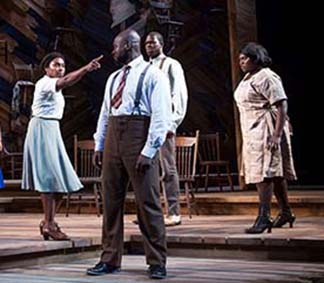 The high backdrop (Doyle's own set) is attached with wood chairs as if a collage. I don't know what the chairs mean.
The narrative is minimal, with starkly etched victims, villains and heroes. It's Georgia between 1909 and 1949. Celie (the moving Cynthia Erivo) is a simple, poor, young woman whose two babies by father(s) not identified are taken from her by her own father and given away.
It's not said why her lover(s) didn't marry her. She appears to have few options. Black men, such as Mister (the perfectly nasty Isaiah Johnson), act like slavers.
Her father arranges their marriage. He tells Mister, "You take Celie, I'll give you that cow." Mister talks rough to her. He carries a whip. "He can't hit her," says her sister Nettie. "She gon be his wife. He do what he want," says their father.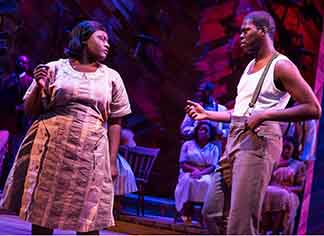 Nettie (a fine Joaquina Kalukango) escapes the horrible environment. We learn later that she is befriended by a minister who takes her with his family to Africa. Will roots be salvation?
Another townswoman, Sofia (a strong Danielle Brooks), is married to Mister's son Harpo (Kyle Scatliffe), who wants her to "jump" when he calls. Expressing severe lack of consciousness, Celie advises Harpo that if he wants that, he'll have to beat his wife. Sofia, shocked, tells Celie that she loves Harpo, but she'll kill him before she lets him beat her.
The women of the neighborhood tell Celie to leave Mister. "Sick ˜n tired how a woman still live like a slave," sings Sofia. "You got to say hell no," and they raise their arms to fists.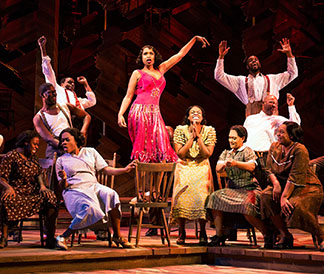 As much as they abuse their wives, the men care about Shug Avery (the expressly tacky Jennifer Hudson), a juke joint singer and prostitute who is paying a visit to her old town. They dress up sharp for her.
We see her as sleazy, vulgar, sitting legs spread, her underwear showing. She sings, "If you wanna feel a train a-comin' your way, baby, push the button." I found her R&B sound rather screechy.
Meanwhile, Nettie finds that homeland Africa has just as much sexism. And in Georgia, there's more horror when tough assertive Sofia is beaten and jailed, because she won't work for the mayor's wife.
So, all the civil rights buttons are pushed.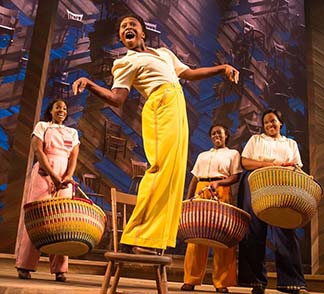 Will the good gals win in the end? Celie leaves Mister and becomes a successful dressmaker, or in this case, slacks maker. Will the financially independent woman accept Mister's plea for reconciliation? Not too many surprises here.
The show is often entertaining, especially the gospel music. But the vignettes don't hold together as a play. Too much cartoonish soap opera gets in the way of good drama.
"The Color Purple." Book by Marsha Norman, Music and lyrics by Brenda Russell, Allee Wallis, Stephan Bray, directed by John Doyle. Based on the novel by Alice Walker. Menier Chocolate Factory production at Bernard B. Jacobs Theatre, 242 W 45th St. New York City. 212 239-6200; 800 432-7250. Opened Dec 10, 2015. 12/25/15.