By Lucy Komisar
Bobby Nesbitt's tribute to the cabaret greats of Las Vegas is much richer than any medley of songs from the star singers of the time. His performance at the Tennessee Williams Theatre reprises the iconic tunes of Frank Sinatra, Dean Martin, Sammy Davis Jr. and more. But he also offers some social history that sets "the Rat Pack" – the name given by actress Lauren Bacall –in an American context. (She said, "You look like a goddam rat pack.")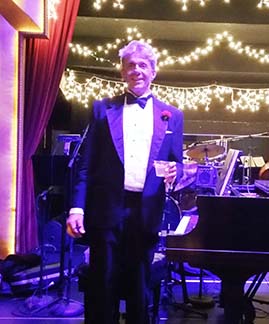 Nesbitt doesn't pretend to imitate Sinatra and the others, but he has their classic / classy upbeat sound. For example, when he does Sinatra singing "When somebody loves you…." ("All the Way") you think of him as a Sinatra protégé – the register is a little higher but there's the same easy sophistication. His "Tender Trap" has a jazz inflection. His "Birth of the Blues" has a hint of trill, a warm tone. He also plays a smooth jazzy piano.
The group around Sinatra also called themselves the Clan, and Nesbitt reminds us, "Remember there were two Jews and a black man." Singer Steve Lawrence was born Sidney Liebowitz. I suppose Nesbitt counts Sammy Davis Jr. twice!
The group performed often in the Copa Room of the Sands Hotel. When Sammy Davis performed with the Rat Pack in Vegas, he had to get to the performance space through a rear entrance and couldn't stay in the hotel.
"Frank Sinatra had Sammy Davis Jr's back," says Nesbitt. "Where Frank went Sammy went. Finally in 1960 he could stay in the hotel." He explained that, "Blacks were not allowed in Caesar's Palace. But in the spring of 1960, there was a strike by black workers supported by Sinatra and his group. Las Vegas was integrated." Apparently Sinatra didn't choose to refuse to perform unless Jim Crow rules were abolished. It took black workers, whom he did support.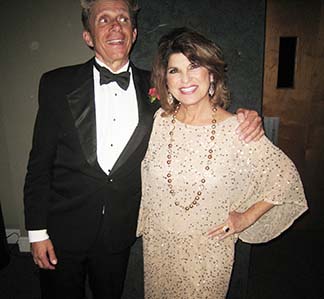 Nesbitt is a showman, he warms up, no, heats up the audience. We get a sense of the Rat Pack through the songs they made famous, for example Dean Martin's "Fly me to the Moon." Then come songs done by Steve Lawrence and Edie Gormé. That's when Nesbitt is joined by Carmen Rodriguez. Bobby and Carmen are the most popular cabaret singers in Key West and you can see why. Her rich buttery voice evokes the charm of "Blame it on the Bossa Nova." Then she raises the drama with "Mame."
There would be songs made famous by Noel Coward, and Louis Prima and Keeley Smith. Bobby does double time in a vibrant "I aint got nobody." Carmen is honeyed in "I wish you love." Seeing him in a tux with a red carnation and her in glittery gowns, a New York cabaret critic feels pangs of jealousy for what the Big Apple is missing.
"˜Viva Las Vegas,' a celebration of the great performers. Written by Bobby Nesbitt. Joe Dallas (bass), Skipper Krippitz (drums), Tim Mayer (sax). Tennessee Williams Theatre, 5901 College Blvd, Key West, FL. 305 296-1520 x1 or 305 295-7676. Jan 10 and 11, 2016.