By Lucy Komisar
This play is a period piece. The time is close enough to the present that it's fascinating but also a little irritating for a feminist. It was written by Hazel Ellis, an Irish actress and playwright in the 1930s. She performed at the Gate Theatre in Dublin and had success with several plays there.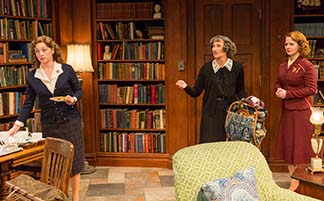 The women are teachers in an Irish country boarding school in 1937. Ellis had attend such a school herself. At that time, teaching was probably about the highest level job a woman could get. Better than maid or nanny or store clerk. But their choices were so limited, that they had to put up with depressing conditions, only half a day off a week, nightly curfews of 10 pm.
So they vented their frustrations on each other, back-biting as a daily routine. The French teacher, Mademoiselle (a very good Dee Pelletier) is treated rudely when she kindly brings a plate of tea and biscuits to the wood-paneled faculty lounge, where all the action occurs.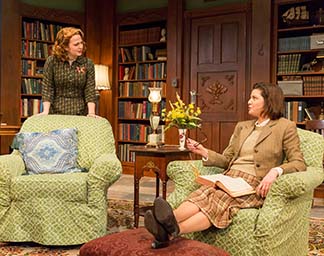 When young Jean Wade (a charming Emily Walton) arrives as the new teacher, she is astonished at her colleagues' meanness.
Marjorie Strong (a controlled Mary Bacon), who has been there for a few decades, advises her to withdraw and keep silent, as she has done.
They are properly snobbish. When Wade asks "Are the pupils nice?" she is told, "Yes, it's a very expensive school."
Wade, who has a fiancé, announces she doesn't want to get married. She's told, "Mind you don't lose him and be sorry." The show depicts how horrible it is to live without men, which in this play means you are condemned to the company of nasty, malicious women.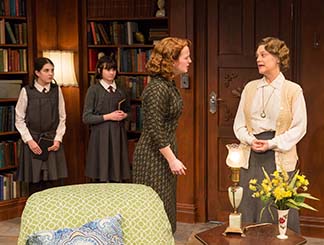 Wade is outgoing, and the girls love her, which arouses jealousy among the teachers. Especially among Miss Connor (the tough but fragile Kellie Overbey) who has spent several decades writing a philosophical book on beauty that she talks about a lot but shows to no one.
Teachers get angry when students give Wade flowers, and Connor plots to derail a play she has organized to show off the girls' talents.
The dénouement crashes into melodrama. Has to do with Connor's opus magnus. Under attack, will the heroine reject being a woman without a man and decamp to her fiancé? Or will the other women get together, discover solidarity and demand better conditions? Was there feminism in Ireland in the 1930s?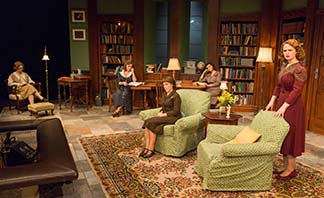 Director Jenn Thompson does a good job presenting this cleanly, sympathetically, without succumbing to the melodrama.
Indeed it is worthy as a period piece. But it's hard to figure out if this was a play urging female solidarity or despairing of its absence. Which raises the question, why the title? Why are these women defined as without men. Is the playwright suggesting that women without men are doomed?
At 30, Ellis left the theater and entered two failed marriages, exiting them into loneliness and alcoholism. With or without a man, she should have stayed at The Gate.
"Women Without Men." By Hazel Ellis, directed by Jenn Thompson. Mint Theater Company, New York City Center Stage II, 131 West 55th Street, New York City. 212-581-1212. Opened Feb 25, 2016; closes March 26, 2016. 3/3/2016.