By Lucy Komisar
In the canon of arts that are little known because they weren't created by white men, add an 18th century baroque opera composed by Joseph Bologne, born 1745 in Guadeloupe, the son of a French plantation owner and a slave.
It's a charming confection that was designed as a chamber piece, to be performed privately, because the Paris Opera would not accept "a mulatto."
His father brought him to France at 7 years old to be educated. He was brilliant. And an accomplished fencer, which made him at 16 a chevalier and eased his way into society. At 17 he read in Rousseau's "Social Contract" that "Man is born free and everywhere he is in chains," which challenged the existence of slavery.
At 24 he made his debut as a solo violinist to great acclaim. He wrote string quartets, violin concertos and symphonic concertantes. John Adams called him great and accomplished and in 1776 he was proposed as music director of the Opera, but leading sopranos petitioned the queen that they could not submit to the orders of a mulatto.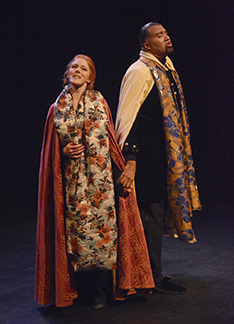 His opera, "L'Amant Anonyme," was presented at the private theater of Mme de Montesson in 1780. He would write six operas, this one the most successful that survived in its entirety. The production adapted and directed by Philip Shneidman features a chamber orchestra of strings, wind instruments and harpsichord.
The text is in English and the vocals in French. It begins with Joseph on trial for actions against the revolution, though it's never made clear what he is accused of. Most of the story, hokey as befits operas, is about unrequited love. Valcour (smooth tenor Everett Suttle) is in love with Léontine (the very elegant soprano, Jennifer Moore) but is afraid to tell her. And she is indifferent to him, but then says he fascinates her.
He is hopeless at his plight, Léontine comments on his remoteness. Their friend Ophémon, (fine baritone Jesse Malgieri) tries to bring them together. There is some swordplay that makes one think that some of this might be autobiographical.
There are also a peasant girl (the excellent Marie Masters) and her fiancé (Anthony Webb), as well as a lady in waiting, Aude Cardona. The musicians sit at the side in the small black box theater, which makes one think of the villa drawing room where this would have taken place.
In the end, of course, "love inflames her heart." The singing is a lot better than the acting in this corny production.
Worthwhile to see a worthy production of an 18th century composer, the son of a slave.
"L'Amant Anonyme." By Chevalier de Saint-Georges, libretto by Desfontaines after Mme. De Genus, adapted and directed by Philp Shneidman. the little OPERA theatre of NY at 59E59 Theaters, 59 East 59th Street, New York City. 212-753-5959. Opened March 12, 2016, closes March 20, 2016. 3/19/16.