By Lucy Komisar
A smart but rebellious kid gets suspended from a Catholic high school in New York City for saying he doesn't believe in God. He ends up at the Thomas Moore Preparatory School in Keene, NH, a small boarding school where he will continue to argue about ideas and also get into fights and scrapes.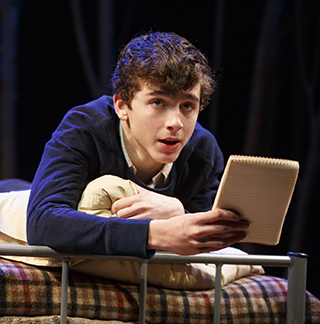 John Patrick Shanley, the author of this engaging autobiographical play, presents a charming, vivid look back at how a precocious youth, who would become a major playwright, had to navigate the shoals of rigid school thinking and a run-in with a closeted gay teacher who came on to him. (There's also a mystery about a student who tried to kill himself.)
Shanley says the story is largely true, even most of the names. As he is also the director, you know you are seeing his truth.
His character, Jim Quinn, (the excellent Timothée Chalamet), is 15, with a New York accent and consigned to "a room in Hell." Though he wouldn't have capitalized it. He'd made the remark about not believing in God "to wake up the teacher." Probably he wouldn't have capitalized God either.
By 16, his satirical sweatshirt says "pray for war." It's 1966, and the American conflagration is raging in Vietnam. Shanley would remain a man of the left.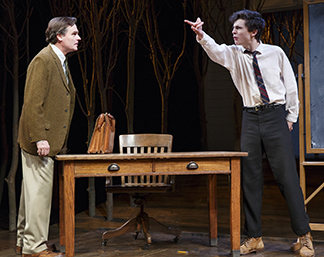 He's not completely isolated at the school; the head of the English Department, Alan Hoffman (Robert Sean Leonard) is a pacifist. He seems open-minded, congenial to students.
Chalamet is like a dancer as he takes off chasing his muses. He's a romantic, a fantastic. He argues that Socrates was a suicide. So were Thomas Moore and Jesus. "Because he wouldn't play the game and lie about what he believed…. Nobody was asking Jesus to rat out his neighbor, just back off the King of the Jews stuff."
The tall lanky kid is jousting with philosophers. He's a charmer. But there are scrapes. He gets drunk. He steals some records. He beats up freshmen. He acts out. Headmaster Carl Schmitt (a properly rigid Chris McGarry) threatens to kick him out. "I have to protect the student body from moral peril," says Schmitt.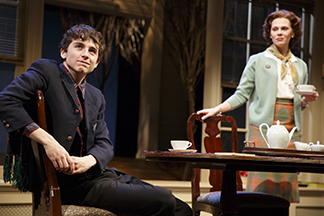 Schmitt's wife, Louise (Annnika Boras), who tutors Jim in T.S. Eliot's "The Wasteland," provides some humanity to argue his case.
Shanley pleads for a recommendation to Harvard. Fallback is NYU.
You love rooting for this fearless, clever kid who, with the passion of his intellect, was smarter than everyone around him. There are some moments that come perilously close to hokey. But as the memoir of a major moral playwright, it's a gem.
Shanley, by the way, graduated from NYU. He would win the Pulitzer Prize for Doubt, about a possibly pedophile priest.
THE END
"Prodigal Son." Written and directed by John Patrick Shanley. Manhattan Theatre Club at City Center, 131 West 55th Street, New York City. 212-581-1212. Opened Feb 9, 2016, closes March 27, 2016. Running Time 95 minutes, with no intermission. 3/2/16.