By Lucy Komisar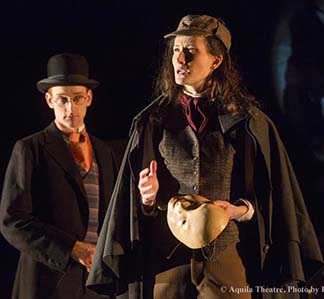 A little weird, but Sherlock Holmes stories always are. A guy who wants a young employee to cut her hair. And to wear blue. He lives in a castle, of course. Maybe his wife is a lunatic. So the plot thickens. It's "The Adventure of the Copper Beeches."
Fortunately, the young woman, Violet Hunter (Kirsten Foster) makes contact with Sherlock Holmes, a terrifically strong, assertive female (Jackie Schram).
Watson (Peter Groom) is not far behind, though he is a little flaky. When he records his notes, he attacks an old Remington as if he were executing a smashing arpeggio on a piano.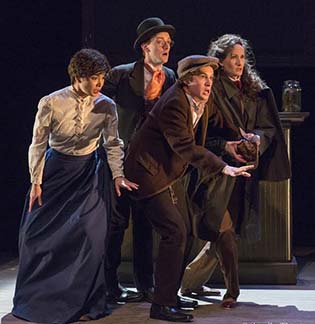 Violet wonders if she should accept a position at the home of Mr. Rucastle (Hemi Yeroham) at Copper Beeches.
There is also a bit of text about "murder most foul," and a killer mastiff is let loose at night. And that's only the first story.
In another, "The Adventure of the Yellow Face," Effie Munro (Foster, who very nicely does all the ingénue parts) has left Atlanta after her husband and child died. Back in Britain, she makes curious disappearances from the home of her second husband. Effie is distraught and charming. What secret is she hiding? It relates to the American South, hint hint.
In "A Scandal in Bohemia," a character ended meals by taking out his false teeth and hurling them at his wife. The King of Bohemia (a mildly sinister Yeroham), about to wed, wants to get back a compromising photo from a former lover.
If this production is not campy, it is at least a bit hokey. And also thoroughly enjoyable. I especially liked Jackie Schram as a tough and utterly believable Sherlock Holmes. The other cast members are also first rate. Director Desiree Sanchez, who is Aquila's artistic director, has done an excellent job keeping Holmes provocative, mysterious and appealing.
"The Adventures of Sherlock Holmes." By Arthur Conan Doyle, Adapted and directed by Desiree Sanchez. Aquila Theatre at GK ArtsCenter, 29 Jay Street, DUMBO Brooklyn. F train to York, walk north on Jay. 800-838-3006.   For 30% discount, go to BrownPaperTickets, choose performance, and enter password FANCLUB. Opened April 9, closes April 23, 2016. 4/20/16.