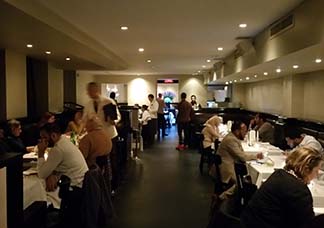 Philippe Chow's cuisine is delicate, subtle, an infusion of Chinese flavors into an American sensibility. One of the waiters told me, "It's Americanized food. It's Beijing style, but you won't find this in Beijing." It's a sophisticated take on Beijing cuisine.
Certainly, the elegant ambience, with dark wood and leather banquettes, cream walls, soft recessed lights, wood timbers on the ceiling, white table cloths and low music are more Upper East Side New York than Chinatown.
Philippe Chow was born in China in 1958 and began cooking professionally when he was a teenager in Hong Kong. He immigrated to the U.S. in 1979 and worked for the restaurant "Mr. Chow" (no relation) in Manhattan. Some 25 years later, in 2005, he opened this restaurant.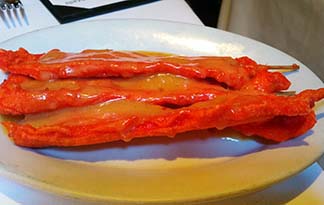 His signature dishes belong to elegant cuisine, with a Chinese inflection. This is not the Chinese restaurant you grew up with.
We started with the excellent satay chicken, a flat piece of chicken folded around a long stick. The chicken had an orangey color.
Our waiter, Hassim, said it was marinated in a secret sauce. He said, "I've been working here nine years and I still don't know the recipe. They keep it secret in the kitchen."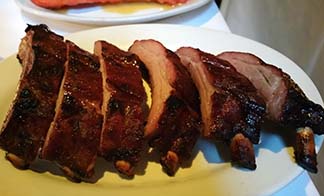 It was bathed in a delicate, not overpowering peanut sauce. Smooth, refined, and very good " not as pungent as you'd expect peanut sauce to be.
Next came the honey glazed spare ribs. Unlike the strong overpowering barbecue sauce one is used to with ribs, this was also nicely understated, though I'd have liked the ribs to be moister. And perhaps have had more of the delicious sauce on the side.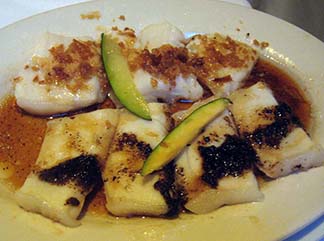 A bottle of Wente chardonnay, by the way, had good mellow flavor, that went perfectly with the dishes we chose.
Sea bass, a fish the best restaurants are serving, was soft and delicate, and seasoned with not one but two different sauces " black bean and garlic.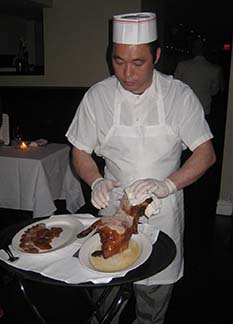 The sea bass was mild but had an elegant texture, and the sauces were a perfect accompaniment. Nice to have it with two very different flavors.
Of course, the pi¨ce de résistance was the Peking duck. It was brought out on a rolling cart and set to where we could see an expert kitchen worker carve it, moving his long knife through the bird as if it were butter, the pieces of duck layered as if in a design around a platter.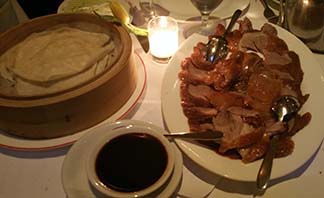 Then the platter was brought to our table and soon joined by a pile of pancakes and a dish of thick hoisin sauce.
The dusky-colored duck was light and rich at the same time. How does Philippe do that! We delighted in wrapping the house-made pancakes around the small round slices of duck, with the hoisin sauce offering just the right heady companion.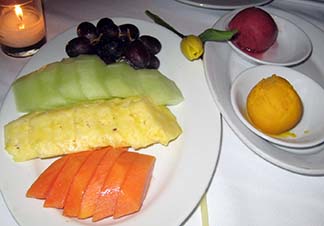 So sorry didn't have room for the House Filet Mignon. But it was on to desert, a very light one.
To finish, we shared a platter of melon, pineapple and two sorbets, mango and berry.
Did you expect a fortune cookie and ice cream?
If you go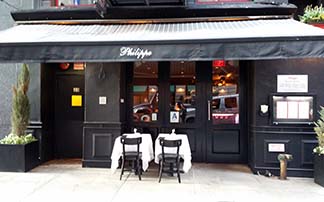 Philippe Chow
33 East 60th Street
New York, NY
(212) 644-8885
Lunch 12–3:30pm, dinner 6–11:30pm.
Seats 150, plus six private rooms.
Three Course Lunch Monday – Saturday 12pm to 3:30 pm $23.95 for 8 guests or less.
Pre Fixe Menus for groups of 10 or more. 3 appetizers and 3 entrees at a starting price of approximately  $55 per person for lunch and $75 per person for dinner.
If you arrive a bit early or just want to hang out, the front bar is inviting.