By Lucy Komisar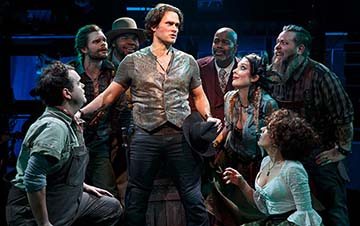 Alfred Uhry's 1995 play "The Robber Bridegroom" is a hokey, campy amusing fantasy complete with an evil stepmother, a na¯ve father, and a two-faced hero/villain, Jamie Lockhart (Steven Pasquale) who has, we must believe, a different face when he wears a small marker that indicates a berry stain. All done to the fine and lively sounds of invigorating country music. (Music by Robert Waldman.) And Connor Gallagher's very good down-home choreography.
It's based on a story by Eudora Welty, who was born in Jackson, Mississippi. The location is Rodney in southwest Mississippi, along the Natchez Trace, a forest trail from Natchez to Nashville.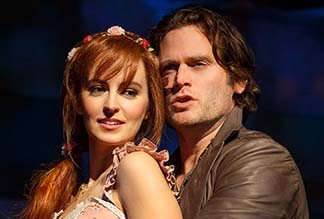 The robber likes love stolen on the sly. If women want him, "they're killing all the fun." Hmmm. The robber's target is the beautiful Rosamund (Ahna O'Reilly), who the ugly stepmother Salome (the terrifically comic Leslie Kritzer) sends on a dangerous errand into the woods meant to get her into the path of scoundrels.
Her father Clement (Lance Roberts) doesn't have a clue what's going on. To add to the indigenous bad guys, there are the Harp brothers (Andrew Durand and Evan Harrington), one of whom is just a head in a barrel that is moved around by the other. There's also a terrific raven (Nadia Quinn), who has her own story.
But the double identity works two ways. Jamie falls for the unknown lady (Rosamund) he meets in the woods, but is intent on marrying the daughter of Clement, a rich planter. Also Rosamund. So he'll keep the unknown lady on the side.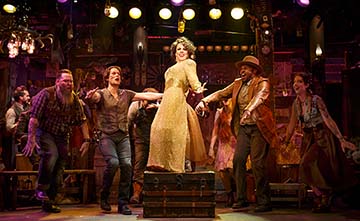 Pasquale has a terrific baritone that dominates the stage. I loved Alex Timbers' production. The rustic set by Donyale Werle includes a deer head on the rough wood wall and a lot of other such country-mood paraphernalia.
But I have a problem with the violence against women. I didn't find it funny when Salome was attacked, as if for an "ugly" nasty woman, that is her due. Yes, this is a fairy tale, but some fairy tales were sexist, too. Though I appreciate that Rosamund is shown to be smarter than Jamie. And the other guys.
"The Robber Bridegroom." Book and lyrics by Alfred Uhry, based on the novella by Eudora Welty; music by Robert Waldman; directed by Alex Timbers. Roundabout Theatre Company, The Laura Pels Theatre, 111 West 46th Street, New York City. 212.719.1300.   Opened March 13, 2016, closes May 29, 2016. 4/6/16.