By Lucy Komisar
This is one of those emotionally riveting plays that suddenly flips you over as you realize that everything you took for granted is not so. You are quite sure that David Harrower's story fits in with your beliefs about men's sexual abuse of young girl, until maybe it doesn't. Strongly acted by Michelle Williams and Jeff Daniels. (Williams is so much better than her bland performance in "Cabaret," that you don't think it's the same person.)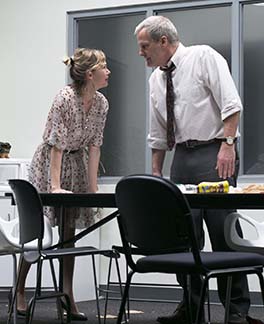 Una (Williams), a woman in her 20s, gets her way into the workplace, seems to be a plant, of Ray (Daniels). He is distraught. "I don't have to be in here with you. I don't have to say anything." She wears a quilted burgundy coat, high heels, dangly earrings. He ushers her quickly into the canteen, afraid others will see them.
"How did you find me?" he demands. A photo in a trade magazine, she says, teasing, sexy. "I wanted to pull out your eyes," she says, seething. "I asked to speak to Peter, and Ray appears." He has changed his name.
He is anguished, in physical fury. He grabs her coat and purse and dumps them on her. He is distraught; his jaw juts, he won't look at her. She is so calm. She asks, "How many other 12-year-olds have you had sex with?"
She, now 27, takes him back to the time when she was 12 and he was 40. They had sex. He went to prison for more than three years. She says she "did" that sentence for the last 15.
But then you are told that it wasn't that simple. That after they met at her parents' backyard barbecue, she put notes on his car. In the course of their reliving those events, you see a mutual seduction, except that adults are supposed to be smarter.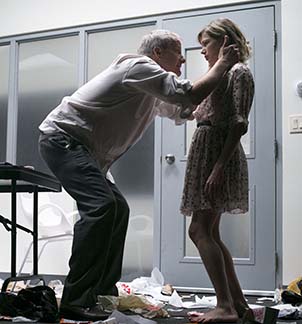 Later, as moments get heated, in the canteen, she steps on garbage cups and plastics falling out of a tall bin. Seems a bit crude. Director Joe Mantello makes it appear like a TV real action moment.
The fascination is in reliving what happened between them. And how that has left her, now. And how that leaves the viewer, trying to figure out who is to blame.
For all the artistry, it's worrisome to take this as a denial of the reality of men's abuse of young girls. She was 12, he was 40. Normal men are not seduced by 12-year-olds. What was on David Harrower's mind? Think about it.
"Blackbird." Written by David Harrower; directed by Joe Mantello. Belasco Theatre, 111 West 44th Street, New York City. (212) 239-6200. Opened March 10, 2016; closes June 11, 2016. 5/26/16.