By Lucy Komisar
In Richard Bean's affecting "Toast," workers in a British bread factory stick together to combat fatigue, danger, insecurity. Bean wrote the play out of his experiences working at a bread factory in Yorkshire when he was 18.
The men work with old machinery that might break down and cause the owner, who is doing no maintenance, to shift production elsewhere. Yet, they endure stoically the danger of getting hurt – someone's arm got crushed — because they need the work. We come to see that they also need each other.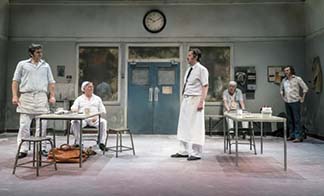 We see them on lunch and smoke breaks. The white dusty break room — too crude to call a canteen –has a couple of old tables and gray metal chairs, a burner for the tea kettle and a pay phone on the wall. It must be barely a relief from the hot ovens.
It's Sunday, and they are working all day, till at least 3 am. They know where they fit in the scheme of things; one jokes about joining the boss's golf club.
The cast is a terrific ensemble, each actor displaying a very different personality, all creating the small social drama we see as if in real time. Director Eleanor Rhode crafts a mood that makes you feel so close to them, you expect to look down and have flour dust your clothes as well.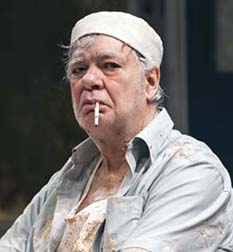 Nellie (Matthew Kelly) represents the perseverance and weariness of them all, as he comes in with bits of dough stuck   all over him and deposits his bones on a chair. He's been at the plant for 45 years.
Peter (Matt Sutton) wants to get him to talk politics, "Ted Heath, is he a poof?" But he is inarticulate.
Cecil (Simon Greenall) keeps declaring, "You getting much? I'm not getting any." And he grabs Peter's crotch so hard the fellow cries in pain.
The group boss, Blakey (Steve Nicolson) seems the most solid; then we learn he'd been in prison for six years.
Dezzie (Kieran Knowles), a dapper young guy with a red motorcycle helmet, is the young hopeful of the group. He phones his wife often about coming home for lunch.
What matters is not just the work but the way the men relate to each other. Dezzie makes the point that he had an identity when he worked in trawlers (fishing boats). He jokes about having sex with a skate. He doesn't seem sure about this place.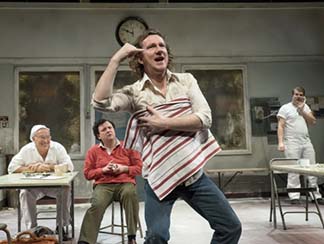 Lance (John Wark), a fill-in who is studying social and economic history, could be using the place as a case study, except that he appears rather weird. Comically suicidal, he announces he's from the next world.
The scene is depressing; they seem to have such dreary lives. But when something gets stuck in the oven, and they face the threat of a machinery breakdown that could cost them their jobs, you get a different sense.
Though Colin (Will Barton), the shop steward, says the place is finished and leaves, the others see no alternative in their lives. They feel they belong there. And not only for the pay. Nellie, brilliantly acted by Matthew Kelly, shows the lengths they will go to save their jobs, and their small society.
"Toast." Written by Richard Bean; directed by Eleanor Rhode. Jagged Fence Theatre at 59E59 Theater, 59 East 59th Street, New York City. 212 279-4200. Opened May 1, 2016; closes May 22, 2016. 5/16/16.