June 3, 2016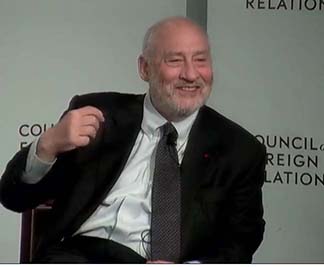 Joseph Stiglitz, Nobel prize-winning former chief economist of the World Bank, says that the way to solve corruption and money-laundering facilitated by offshore banks that run secret accounts is to "shut them down." And the way to do that is to ban non-transparent banks from US correspondent accounts. He spoke at a Council on Foreign Relations meeting today.
At the breakfast on "Is U.S. Finance Hurting Growth?", he addressed an aspect of banking that was not on the agenda, asking, "Why do we have offshore banking? You know, is it that finance really does better in the Cayman Islands because of the sunshine? (Laughter.) You know, that makes money grow faster."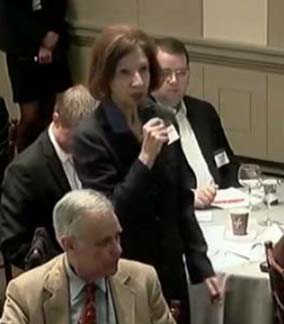 "Or is there something else going on? And we all know the answer to that. It's not like, you know, the expertise in New York and in London isn't up to the expertise that they have in British Virgin Islands. So we know the answer."
"So the question is, why don't we just shut it down?
At question time, I said, "I've written for many years about the offshore bank and corporate secrecy system. So I'd like to ask Joe, how would you shut it down?"
He replied, "Well, in a way I'm—this picks up a little bit on … what we did in the Anti-Terror Act, you know. We did really—we cut off correspondence relationships. It had some adverse effects on some countries, but it had—it worked. The system of financing for terrorism really—I think it was an effective system. So if we had a resolve to do it, and there would be a debate about the collateral damage ….it would be worth doing precisely things like the correspondence banking."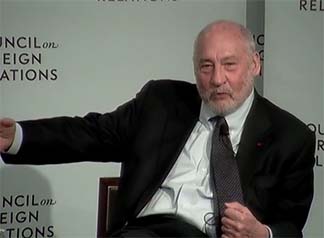 "You say, look-it, if you're not willing to sign up to these standards, you can't have correspondent relationships."
After the meeting, I asked Prof. Stiglitz, "How would you use the corresponding banking system to shut offshore down?"
He said, "You [say you] can't have a correspondent relationship with the US if you aren't a compliant client bank."
He explained, "The US government would say, 'Here are standards, if you don't meet those standards….' We have standards that now don't include [this.]"
I pointed out that Treasury has OFAC [Office of Foreign Assets Control] used to ban US financial connections to banks deemed to help terrorists. Prof. Stiglitz said, "That's the spirit. They haven't extended it to this broader sense of tax havens."
He added, "Onshore bad behavior is as bad as offshore, and we haven't come to grips with that. Now Panama has better, higher standards than Delaware in many of these issues. Treasury could do something about that."
He noted that, "To give you one example, Treasury is now requiring the disclosure of beneficial ownership of real estate transactions in New York City and Washington. But not elsewhere. Why did they….We know why they chose those places. That just an example of the powers they have."
For transcript, audio and video, click here.
Stiglitz's first comment from 35:45 minutes in.
Lucy's question and Stiglitz's answer from 39 minutes in.
Here's a short excerpt of a talk on offshore tax evasion that Joe Stiglitz gave in 2008. The event was produced and moderated by Lucy. Years before the Panama Papers.