By Lucy Komisar
Danai Gurira's stunning, naturalistic play is about the horror of war with no horror shown, only talked about. It takes place in Liberia during the civil war of the 1990s and 2000s.
There is something surreal there. Three women who have been taken as sex slaves by a military commanding officer are so dehumanized, they have no names. They call each other Wife #1, Wife #2, Wife #3, as their only identities.
Yet, there is some solidarity. The older one (Saycon Sengbloh) there 25 years – since she was 12 or 13 — seems beyond outrage; she cares for the younger women. Wife #2 (Zainab Jah), about 19, escapes to get a gun and join the army so she can kill men who attack her. She declares, "With a gun, no man can touch you." Wife #3 (Pascale Armand) is pregnant, na¯ve, cried at the rape, but sees no way out.
They line up so the "general" – better call him a warlord — who has captured them chooses who to rape. The Girl (the luminous Lupita Nyong'o in a searing performance) has just arrived and is trying to hide from him. The women push her under a tub.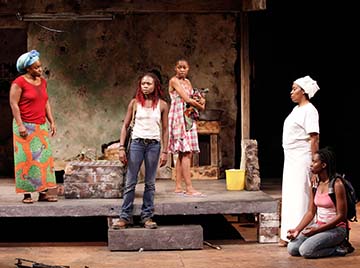 But taking this to the shocking reality in the midst of horror is Rita (Akosua Busia) a lady in elegant white, who explains, "We are part of large network of women peacemakers seeking to end war."
She is educated, apparently of an upper class, looking for way out. She offers the captives a chance to go to the Ivory Coast and go to school. But first they will have to go to a refugee camp, and Wife #2 talks about what happens to women there.
It's as if some NGO representative arrived at a Nazi concentration camp to discuss with inmates how they might get out. Though they'd have to go through some dangerous patches.
How do the captives deal with other women who could be victims? When there is a chance to please the "general" by rounding up young girls, #2 wants to do it.  #3 says "Why not let them get away…We can't do that to them." But #2 says, "It's you or them." As if to make that point, the warlord brings them the clothes of victims. The Girl will become a brute with a gun.
Director Liesl Tommy establishes a mood of reality devoid of terror, that show how much the women have internalized the situation, how they choose various routes to survival.
The lady in white says the women are demanding intervention by the U.S. There's nothing said about the role of the Clinton administration or the international community. But there is subtle connection to the Americans, to the West.
They have a book about Clinton. One says "Where's Monica now." Wife #1 says "She's #2." Another says, "I wonder if he needs another first wife." Clinton, Monica, that now seems frivolous, that "sex scandal." What about the rape scandal? Was the American media/ is the western media as interested? It is never made clear.
What about the UN duty to protect? What about UN troops who rape people in refugee camps? What is there beyond getting your own gun? "Eclipsed" raises questions that have still not been answered. It's a very powerful and important play, commentary, condemnation of western failure to protect the victims of this war.
"Eclipsed." Written by Danai Gurira; directed by Liesl Tommy. Golden Theatre, 252 West 45th Street, New York City. 212-2239-6200. Opened March 6, 2016, closes June 19, 2016. 6/10/16.