By Lucy Komisar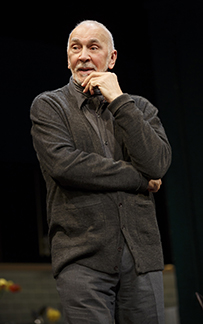 The fascination of Florian Zeller's play about a man suffering from dementia is that it is told from the point of view of the sufferer. I noted early on a very beautiful French desk, and then not long after, it wasn't there. Hmm, I thought. What happened to the desk? Then other items of furniture in his apartment weren't there.
Or was it his apartment? It seems that his daughter was married and living in London. But no, he was living in her Paris flat, and she was married to someone else. Or was that the case?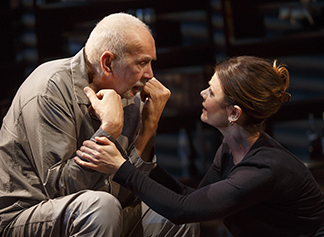 As André, Frank Langella, in a career-defining role, makes us feel the confusions of someone whose mind is playing tricks on him. And as that mind deteriorates, Langella's expression, demeanor, mood follow to show a complex of anger, perplexity, awkwardness, disorientation, fear.
We are in an elegant Paris apartment with green walls and a wood hutch with books. Anne (Kathryn Erbe) has to leave to join Antoine who lives in London. André accuses her of abandoning him. Then you learn that she lives with Pierre (Brian Avers), her husband of ten years. But André doesn't know him.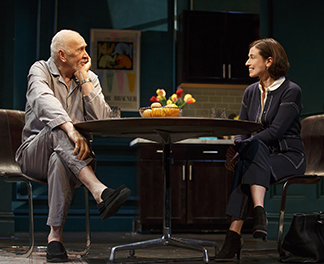 We are confused. We saw her going to London. She is in the flat she shares with her husband. And then she declares, "Dad, I'm not married, I got divorced five years ago." Under Doug Hughes' subtle direction, we don't think we see a man seeing fantasies. We see the shifting "reality" as he does.
The French desk is gone. André is flirtatious with Laura (Hannah Cabell), the aide hired to care for him. He accuses his daughter of planning to send him away to get his flat. He becomes furious; he screams. He is seeing things that are not so. But that is what the rest of us see, when pieces of furniture disappear.
You see how this disrupts families. Pierre is not happy about the situation. Anne appears in a monologue and talks of a nightmare in which she strangles her father.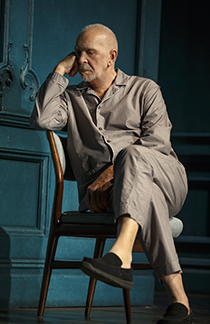 "Antoine" hits him, abuses him. We are not sure if this is truth or fantasy. Little by little, paintings, books, furniture disappear from the apartment. André's face becomes almost sepulchral. When Anne says she's going to live in London, we don't know the truth either. Antoine, Pierre? Earlier times, the present?
We don't just see André's disorientation, we experience it.
"The Father." Written by Florian Zeller, translated by Christopher Hampton; directed by Doug Hughes. Manhattan Theater Club, 261 West 47th Street, New York City. (212) 239-6200. Opened April 14, 2016; closes June 19, 2016. 6/13/16.