By Lucy Komisar
Think of Philip Ridley's play as a Gulliver's modest proposal for furnishing your home. Nothing like what Martha Stewart might recommend. It's a very smart macabre satirical over-the-top sci fi allegory, a modern deal with the devil, and in case you weren't sure about what counts, director David Mercatali opens the play with Madonna's "Material Girl" and the Beatles' "Money."
Jill Swift (Scarlett Alice Johnson) and Ollie Swift (Sean Michael Verety), a young couple in their late 20s, tell us what they did to get and furnish their dream home. It sounds like an ad. "Once we explored why we did what we did, we did it all for baby."
She is sweet and wears a yellow dress with white flowers. He is clean cut in a blue sweater and black horn-rimmed glasses.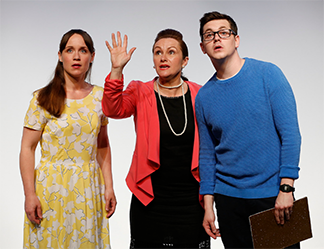 They are a working class couple, with matching class accents, and live in council houses. When Miss Dee (Debra Baker) approaches them, she seems to know all about their lives. Jill is pregnant. Wouldn't they like to move up? She appears to be from the local government.
She makes them an offer. There's an empty house in an unsettled neighborhood, but if they fix it up, they can keep it for free. The idea is that if they make their house sparkle, other people will come and do the same. And develop the area. Of course, there's a cost, as the devil would say.
They move in. But the house is empty. And dark. So they steal brass candle sticks from the church.
Then by chance, while they are sleeping on the second floor, they hear a noise, and Ollie goes downstairs. A homeless person has entered through an open back door. They struggle, the man falls back against a door hook and drops to the ground, dead. Ollie runs upstairs to tell Jill what happened. But when he returns, the body is gone. And suddenly the empty kitchen looks like a model room in Selfridges.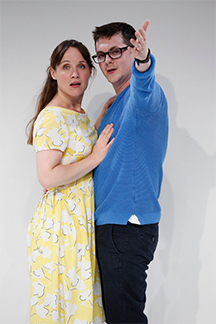 "What're you saying, Ollie?" Jill asks. "You killed a vagrant and he's been reincarnated as a designer kitchen?" He replies, "What would you prefer, Jill? Eh? A new kitchen? Or a dead body in the old one?"
Now they are thinking about getting a new bathroom. What if someone breaks in again? Or maybe they can advance the project. Jill: "We can't wait for them to break in." He'll drive around looking for them. She tells him: "They should only be the ones who deserve it." The targets will be "the ones who will never contribute."
They consider who they are seeking: the scum, the scroungers, the spongers, the vermin.
That's how the deal with the devil gets made. The fable is about those in society who abuse and kill to get wealth. And rationalize it. Jill and Ollie represent the very rich, and the governments and corporations that make them so, who readily throw people under the bus to improve their fortunes. Sometimes these forces deliver misery, sometimes death. Soon a Lamborghini is parked in the Swifts' driveway.
But they don't like brutal bloody killing. Ollie says, "If we're going to carry on…We can't have any more messiness." If they were a corporation, they would have a public relations firm. If they were a government, they would have spinners and favored pundits.
Baker also plays Kay, a homeless woman, whose raggedy clothes are the same colors as Miss Dee's. Except her hair is matted, and instead of being assertive, she is diffident. (Baker is excellent.)
She asks, "Are you going to kill me?"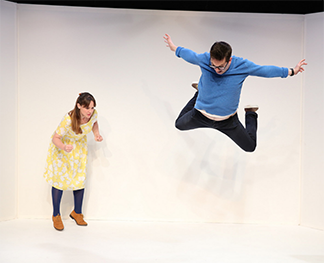 She says, "There's rumors. On the street. Stories whispered round the campfires at night.   I heard them first in another city. Miles from here. The rumors say they're people who drive round in their cars at night. They pick up the homeless – like me – ­ and take us home. They kill us.
And as we die our bodies glow. Glows so bright it's like we've swallowed sunshine. When the glow has faded away, our bodies have gone. But the room all round – it has been transformed. New furniture. New wallpaper. New…whatever the killers wish for. The rumors say the government's in on it. And the police. The rumors say it's the destiny of us all."
But there's a glitch when the homeless won't get in the car. Jill is trying to solve the problem of Suspicion Free Renovator Collection. The euphemism is part of her denial. Jill is upset when Ollie comments that a neighbor's antique chair is "to die for."
As the community develops, there are plans to build the Never Enough Shopping Center, because enough is never enough.
The play gets frenetic and slapstick. Johnson and Verey are both very good and have very high energy levels. They give a birthday party for baby, and play all the roles.
Miss Dee wonders if they'd like to take on a larger project, flipping over each new house till down the line they will need thousands of "renovators." Ollie says they can do it: "We'll have two sons to help us." It's called building dynasties of the murderous rich and powerful. Director Mercatali keeps it nicely tongue in cheek. Or rather science fiction realistic. You never can tell.
"Radiant Vermin." Written by Philip Ridley, directed by David Mercatali. Supporting Wall, Metal Rabbit Productions, and Soho Theatre at 59E59 Theaters, 59 East 59th Street, New York City. 212-279-4200. Tickets $35. Opened June 7, 2016, closes July 3, 2016. The play premiered at Bristol's Tobacco Factory Theatre and London's Soho Theatre in 2015. 6/27/16.