By Lucy Komisar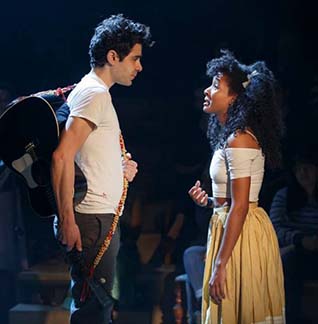 Hades of course is hell. And singer-songwriter Ana¯s Mitchell's script and music, directed by Rachel Chavkin, is based on the Greek myth of Orpheus, who journeys to Hades in order to find his love, the nymph Eurydice, who has been killed by a poisonous snake.
Here Orpheus is a minstrel. His wonderful music persuades the King of the Dead to let him take Eurydice home from the under world as long as he does not turn around to look at her until they reach the upper world. They have to trust each other. But….
Chavkin is an innovative, important director (She did "Natasha, Pierre & The Great Comet of 1812") and this production is memorably staged — — though sometimes it is hard to follow story. And as in "Comet," her construction of the set and theater makes the audience feel as if they are inside the show.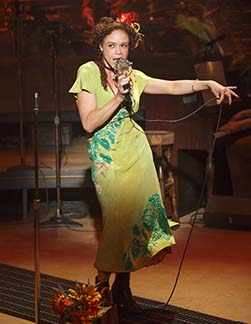 This is current time. Orpheus (Damon Daunno) lives in a black country. The music is soft rock and country, American folk and New Orleans jazz, based on Mitchell's album. The best is the jazzy stuff with Hades (the excellent bass-voiced Patrick Page) and Chris Sullivan as Mr. Hermes. Damon Daunno is too mild as Orpheus. Amber Gray's Persephone – the queen of the underworld and wife of Hades — is a scintillating jazz singer. Nabiyah Be is fine as Eurydice.
The Greek myth mixes heaven and hell on earth. This version adds politics. "What you gonna do when the chips are down?" sing three "Fates" in leather coats (Lulu Fall, Jessie Shelton, Shaina Taub). They have a cool mellow sound that reminds one of the Andrews sisters!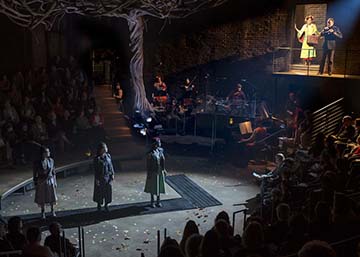 They ask, "Why do we build the wall? We build the wall to keep us free? How does the wall keep us free? The wall keeps out the enemy? And who do we call the enemy? The enemy is poverty. The wall keeps out the enemy. Because we have and they have not. Because they want what we have got!"
Suddenly there is politics. "We have work and, they have none." There's a prison workers song, a factory number.
Eurydice sings: "But I don't understand…You said this was the promise-land."
No, hell is a world of tough labor in factories.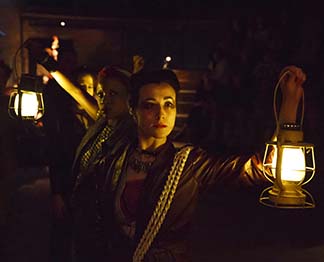 The Fates:
"You sell your soul, you get your due
That is all we promised you
Heard that mighty trumpet sound
Crossed the river to the other side
Thought you'd lay your burdens down
And rest in peace in paradise?
Well there ain't no rest for your weary soul
Hades keeps you toiling
Shoveling coal in a big black hole
To keep his boiler boiling
A lot of souls have gotta die
To keep the rust belt rolling
A lot of spirits gotta break
To make the underworld go round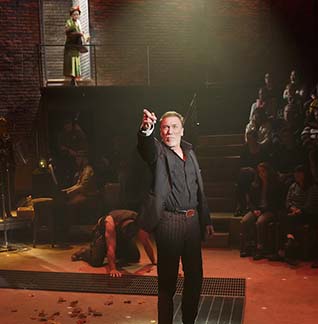 Way down Hadestown
Way down under the ground."
So the rust belt, factory town, is Hell. Well, the people who work there already know that, don't they?
It's a brilliant, riveting production. It shows why the New York Theatre Workshop has its deserved reputation for adventurous, inventive theater.
"Hadestown." Written and composed by Ana¯s Mitchell, directed by Rachel Chavkin. New York Theatre Workshop, 79 East 4th Street, New York City. 212-460-5475. Opened May 23, 2016; closes July 31, 2016. 7/23/16.