Bonita & Billie Holiday
Written and performed by Bonita Brisker; directed by Denise Dowse.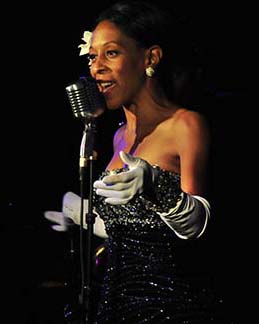 In a velvet ankle-length gown, white gloves and white fur stole, the signature gardenia over one ear, Bonita Brisker glitters like the rhinestones on her costume. "What a little moonlight will do…" she channels Billie Holiday, her songs, her life.
Greetings FBI" to the government thugs who harassed her. She reminds the audience that she "cut a man for putting hands on me wrong." And Count Basie fired her. And then, "Them their eyes!" It's a masterful performance that brings Billie to life.
You feel you are in a jazz café as Brisker relates to the audience. "Good morning heartache." "Ain't nobody's business if I do." And "The man I love." Her light nasal sound — sweet, sugary, round — makes you think Billie.
But the show is also dark. Horrific photos of lynching are shown on a screen as she sings "Strange Fruit," which she made famous and which is forever connected to her. "Billie" recalls that she couldn't find the writer, Abel Meeropol, who used the pseudonym Lewis Allan, because he was a communist.
Billie's own tragedy was drugs. We see her fix cocaine with a spoon and a match. Then tie a rubber band around her arm for heroin.
The famous song she co-authored, "God bless the child," was written with Arthur Herzog, Jr. The back story is that she had lent her mother thousands of dollars to open a restaurant, and when she was in need, her mother wouldn't help. "God bless the child that got his own" means his own cash! I knew Herzog's son, the late writer Arthur Herzog III, and it was part of family lore.