The Fringe is not only about theater. There is also dance. Here are performances I found important.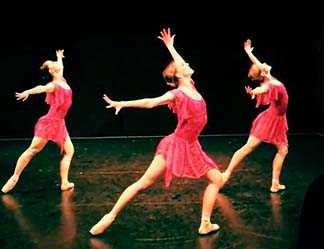 The classic Studies in Red, 3 girls 2 boys, twists, turns, high kicks and poses in excellent form was a highlight of the Dance Forms show at Edinburgh.
This choreographers' showcase has been presented at the Fringe for 15 years, and it's a good chance to see an eclectic selection of creative dancers, ranging from traditional to minimal. In this case, the best were traditional! Of the dozen performances, I liked these four best.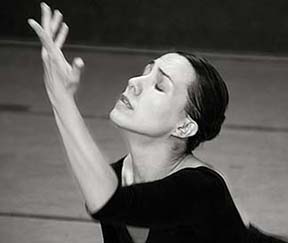 Choreographer Lauren Speirs, who also danced in the piece, uses Philip Glass' "The Hours" to set the mood, and the mode, which is on toe. The other very good performers are by Clare Bassett, Nicole Fedorov, Diamaid O'Meara, Gearoid Solan.
And the best of classics, Luisa Chaluleu of the National Ballet of Guatemala shows great technique in her modern, elegant, fluid interpretation of Bach's Violin Concerto in A Minor, Allegro Moderato. Multidirectional Concepts was choreographed by Susana B. Williams.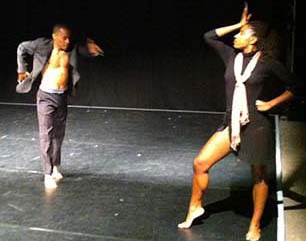 For a change of pace, I liked "Get It While You Can," Jada Rose Cunningham and David P. France dancing to France's steps, music Terry Callier "Love Theme from Spartacus" and Joe Sample's "Hippies On a Corner."
It is jazz ballet at its best, angular, reaching, turning, they leap, arms flying to the "swing" piano.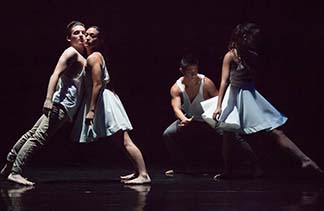 In "Bound," by McClaine Timmerman, danced to "Twins" by Gem Club, two couples, Dana Husary, Sarah Hong, Edgar Aguirre, John Barclay, put together the classical and the jazzy in their leaps and turns. Crisp and clean and appealing.
Choreography by ‰owyn Emerald Barrett; concept and co-design by James Mapes; dancers ‰owyn Emerald Barrett, Josh Murry, Joel Robert Walker, and Mari Kai Juras.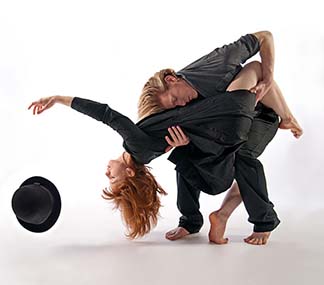 This is a modern troop, moving to a pulsating jazzy sound, then a French style accordion. In Trinary, figures seem like gnomes, escaping into the lights. Turns and leaps, then faster music.
I liked when it turned quiet, with figures seeming almost like sculpture. In this couple, a woman is slow, then aggressive.
In another piece, two women do rough twisting movement. Two men move to a slow violin, then bring in the women and seem to drop them underwater. At least that was my image, that they are all in the deep!
It's a choreography not only of movement but of stunning visual imagery.