I spent six days in August at the Edinburgh Festival Fringe, the world's largest arts festival. Out of the hundreds of plays presented, I sought out those about politics. I've divided the best by their themes. Here are two about the system's corruption: "The Trial" and "Enron."
It's quite fascinating to see surreal plays about systemic corruption a century apart. Franz Kafka was ahead of his time in describing the nature of the evil of modern society. His 1915 story "The Trial," adapted in Edinburgh as a play, shows the evil of a government bureaucracy that grinds up a banker for no particular reason. Then look at Lucy Prebble's "Enron," still surreal, where the bureaucrats are now corporate officials, but are still presented, like the Kafka play, as if this were a weird vaudeville.
"The Trial"
Written by Franz Kafka and published in 1925. Adapted by Matt Holt and Evelyn Roberts; directed by Craig Sanders.
Think of Kafka's hundred-year-old story as an introduction to what occurs now more subtly.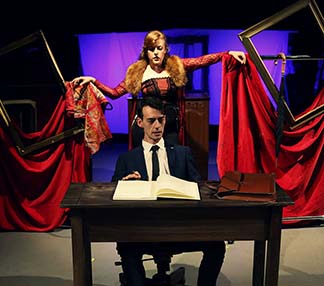 Josef K. (William J. Holstead), the chief cashier of a bank, is arrested by two bureaucrats who don't say what he has done. The set is brightly lit, which makes you feel part of the events. Sometimes characters appear behind painting frames.
The system is flawed. At a court of law, we hear sounds of sex. Elsa (Amy Gavin), a prostitute, tells Mr. K. that no one is innocent. The system turns him violent, so that those he interacts with become his victims. They are all perpetrators and sufferers. It's a punishment system.
He tries to stop attacks against the officers who arrested him. We see Block (Matt Holt), a cartoonish figure who is his client and is on a leash like a dog. Uncle Albert (Adrian Palmer) is a bizarre fool. An Italian gets Josef K. to slap a woman and throw her to the ground.
In the end, Mr. K. uses his knowledge of the system to defeat his attackers. But then he is murdered. The system is victorious. A metaphor, of course.
Sanders' direction is purposefully exaggerated. William J. Holstead as Josef K. and the other actors are very good.
"Enron"
Written by Lucy Prebble, directed by John McLinden
Nearly a century later the political bureaucracy has turned corporate. Kafka might have written this story, but Lucy Prebble is just as surreal. The villains are not faceless bureaucrats, they are Enron President Jeffrey Skilling (Collin McPherson), in pin stripes, and a quirky-looking chief financial officer, Andy Fastow (David McCallum). And they are characters in a musical.
I never saw "Enron" in New York because New York Times critic Brantley savaged it so much that it closed. Brantley of course is right-wing. But it was a hit in London in 2009-10, and I was pleased to get a chance to see a community theater production in Edinburgh.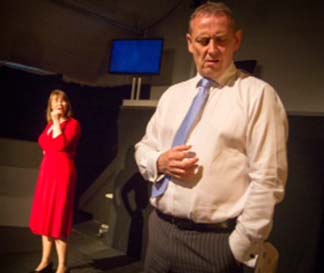 There were some good performances, especially by McPherson as the arrogant pin-striped villain, Skilling, and Derek Marshall as Enron's white suited laid-back Ken Lay (Kenny Boy, as President George Bush would call him.) Director John McLinden handles a limited space with imagination, making musical numbers lively and expressive.
If "The Trial" is evil-doers acting on unknown motives, the Enron saga makes the details all too clear. Instead of producing energy to sell, this company would trade it. But trade the perception of energy instead of the reality. Skilling's trick was to boost the share price by "mark to market," to book (claim) profits it would make in the future. And to deregulate electricity to make the market boom. He was helped by Fastow, shown here as a jerk, who had no problem finessing the regulators. Who were easily finessed. Hark back to Kafka's bureaucrats.
"Don't we have to check with the accountants?" "Get me Arthur Anderson." Fastow is told there's a conflict of interest. He replies, "We can take our business elsewhere." Anderson will approve if the lawyers approve. The lawyers say, "It's against your code of conduct. Ask your board." The latter arrive as blind mice.
Lehman Brothers gets into the act, wants to deal with Enron. That will be done through fake shell companies called raptors. Is this getting too dense? But this is a musical! Here come the raptors, giant lizards out of Jurassic Park, which Fastow uses as the names of offshore shell companies to carry out an Enron scam. Enron was not making money, but it didn't want to report losses. So Fastow, promoting himself for chief financial officer, created companies to which he could push the debt. The Raptors.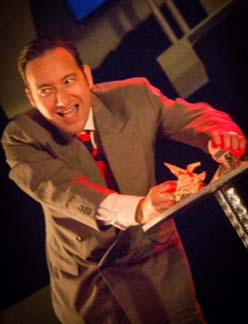 All explained by the business girls, a song-and-dance and chorus line who represent the people who knew about, organized the scam. Sleight of hand? Okay by Wall Street regulators, including the Fed's Allan Greenspan. It went on from 1991 to the final collapse 2006.
The principals are crude, though I think a sex affair between Skilling and a top female executive, Claudia Roe (a too over-the-top and too blonde Suzie Marshall in a red dress) was out of place.
Then Skilling wanted to develop stock options to enrich himself, and Andy explained that could be done through "structured finance." Heard that one before? A nice way of saying cooking the books. Fraud.
When California deregulated its electricity market (be wary of such), there were a lot of loopholes Enron could use for "arbitrage." (Arbitrage means gaming the system.) Like cutting off power. Enron gamed the state. California suffered rolling blackouts, the first time in 65 years. The electric power market was in chaos. Traffic lights were down, a woman was killed. Patients were airlifted out of state hospitals. California declared a state of emergency. Fastow: "You want your power back, fuckin pay."
The production is very good at musical and satirical numbers telling a story that could make your eyes glaze over. As events unfold, people are calling Enron a black box. A Fortune Magazine reporter raises questions. John McLinden is good as a Senator who challenges the scam.
Finally, in 2001, Enron, with 20,000 employees, enters free fall. Skilling leaves with a fortune of over $100 million, but he will be sentenced to 24 years in prison. Fastow gets six, because he testifies for the prosecutors. Lay is found guilty of securities fraud, but dies in 2006 before his sentencing.
Glad I saw the show, though a community theater can't match the production values of the West End or Broadway. And, by the way, in case you are wondering, structured finance still goes on.