By Lucy Komisar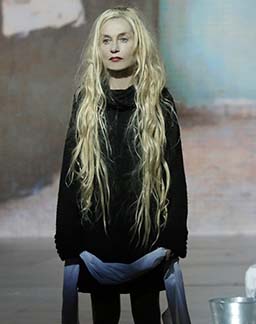 This is one of the most interesting bad plays I've ever seen. The production by the Odéon Thé¢tre de l'Europe is in French, with English surtitles. The best part was a riotously funny and clever satire of the pretentious French intellectuals who hold forth and preen on TV talk shows. Isabelle Huppert is perfect as a very self-involved novelist speaking in double-time to explain the sexual connections between gods and humans.
That comes from the part of the production based on writing by South African novelist J.M. Coetzee. But most of the 3 ½-hour long (very long) evening is simply pretentious. Director Krzysztof Warlikowski, artistic director of the Nowy Teatr in Warsaw, starts with the Greek myth of Phaedra, daughter of the king and queen of Crete, who, according to this telling, after Athens' King Theseus has defeated and slaughtered her people, agrees to a marriage to Theseus.
The description of the killings, including of children, are graphic and meant to remind you of current bloodsheds. I thought, maybe this could be interesting. But politics is soon eclipsed by sex.
After marrying Theseus (Alex Descas), Phaedra (Huppert) falls in love with his son, Hyppolyte (played first by Ga«l Kamilindi, then by Andrzej Chyra), 20 years her junior.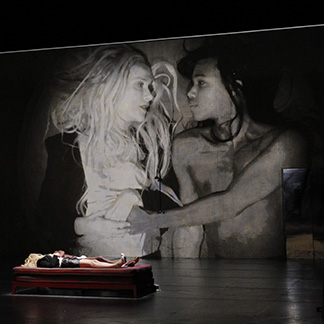 In the first version, Huppert is the goddess Aphrodite. Hyppolyte (Ga«l Kamilindi) thinks she is a high-end whore. But he, who for some reason, also takes the form of a dog, engages with her in vivid sex and orgasm, all projected larger than life on the backdrops. Kamilindi is terrific in the role of man/dog.
That first part also includes the most un-erotic erotic dance I've ever seen. It is executed by Rosalba Torres Guerrero, cast as an Arab dancer, who with admirable physical control frenetically moves and shakes and twists every part of a body enclosed in skimpy glittery g-string and bra. I assume this attempts to set the erotic scene.
Most of the play deals, also graphically, with Phaedra's failed seductions of the young man. According to the myth, Hippolytus (Hyppolyte in French) was not interested in his stepmother. In Warlikowski's more bizarre and saleable version, she performs oral sex on him. Seduction? At least he didn't protest. The first section belongs to the collaboration of Wajdi Mouawad, a Lebanese-Canadian playwright.
Then, a lot happens. She is in a silk slip, and suddenly her crotch is bleeding red. Rape? She washes herself from the shower on the wall. All is projected on the walls. For some reason she thinks she is in a 5-star hotel with Philippine maids. She is tormented about refugees and remembers the children Theseus murdered. (Yes, I was also confused.)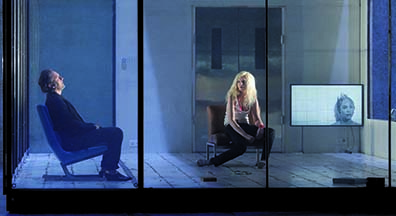 The next, dark, rich-kids' version inspired by British writer Sarah Kane is more interesting. Hyppolyte (now the cool Andrzej Chyra) is still not interested in Phaedra. He spends desultory days in a clear white box apartment (which is pushed onto the stage), playing with remote-controlled toy cars, receiving visitors who want to sleep with him (his description is more graphic), and watching TV.
The Arab dancer appears nude (below the waist) since she has just slept with him. She pulls on a black bikini. All desultory. Passion? It doesn't exist.
Then, for some reason, the only thing the TV shows during a long conversation between Hyppolyte and Phaedra (now dressed as a bourgeois lady) is a looped video of Janet Leigh being stabbed in the shower in "Psycho." Illicitly desired sex by bad-guys leads to murder?
There's also a section where Phaedra discusses Hyppolyte's condition with a shrink (Descas) who advises sagely that if he stays in bed, he will be depressed. He adds, "He is unpleasant. You will get over it."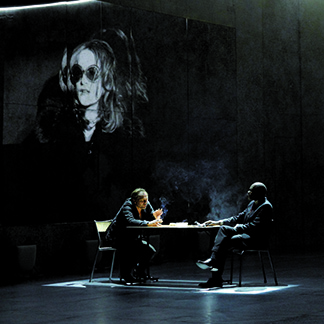 Turns out that Phaedra hasn't seen her husband since their marriage. We will learn that he spent that night with Strophe, her daughter (tall, trendy Agata Buzek in jeans and glittery heels), who has also bedded the son. Do you need a scorecard? Is this reality TV? Did I mention the various episodes of throwing up?
At this point Huppert becomes increasingly erratic and screechy. As she is a good actress, I fault the director. Passion/emotion can be expressed without screaming. Hyppolyte is mostly bored. Finally, (again) Phaedra accuses him of rape. From there the play descends into a really bad movie. At the shower conveniently fixed to the back wall (shower as in "Psycho"?) she attaches a nylon stocking.
On her funeral pyre, Theseus, who lies atop the body and pumps it to get a last sexual kick, vows to kill his son. We hear the howls of dogs.
In a final talk with a minister (Descas again), Hyppolyte declares that he doesn't believe in God. Which somehow leads to the minister performing fellatio on him. What, again? Can't Warlikowski think of any other business? Does he have a secret porn addiction?
Then, another rape, another suicide. (You figure who is left in the cast to be the rapist and the victim. Hint, they are related by marriage.) As avant garde, this production descends to the ridiculous.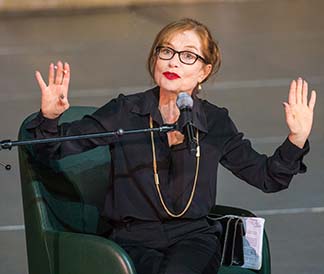 So, after an inexplicable film clip about lobotomies, we finally get to the very funny J.M. Coetzee-inspired Elizabeth Costello story of the novelist talking about sex between the gods and humans.
And the line of Mary, "God got me pregnant." Followed by, "Didn't her girlfriends ask how it was?" Of course, Costello quotes Wittgenstein in some context. De rigueur. Don't you just love French intellectuals! This brilliant part makes it all almost worthwhile. (But not quite!)
Three and a half hours could have been cut to two, with a lot devoted to that witty last part. Isabelle Huppert is a talented actor, and so are some of the others in this production. They deserved a better play.
Phaedra(s). Based on works by Sarah Kane, Wajdi Mouawad and J.M. Coetzee; directed by Krzysztof Warlikowski. Odéon-Thé¢tre de l'Europe at Brooklyn Academy of Music. BAM Harvey Theater, 651 Fulton St., Bklyn. 718-636-4100. Opened Sept 13, 2016, closes Sept 18, 2016.