By Lucy Komisar
There were 70 singers telling stories to music, swinging to jazz beats, crooning emotion and trilling high notes at the annual Mabel Mercer Foundation Cabaret Convention. In four days at the Rose Theatre, dedicated by Lincoln Center to jazz, you could hear performers as young as 15 and as old as 88 present stunning new and veteran talents – in fact, the special thing about cabaret is that it has no age limits.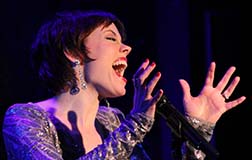 Here are some of the best I heard over the week, at separate programs that were tributes to jazz singer Sylvia Sims and the great musical theater writers, composer and lyricist Stephen Sondheim, lyricist Sheldon Harnick and composer Charles Strouse.
Making it a story. That's the best, the special feature of good cabaret. It's not just carrying the tune, it's creating drama and emotion. Among the new soon-to-be-greats are two young women.
Carole J. Bufford, already headlining at New York jazz clubs, is a name you are going to know if you don't already. She doesn't just sing she performs, she moves and twists as if she's a dancer. In a rendition of "St. James Infirmary," her voice cries out and competes with the trumpet.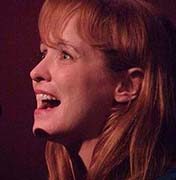 She is a major jazz singer and is poised to join the greats.
Lauren Stanford, a younger "to be great," received a Julie Wilson Award, and I could see why as she sang/acted Eve from Strouse's "Applause," based on "All About Eve." Her soprano has resonance and emotional sincerity as she pulls off the mask of Eve the manipulator, that twitchy, bitchy, manic character she makes alive.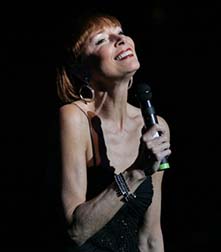 The experienced Karen Akers, in black gown and red hair, is a perfect cabaret singer and terrific Sondheim interpreter as her slightly jazzy round voice tells his dramatic "Follies" story.
Donna McKechnie, again in "Follies," the perfect place for dramatic cabaret singers, provides sad elegance, a clear rich dramatic voice as Sally singing "Buddy's there."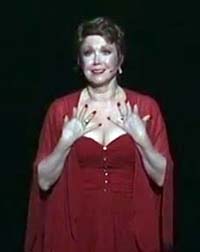 Corinna Sowers Adler did one of my favorites, "Dear Friend," the vanilla ice cream song from Harnick's "She Loves Me." With a lovely soprano, she could be on stage, acting a charming coloratura. She got cheers.
Penny Fuller, "Welcome to the theater, where treachery is sweetly done." Acting Eve Harrington, she is the toughness, the nastiness, of this infamous actress. Her voice rings out. "Welcome to the theater, you fools, you love it so."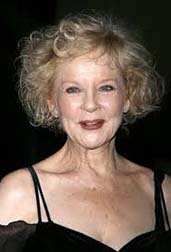 Not that things were so wonderful for women in the past. Raissa Katona Bennett and Maureen Taylor and Julie Reyburn did a stunning rendition of "Pretty Lady" from Pacific Overtures, Sondheim's musical about American sailors on the voyage that invaded 1853 century Japan. (American history calls it "opening up Japan." It was an invasive assault by an imperial power.) And the song tells of sailors coming on to young geishas, actually forced prostitutes. It moves and catches you, as you realize how American history whitewashed sexual assault.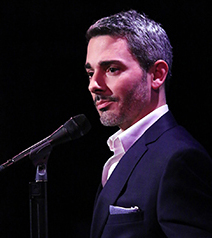 I love the jazzy bluesy inflection. Joanne Tatham does a swing version of Strouse's "It's a bird, it's a plane, it's superman." Speaking to Clark Kent, her panache, her inflection, her vivid interpretation, every change of intonation pulls you in to the life on the stage.
Eric Yves Garcia's rich baritone soars in a jazzy rendition of "Summer Wind."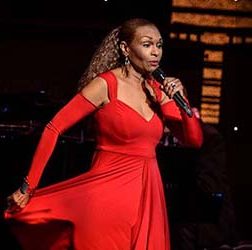 And Vivian Reed takes the A-Train in swinging high notes that sound like a train's whistle, jazzed up, syncopated to foot taping and head nodding. Her "Sweet Georgia Brown" is a show stopper. And four guys join her for high-kicking dances. The dénouement is a gospel scat!
Another jazzy performer was T. Oliver Reed, doing distingué songs of a saloon singer. Very dancy, "I'm throwing a ball tonight," and then mellow Harlem stuff with the strong melodic sound he did at a "Cotton Club" show.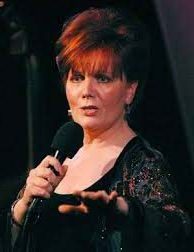 When Maureen McGovern sings, it all sounds like a story, her elegant voice takes us "over the rainbow" and moves to the flippant blues torch idiom. She was presented with the Mabel Mercer Award.
Jazz singer Nicholas King has a smooth swinging baritone. His "Looking at you" with snapping fingers channels Sinatra.
I liked Carol Woods singing "Pick yourself, up start all over again" (Jerome Kern and Dorothy Fields) with a jazzy, R&B inflection.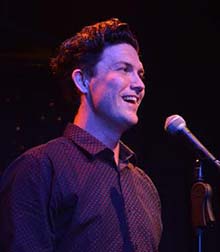 Joshua Lance Dixon's warm, deep multilevel voice soars, as he moves though swing and a bit of scat in "I've got a lot of livin' to do" from Strouse's "Bye Bye Birdie." He takes you along on that trip.
Then there's the Broadway style. Jennifer Sheehan in a red strapless gown and a lovely charming soprano pulls the audience along with a smashing performance of Sondheim's "I'm just a Broadway baby."
And the clear sopranos and crooners. Ann Hampton Calloway does a syrupy "Honeysuckle Rose" and then a jazzy "Ain't Misbehavin," her voice hitting deep and high notes like a horn riffing. I loved her "Skylark," with full rich sound swirling around her, her sultry, honeyed voice waving though space.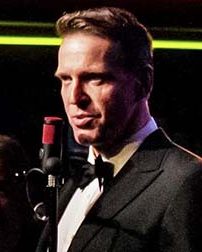 Todd Murray, who got the Margaret Whiting award for his honest expressive sound, is a crooner with a deep baritone who sounds like classical radio or old movies of the 40s. In a voice with great timber, his "Sunrise, Sunset" from Harnick's "Fiddler" subtly evokes the scene of the play; in your mind, you see the stage set.
Liam Forde has depth of voice, elegance, and charm and his emotions fly through the moods as he sings "here's my girl and me, you can't hurt us now," from Strouse's "Golden Boy," a show written for Sammy Davis Jr.

Iris Williams's colorful soulful voice, sense of artistry, and low soprano, make you think almost of church music as she intones, "Careful the things you say, children will listen" from Sondheim's "Into the Woods."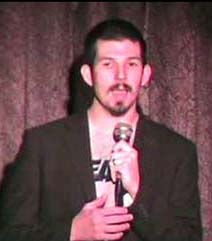 Tenor Stearns Matthews offers up great emotion in his expressive words, "God has given you to me," the "Miracle of Miracles" song from "Fiddler."
Josephine Sanchez shimmers like her gown, her soprano bright and sparkling with dramatic emotion. Her sorrow shines through her "Not a day goes by" from Sondheim's "Merrily We Roll Along."
Josephine Bianco, young, new, sweet, is only 15, and everyone was astonished at her strong bell clear voice belting out "People who need people." Watch out Streisand.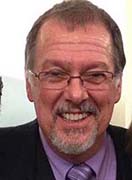 And there's comedy. Valerie Lemon is a comic charmer and terrific soprano promising, "I'm going to marry the next man who asks me" because, "waiting for ships that don't come in, a girl is liable to miss the boat." Yes!
Eric Michael Gillett does a brilliant show-stopping "Everybody dumps on Hades," from Sondheim's "Frogs." With zing and panache, he delivers the funny clever satire: "Hell is cool… an endless party…everybody's invited. It's party till you drop."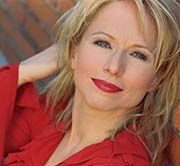 Karen Oberlin in red satin does another smashing comic ditty, Randy Newman's super nationalist satire, "Let's drop the big one and see what happens." She is saucy and sassy as she belts out, "We give them money but are they grateful…drop the big one, pulverize them. Oberlin can sing anything.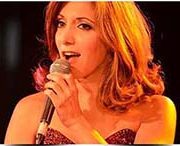 And speaking of comic, everyone loved Christina Bianco imitating the great divas, Streisand brilliant with her round tones; Bernadette Peters, think prunes; Garland powerful emoting, Kristin Chenowith like a speedy recording, Julie Andrews open, a bit British and Celine Dion, hot and noisy!
To close my list, if not the shows, Barbara Carroll, at 88 is still a virtuoso jazz piano player, whose Cole Porter medley makes jazz sound classical.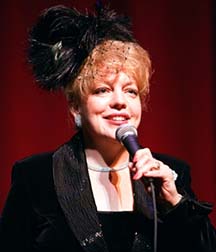 Among the hosts, KT Sullivan, who organizes the event, did a swinging "You're the tops," shifting moods and sounds, calling up a bit of the movie scene.
The personable Klea Blackhurst, her comic nasal Ethel Merman voice reminding one of a horn, put out a pulsating "Those were the days," though she knew that the present didn't need another right-wing souvenir of a time when "we didn't need no welfare state, girls were girls and men were men."
And Jeff Harnar & Andrea Marcovicci, classic sophisticated cabaret artists, reminded us what the art form is about.
About the egotistical critic Rex Reed, who thought the tribute to the late singer Sylvia Sims was really about him, the less said the better. Or "Mr. Reed, next time say less."
Cabaret Convention 2016, Produced by Mabel Mercer Foundation, Rose Theatre, Time Warner Building, Broadway & 60th Street, New York City, Oct 18-21, 2016. The cabaret convention is presented every October. 10/27/16.