by Lucy Komisar
The protagonists sometimes scowl, smirk, sneer, scream, run with branches to represent a forest, are pushed around on roller chairs, pass through moving doorways that reflect entrances and exits, and occasionally face inches away from first-row audiences to pull them into the plot. Not quite Bedlam but you get the very idea from this troupe that believes in "the immediacy of the relationship between the actor and the audience…collapsing aesthetic distance…[in] a kinetic experience of shared empathy."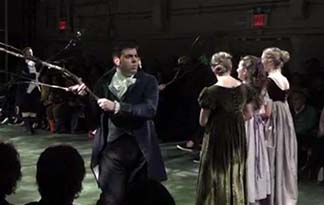 The Bedlam theater company takes an early 19th-century soap opera and turn it into serious sociology as comic slapstick with great success in this adaptation by Kate Hamill and direction by Eric Tucker.
Jane Austin's novel was published anonymously "By A Lady" in 1811. Set in the late 1790s, it tells of the trials, loves, sorrows of the Dashwood sisters, Elinor and Marianne, both of an age to marry. And also of the young men of a certain class who were supposed to succeed in life without a particular job, as long as they pleased whoever would leave them an inheritance.
Pulling the present into the past, it starts with rock dancing and moves to the circle dances of the 1800s, when women's dresses become empire gowns and the men get cutaway coats. It was a time when the task of a young women of a certain class was to marry well and of young men to pick a wife of wealth. The point is that the system, all about money, strangled people of both sexes who wanted anything other than cash.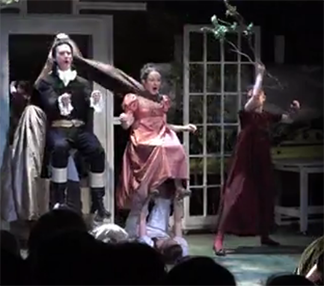 In this serious caricature, the problem is that when Mr. Dashwood dies, the property, via primogeniture, goes to the son John (John Russell) by a previous marriage, cutting out his widow and three daughters. And when the son wants to adhere to his father's wishes and settle some money on them, his permanently purse-lipped nasty wife Fanny (Laura Baranik) quashes that.
So the sisters have man problems. Because they have no money. And John's brother Edward (Jason O'Connell), a somewhat good-natured but ineffectual fellow, might be a suitor but is practicing Shakespeare. His ambition is to be happy, not wealthy or famous, but he has little chance of either, since he is not allowed to have a profession.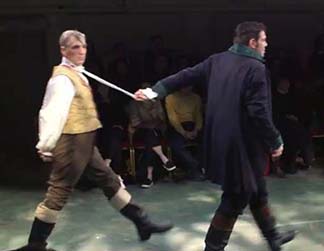 This is a very physical, absurd, clownish production, including invisible barking dogs. And a hokey encounter between the charming John Willoughby (Russell) and daughter Marianne Dashwood (Kate Hamill), who talk poetry at each other with exaggerated grimaces. Fanny is also adept at screeching and howling like an animal, betraying some repressed instincts.
There are lovely gossipy choreographed numbers, including a dinner with diners pushed on chairs directly to the audience to talk to them, knives and forks in hand. When two carriages arrive, the passengers are sitting on the upturned legs of two other performers. In another scene, Edward Farrars arrives holding the reins of "a horse," a snorting actor. Characters brandish branches of trees. Scenery moves. Gossips are caricatures. Lit chandeliers sway wildly over the stage. Someone who is supposed to sing an aria sings "Aria, aria, aria, aria!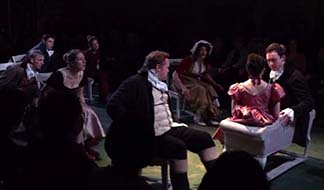 My favorite character is Mrs. Jennings (Nicole Lewis), the grinning, jokey, white-capped mother of the Middletons, who give the Dashwoods a place to live. She takes a good-natured match-making interest in the proceedings. Though it turns out, alas, that the matches seem derailed because the eligible men have other women. (It will be fixed.) In the meantime, there are many gossips eves-dropping on lovers.
Carman Lacivita is excellent as the somewhat anguished Colonel Brandon who likes Marianne but is initially discounted for his advanced 35 years. Jason O'Connell, who plays both Ferrars brothers, is terrific as Robert, the funny obnoxious drunk. Kelley Curran is a super smooth Elinor Dashwood, with choreographed elegance.
Violin music backdrops the free-for-all melees. Only suggestion I would have is to cut the 2 ½ hours by at least 30 minutes. A great Bedlam event.
"Sense & Sensibility." Based on Jane Austin's novel, adapted by Kate Hamill, directed by Eric Tucker. Bedlam at The Gym at Judson, 243 Thompson Street, corner Washington Square South, New York City. 212-477-0351. First opened Feb 14, 2016, closed March 6; reopened Aug 23; closes Nov 20, 2016. 10/27/16.