By Lucy Komisar
It's a knock off of "West Side Story," here Italians vs blacks, and very hokey, but "A Bronx Tale" has a certain charm and pizazz nonetheless. The place is Bedford Avenue, tenements with fire escapes and pushcarts. And kids singing doo-wop. They are working class Italians, circa 1960.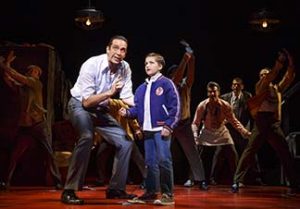 A young boy,  Calogero (Hudson Loverro), sees a local hoodlum, Sonny (Nick Cordero), a numbers guy, shoot a fellow who was beating up one of his gang, and he doesn't tell the police. The story song is "Look to your heart."
These are Sicilian-Americans and even hoodlums have a sense of community. Or they know they have to stick together. The swaggering Sonny has an exaggerated Damon Runyon New York voice, which we see in "Throwing the dice." And a breathy baritone. The kid has panache.
Sonny offers, "I'll take you for an egg cream." [My childhood favorite drink; if you were born too late, look it up.] And takes him under his wing. The nine-year-old does useful gofer tasks, nothing nasty. But this is coming of age with a twist as "C," as Sonny nicknames him, is growing up among petty criminals.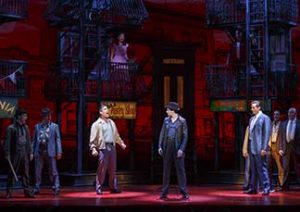 Eight years later, when Calogero (now Bobby Conte Thornton) is 17, the challenge is what he will do with his life. His parents opposed his connection to Sonny all along.
His father Lorenzo (Richard H. Blake) is an honest bus driver. He had wanted to be a musician, but when he and his wife had a child, he got a working class job.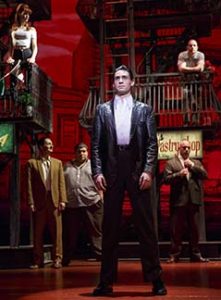 Calogero bought into the story that workers are chumps. He wears a black leather jacket and fedora and seems dressed for the part of moving up in the illicit world. Because Sonny has become the Capo di tutti Capi, the East Coast mafia's biggest "name," with "wise guys" coming to pay their respects.
Thornton has a strong baritone and is a bit  tough, gritty, but a charmer in the role.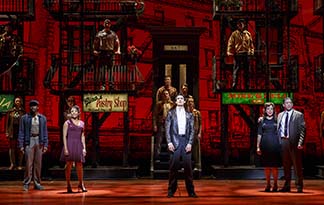 Then at Theodore Roosevelt High School, Calogero meets Jane, the very good, appealing Ariana DeBose, a smart saving-for-college black girl he likes. DeBose has a sweet thrilling sound. And Jane has the values of his father.
She  wants to get out of the neighborhood. The blacks live on Webster Avenue, which is just as down-scale as Bedford. Calogero is smart, but hasn't thought of that path.
Suddenly the Italian gang, his friends, are not just thuggish but racist. And misogynist. There was some vulgarity I could have done without (though in the age of Trump that might become commonplace), but that was to establish that these guys are really crude as well as nasty. They harass black people. And women.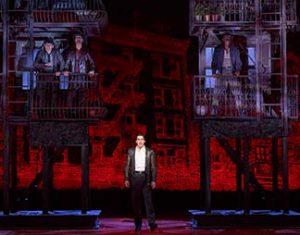 Sonny gives Calogero some life advice, based on what he learned about Nicky Machiavelli. Then he has a chance to show it.
When some tough bikers come into the bar in the gang's turf, Cordero says to give them beers. They pour it over the bartender. Then the Italians use their fists and more on the surprised visitors. Sonny throws a biker to the ground and stomps on his face. He tells him, "And never mistake kindness for weakness again."
He tells  "C," "Love or fear – it's up to you, kid…Nicky told me his secret…I owe the guy my whole career. So now I think it's up to you kid, you gonna choose love or fear?"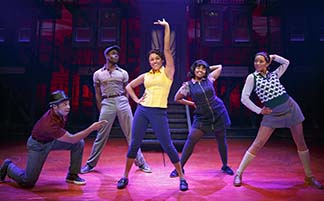 Things get more dicey when a bunch of the Italian thugs attack Jane's brother, then go with Molotov cocktails to bomb his social club.
The story veers close to modern bloody but old-time corny TV, but the show is saved by lively staging by directors Robert de Niro and Jerry Zaks, terrific doo-wop singing and dancing (choreography by Sergio Trujillo), colorful tenement sets (by Beowulf Boritt) and the very interesting juxtaposition of black and white music.
"A Bronx Tale." Book by Chazz Palminteri, music by Alan Menken, lyrics by Glenn Slater, directed by Robert de Niro and Jerry Zaks, choreographed by Sergio Trujillo. Longacre Theatre, 220 West 48th Street, New York City. 212-239-6200 or 800-447-7400.  Opened Dec 1, 2016. 12/25/16.