By Lucy Komisar
It's light fluff, but if you love 40s music, as I do, just forget the silly plot. Besides, the production and the actors are charming. And there is 40s scat. Also jazzy music, dance kicks, swing and tap. The show is based on a 1942 movie, but a lot of the songs have been added.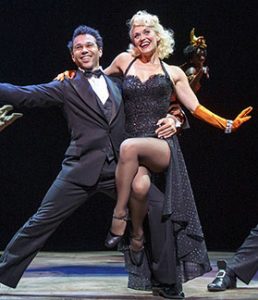 They are Irving Berlin classics: "Steppin' Out with My Baby," "Blue Skies," "Heat Wave," "It's a Lovely Day Today," "Shaking the Blues Away," "Let's Take an Old-fashioned Walk," "Be Careful, It's My Heart," "Cheek to Cheek," "Easter Parade," (how did that get in a Christmas show?) and of course the favorite Jewish Christmas carol, "White Christmas." Thank you, Irving. All the songs move the story.
So to deal with the story by Gordon Greenberg and Chad Hodge, which has been moved forward to post-war 1946-7. Rather hokey, with New York accents. Bryce Pinkham, a great baritone with charm, plays Jim Hardy who is giving up show biz to move to Connecticut and take "life" out of the storage boxes. Girlfriend Lila (Megan Sikora) will stay on the stage, even gets a bid to Chicago's Pump Room. She's pretty good, as you see her with dancer Ted Hanover (Corbin Bleu)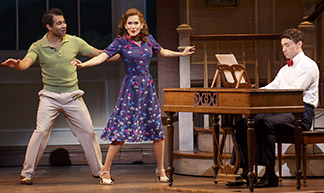 Back at the farm Jim is failing at farming. Though he has met a sweet school teacher, Linda (Lora Lee Gayer). But Lila and her show biz friends save the day. The performers will come to the farm on holidays and put on shows the locals will pay for. (Connecticut locals love the theater, right?)
A highlight is Louise, played in the performance I saw by the excellent understudy Jenifer Foote as a Latin dancer who goes only as far south as the South. Foote is terrific in her red hair and glittery dress doing "Heat Wave" with a voice like a horn and backed up by a troop of equally glittery dancers.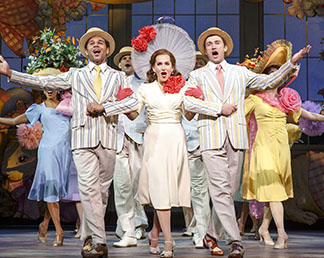 Ted Hanover (Corbin Bleu) also has lots of charm as he hoofs and proves "I'm easy to dance with." Denis Jones' choreography and Greenberg's direction make you twist and smile.
OK, it's hokey, not great theater, but a lot of fun. Love the 40s!
"Irving Berlin's Holiday Inn." Music and lyrics by Irving Berlin, book by Gordon Greenberg & Chad Hodge, directed by Gordon Greenberg, choreographed by Denis Jones. Roundabout Theatre Company at Studio 54, 254 W. 54th St., New York City. 212-541-8457. Opened Oct 6, 2016; closes Jan 15, 2017.