by Lucy Komisar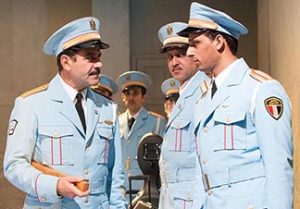 An Egyptian police band, the grandly named Alexandria Ceremonial Police Orchestra, in 1996 is supposed to play at an Arab cultural center in Israel, but gets the town's name wrong at the bus station and ends up in an Israeli backwater.
Haled (Ari'el Stachel), a somewhat laid-back trumpet player who loves Chet Baker, sings "My Funny Valentine" to female soldiers at the bus station. But the diversion plus imperfect English turns Petah Tikva, the city with the Arab cultural center, into Bet Hatikva. And so hangs the tale, and a charming, moving, slightly sentimental gem of a play.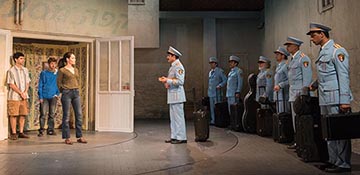 Twenty years ago was a tough time, when hardliner Benjamin Netanyahu was elected Prime Minister of Israel. But the people in Bet Hatikva are welcoming, warm-hearted and, like most folks, involved in their own personal desires and disappointments. And so, it turns out, are the Egyptians. The music – classical Arab music, Israeli music – also connects them.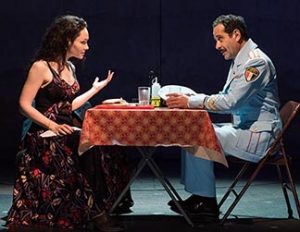 Tony Shalhoub plays the band's conductor Tewfiq, "the general," a rather stiff man in his 50s whose rigid demeanor hides a personal tragedy. And Katrina Lenk is the subtle, sensuous Dina, who runs a small restaurant  and whose failed marriage has left her angry, but still ready to taste life's enjoyments.
Haled, who keeps on asking the Israelis, "Do you know Chet Baker?" goes out with two young women to see the city. Dina, who is subtle and sensuous, takes the general to a café with music. A song tells about the Egyptian actor and heart throb Omar Sharif.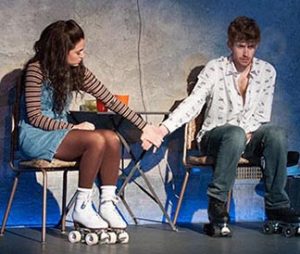 Everyone's sorrow is represented by a guy (Erik Liberman) sadly waiting at phone booth for a woman to call. An Egyptian clarinetist plays the prelude to an overture for a concerto he has never written.
Then, with all the unhappiness, they help each other. Haled advises Papi (Daniel David Stewart) how to talk to women who frighten him.
Dina asks the conductor to sing a song he sang when he courted his wife. And she connects romantically with another of the band.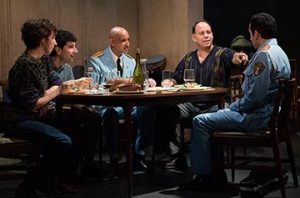 Several musicians have dinner with a local family, where a couple has their own problems. Turns out they have a baby, but the husband has never moved out of adolescence.
And so it goes. Director David Cromer has delicately made the point that shared humanity makes connections, including across political divides. The result is a very enchanting evening of theater.
"The Band's Visit." Music & lyrics by David Yazbek, book by Itamar Moses, based on screenplay by Eran Kolirin, directed by David Cromer. Atlantic Theater Company, 336 W. 20th St., New York City. 866-811-4111. Opened Dec 7, 2016, closes Jan 1, 2017. 12/17/16.