By Lucy Komisar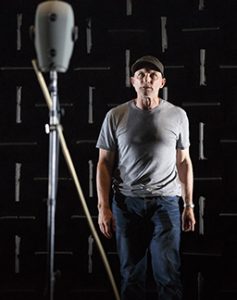 Simon McBurney, founder and artistic director of the British theater company Complicite (a French word here pretentiously spelled without the acute accent on the e) has produced a hokey often loopy and generally pompous conceit under the pretext of an anthropological mission to the Amazon.
He pretends to be the photographer Loren McIntyre in 1969. But the visual, as it would appear to an audience viewing the stage, is not enough. You get earphones to enjoy surround sound and sense that you are partaking of McIntyre's adventures and dangers. Something  blows in your ear, a noise comes from behind and you want to turn. You hear the crashes and echoes of the jungle. Think radio show sound effects.
The purpose of the trip we share is to meet the Myaruna people and connect them to civilization, which is partly represented by cheese doodles. But they don't appreciate his finer possessions and burn his watch and sneakers.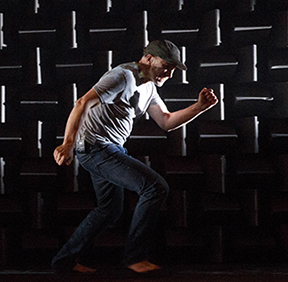 A jaguar hunt gives McBurney/McIntyre the chance to race around the stage in multiple laps. But it's a fake jaguar hunt (that is, a fake of a fake). He is  pushed into a thorn bush and bitten by mosquitos. With all that audio in your ear, and our hero lost in the jungle, it is like a 3-D naturalist horror movie.
A real annoyance is the character's 5-year-old daughter repeatedly asking for something in a voice beamed right into our ears.
Finally, he meets someone he can talk to. Six years before, a gunman working for developers attacked the tribe, but escaped. Working for a radio operator, he learned Portuguese. Now he is called "Over Over." (At least, I think that's what happened. The hyper-action is enough to make anyone dizzy.) In fact, westerners would come looking for oil with guns, planes and alcohol.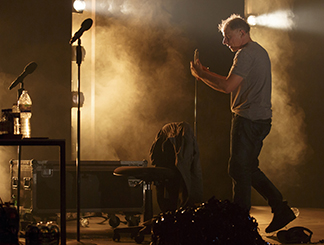 Alas, all the film and tapes our photographer  had made are destroyed by the unappreciative natives.
The real McIntyre eventually got home to Arlington, Va. The play is inspired by the book Amazon Beaming by Petru Popescu. The photographer/explorer died in 2003.
Now if McBurney had only turned this into a 3-D movie, he'd have the kind of adventure tale that 13-year-olds would flock to.
"The Encounter." Written, directed and performed by Simon McBurney. Golden Theatre, 252 West 45th Street, New York City. 212-239-6200. Opened Sept 29, 2016; closes Jan 8, 2017.