By Lucy Komisar
You can feel the humanity pulsating and striving through the drab surroundings of the car service office in "Jitney" by the great American playwright August Wilson, who died in 2005. The protagonists, moving in an orbit around the solid Becker (a resolute, moving John Douglas Thompson), who set up the cooperative 18 years ago, are working class guys with jobs, if you want to include the numbers guy, Shealy (Harvy Blanks).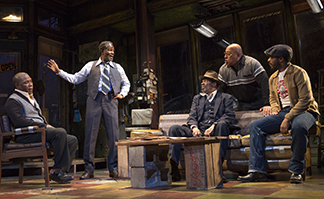 The office has a scruffy sofa, tables that are wood crates, a fridge stuck with clippings, mismatched faded tiles. Through large store windows you see two old cars. The background sound is blues and R&B. The year is 1977.
These men live a hardscrabble existence, but in the Hill District of Pittsburgh, they are a community. They know each other, sometimes too well as we see with Turnbo (Michael Potts), the busy-body, gossiping and interfering in people's lives.
The older men have settled into their routines. Becker worked in a steel mill for 27 years till he retired with a pension and a small house and started the car service. He wears a suit, white shirt and vest to work. Fielding (Anthony Chisholm), a drunk whose wife left him decades ago, is still a sympathetic character. When he feels strongly, his voice becomes a terrific half-screech.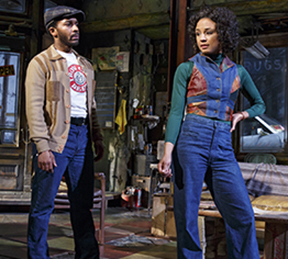 Doub (Keith Randolph Smith) is sober and solid. We even appreciate Shealy, who uses the pay phone to get calls from his numbers clients and establishes his presence with flashy suits of bright green or gold.
Then there are the young guys who take different paths. Youngblood (a strong, intense André Holland) is a Vietnam veteran struggling to buy a house for himself, his girlfriend (the very sensitive and smooth Carra Patterson) and their child so they can move out of the projects. Though he is clueless about how to go about it. You don't "surprise" her with a done deal!
And Becker's hot-headed son, Booster (a rather cool Brandon J. Birden), is back from 20 years in prison after shooting the white girlfriend who lied that he had raped her when her father caught them in a lover's lane.
The son argues he did what was right for him; he seems not to have a clue.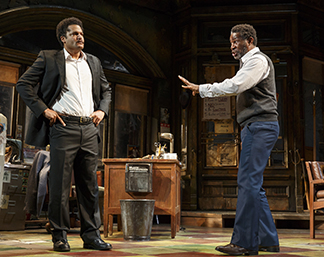 Becker expresses deep fury as he rejects his son, declaring, "Everything I gave you, you threw away."
The men deal with each other in bits and pieces, interrupted by the regular rings of the pay phone and their answers, "car service." Some of them talk a lot about women who aren't there, either about love or lechery. They spar, joke, bicker.
Halfway through the story we learn the city wants to tear down their block for urban renewal. Except in such cases, the city routinely just creates boarded-up buildings and empty lots that stay vacant for years. Putting holes in the community. Always a leader, Becker has an idea how to fight the city's plan. For all of them, it's about survival. And tragedy is always lurking.
The acting is excellent; the actors inhabit their roles. The black dialect may be hard for some to understand at first, but you get into it.
Ruben Santiago-Hudson's direction is subtle, not in your face. The characters have their flaws. But they are nothing as against the system. He makes you understand their struggle for survival in an order that is stacked against them.
"Jitney." Written by August Wilson, directed by Ruben Santiago-Hudson. Manhattan Theatre Club, 261 West 47th St., New York City. (212) 239-6200. Opened Jan 19, 2017; closes March 12, 2017. 12/31/17.