By Lucy Komisar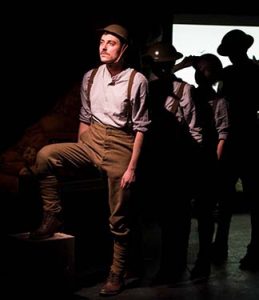 Macabre and whimsical, dark and comic at the same time, a clever satiric pen pointed at self-absorbed aristocrats of the early 1900s, Katherine Rundell's "Life According to Saki" is a delicious evening of theater.
It is based on stories of the writer Hector Hugh Munro. He used the name Saki, who was the bearer of the cup of life in "The Rubaiyat of Omar Khayyam." After briefly working in the British military police in Burma, he became a political sketch writer in Westminster. He joined the military during World War I and was killed in the trenches at 45.
These short skits are presented as if they are told to soldiers in the trenches. And the soldiers, three men and three women, act out the roles, dressed in military pants and helmets and seated on wood benches.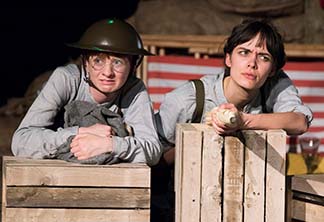 Rundell, who is a children's book author, has turned Saki's stories into plays that are definitely on the dark side. First presented at the Edinburgh Fringe in August 2016, where it garnered "firsts," this is typical of the best of Fringe plays, clever, subtle, intelligent. It was brought to New York by Carol Tambor, who each summer chooses the best of the Fringe to present here.
The production's cast, with an appealing David Paisley as Saki, are a perfect ensemble where the actors move as if they are choreographed. Especially a number where two pretentious women on the hunt shift from side saddle to the gallop. One of them comments, "My home may be an unhappy one, but at least I have hot and cold water and a butler." Yes, there's a lot of skewering of class.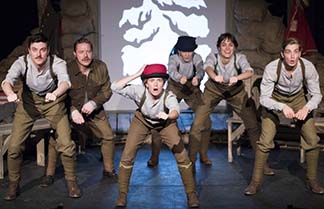 Once we hear the sound of seagulls, and see a couple of red and white striped deck chairs. A man and a woman, former lovers, have each secretly paid off staff to put the chairs in a secluded corner so they can sit next to each other. They are inexplicably angry at the other's ruse.
Then, thinking about getting together again, they discuss their children. Major Dumbarton admits to five. Emily declares, There's always a chance that one of yours might turn out depraved and vicious, and then you could disown him. He interjects, Good gracious, you've got to educate him first. You can't expect a boy to be vicious till he's been through a good school.
Another aristocratic lady seeking to make a rival jealous goes on a hunting trip and shoots an easy to get goat instead of a tiger. But she claims to the press it's a tiger. Her servant blackmails her to get funds for a cottage.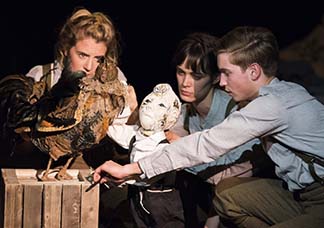 A few stories send up shivers, as in the boy who entices his mean aunt to the barn where he keeps a pet but sharp toothed ferret. The white-faced puppet boy is quite surreal.
Or they produce quizzical laughs as in the bizarre visitor who persuades a gullible brother and sister that the bishop is coming with orders to massacre everyone with a moustache. A politician visiting a farm community and talking about pigs and poultry is set on by very large realistic chicken and pig puppets. She gets her comeuppance.
There's a good deal of only half-innocent violence in these vignettes, which are part of what Saki describes as "war as a rest cure."
The production features a bit of vaudeville, a lot of the shaggy dog mixed with ghost story, the fanciful alongside the absurd. Sometimes it seems even a bit understated, but perhaps that is British. If you can't get to Edinburgh in August, see this to find out the kind of plays that win firsts there.
"Life According to Saki." Written by Katherine Rundell; directed by Jessica Lazar. Atticist production, presented by Carol Tambor Theatrical Foundation. 4th Street Theatre, 83 East 4th Street, New York City. Tkts or 866-811-4111. Opened Feb 13, 2017; closes March 5, 2017. 2/17/17.