By Lucy Komisar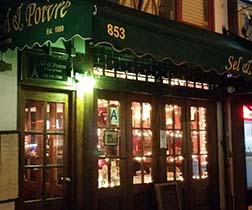 At this New York French bistro, game " often venison and quail " comes from Texas all through the year, but there's an annual festival featuring game till mid-March. I went to a press dinner featuring some of those specialties.
This is a very French restaurant owned by a family in which Christian, the executive chief, is Austrian! No matter. It's a long story. He fell in love with the owners' daughter!
I've been here three or four times, and the food and wine are always a treat.
This evening, I started with a welcome drink of Welsh Riesling. Very nice. Sel et Poivre has 20 to 25 wines by the glass.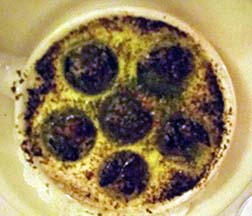 We began with appetizers of grilled venison and wild boar sausage. They reminded me of a country paté, only slightly spicy. Have to admit, they weren't my favorites. Not moist enough.
But I forgot that when I moved on to the next course, classic delicate garlicky snails (Went well with a C´te du Rhone.) Couldn't be better!
Then a soft velvety Red Pepper Bisque made with sweet mild red bell pepper, potatoes and cream. Quite nice for something bland in between spices.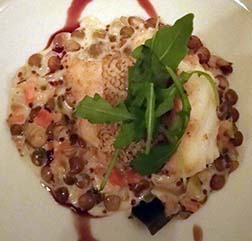 I loved the cod fish, its delicate flavor enhanced by creamy lentils and mustard seeds, making it slightly spicy, soft and rich. (Went well with a New Zealand sauvignon blanc). Fish starts bland, so it's always a challenge to bring out its flavor. This recipe works perfectly. And the dish almost looks like a work of art!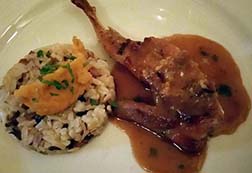 A favorite was quail stuffed with goat cheese in a port wine reduction. It was accompanied by a soft mild rice set off by a fruity sauce. (And a Languedoc red wine) Again, fowl needs fine tuning, and fruit and port for this collection were an excellent choice.
The final touch was a favorite, cr¨me brulé, with its lovely soft creamy center covered by the very slightly burned crust. Also an apricot crªpe with vanilla ice cream. Both delicious.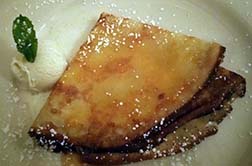 Owner/ma®tre d' Christian stops at all tables, greets, chats, discusses the dishes. Many of the patrons are regulars. If you come here, you will meet him. And you'll become a regular, too.
If you go
Sel et Poivre
853 Lexington Ave, New York, NY 10065
(212) 517-5780
This restaurant, 28 years old in June, is open for lunch through dinner from 12 to 10:30.
Photos by Lucy Komisar.