By Lucy Komisar
Glenn Close is masterful in Norma Desmond's final mad scene. Suddenly camp becomes real drama, tragedy of the Shakespearean sort. Till then the has-been silent film star, the grande dame who flounces around in glittery gold and silver sweeping gowns and capes, is hard to take too seriously.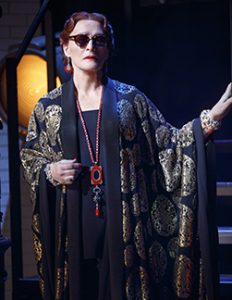 The camp is exaggerated by butler/major-domo Max (Fred Johanson), whose dark mood and piercing eyes could have come out of a Mel Brooks Frankenstein spoof. "Ghoulish" is a word to describe them both, and the haunted house they live in.
The plot inhabits, as befits an Andrew Lloyd Weber extravaganza, a grand sc¨ne, with a studio's industrial staircases and high walks, occasional autos represented by pairs of actors in the darkened scene carrying headlights (clever), though nothing like the chandelier in his "Phantom." There's even a dead body floating in air, but that comes later. Lloyd Weber likes the bizarre.
So back up, if you didn't see the Gloria Swanson film (I didn't) or a past production. Glenn Close played the role in 1993, and when it opened in New York, she got a Tony. Before that, Desmond was portrayed by Patti Lupone.
Norma Desmond (Close), a former movie star, is entombed (right choice of words) in a mansion on Sunset Blvd, complete with need-of-repair tennis court, need-of-refilling pool, and always chilled champagne. A house haunted by memories of her past movie star fame. Close descends a long staircase as if moribund. To add to the creepiness, she kisses the corpse of a pet monkey.
But more than 20 years makes a difference. The script says, "She looks younger than her age, which is probably somewhere in the vicinity of 50." Well, that makes her a silent screen star in the 20s who is a has-been in 1950. But the character Close portrays, in mood more than visage, hasn't seen 50 for a couple of decades.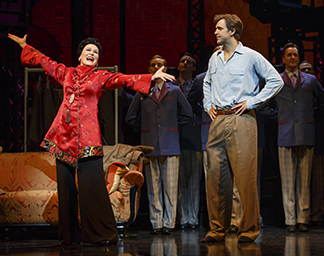 The third character in this odd ménage   trois is Joe Gillis (Michael Xavier), a young screenwriter fallen on hard times when he can't get studio work. Gillis, whose car is threatened with repossession by some mafia-type money-lenders, escapes their pursuit and ends up at Desmond's mansion.
When she finds out he's a screenwriter, her eyes get wide and her chops are licked (metaphorically). She promises  him big bucks and outfits him with an expensive vicuna coat and the like. (He protests all the way as a fey clothier with a retinue dresses him to the nines.)
By now, he's ensconced in a room above the garage and is editing/rewriting the dreadful Salome and Herod script Desmond has written, unasked, for Cecil B. DeMille (he appears, played by Paul Schoeffler). And he becomes her lover. That's where the age difference matters. 50 and 30, okay. But she seems 70. Seems weird. When he wants to leave, she's not above (faking, I thought) suicide attempts. The fellow is weak-willed to fall for that. Or like the others, he's been bought.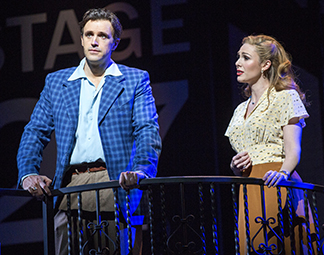 Xavier seems to wander between two productions, the other being a light-hearted sitcom, which includes his agreeing to co-author a screenplay from a short story he wrote and which Betty Schaeffer (Siobhan Dillon), a young woman working for a studio producer, likes.
The strangest turn of character comes after the fellow escapes Desmond's suffocating one-couple (just the two of them) New Year's Eve party to go to a down-scale friends' gathering. You think he has broken off the peculiar attachment.
But not long after, he tells Betty, who loves him, that he's not giving up the comforts and riches of being a gigolo, though he doesn't use the word.
You end up not admiring any of the characters. Close is good at playing the manipulative grande dame, but hard to separate that from her being  very good at camp, because I never was persuaded this was a real person. Her singing, which moves from reedy high pitch to better low tones, can't be compared to the great musical stage talents. Dillon as Betty is fine, with a sweet lilting voice. Xavier's sound is okay but forgettable.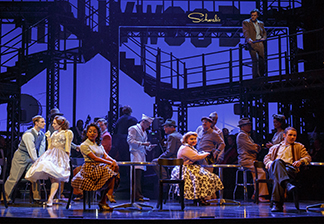 The side plot about struggling actors uses a song built around the hackneyed "let's have lunch." And clichés, "writers with pride don't live long."
There's a bit of timeliness in their discussion about rules for a screenplay. Betty says, "No one ever mentions communists. No one takes a black friend to a restaurant." It was the 1950s.
But it's all recitative; you don't go out humming much less remembering any melodies. There's a lot of violin. Maybe this was a great story on film; I didn't get it on stage. And Lonny Price's direction? I guess camp is what he wanted.
I should add that the audience loved this. I did not love the audience. A large number obviously came because Close is a movie star, and at her entrance and songs, they screamed and whistled and hooted like people at a rock concert. Very distracting and disruptive during the performance. And of course they whipped out their phones at the curtain call to take photos. I know, every audience deserves a play and every actor deserves a fan club. Just wish these people knew how to behave at the theater.
"Sunset Boulevard." Book & lyrics by Don Black & Christopher Hampton based on the Billy Wilder film.  Music by Andrew Lloyd Weber; directed by Lonny Price; choreographed by Stephen Mear. Palace Theatre, 1564 Broadway (7th Ave at 47 St) New York City. 877-250-2929. Opened Feb 9, 2017; closes May 28, 2017. 2/18/17.