By Lucy Komisar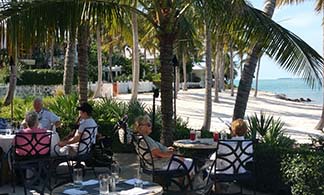 Diners with view of the beach.The best food in Key West is at the Latitudes restaurant on Sunset Key. There is a magical feel to this exceptional place which is on a small island you reach via a 6-minute launch ride from a pier at the north of Key West.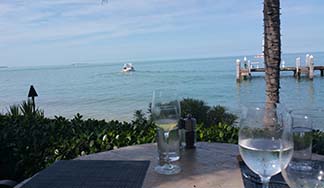 At the water's edge.It is the showpiece of Sunset Key, a resort with bungalows, pool, tennis courts and quiet inviting beach.
The restaurant is world class, both in cuisine and ambience. It sits on the Gulf of Mexico, edged by a low hedge, dotted with palms. Sometimes, if you are at a seaside table, you feel it is actually on the water.
I like to treat the experience in Latitudes as I would a visit to a museum, one artistic creation at a time. With three people, it was fine, as we shared each plate.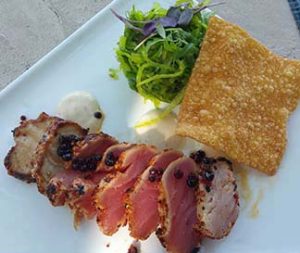 We started with rare tuna with balsamic pearls and a Miso aioli with egg white sauce. The pearls are made by putting tiny drops of balsamic into a special suspension. The slightly spicy tuna was set off by bland seaweed. Note that several pieces at the ends were more cooked at the request of one of the party.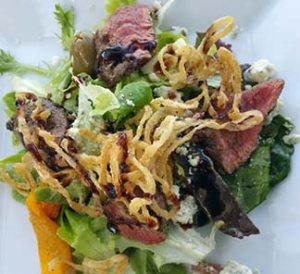 A favorite is gorgonzola steak salad – I've had it here before. The grilled tenderloin with thin fried onion rings, yellow sun dried tomatoes, hearts of palm, mushrooms and a delicate slightly spicy balsamic dressing is a taste-pleasing combination.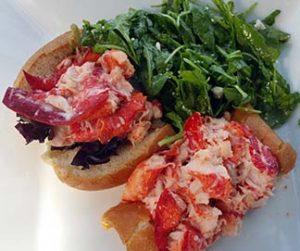 The meat was juicy, and the salad fixing set it off in a way that gave the dish a very light feeling.
I loved the Maine lobster roll with arugula and feta cheese and a mild white pepper and mayonnaise dressing. Often lobster is too bland, but not this dish.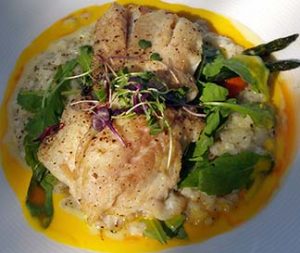 The yellowtail snapper sat on a bed of creamy risotto and yellow pepper sauce which, surprise, was not spicy.
But even when dishes are spicy, Latitudes gives them a subtle flavor, never overpowering.
Through the meal we had a favorite wine, Kendall Jackson Chardonnay.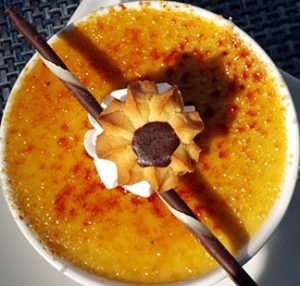 I thought desert after all the food in generous portions would be de trop! But it turned out that cr¨me brulé with raspberries was light, not too sugary.
I also couldn't resist the cheese cake topped with soft strawberries.
Afterwards, on the way to the dock for the boat back, we stopped on the beach to recline under straw umbrellas. And think about the best meal we would have in Key West.
If you go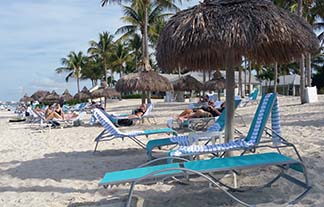 On the beach.Latitudes Sunset Key, Key West
(305) 292-5394
Latitudes is open 7am to 10pm daily. There is indoor seating in case of inclement weather.
Reservations are required. Your name will be put on the launch list so you can board to reach the island.
The boat departs from a dock opposite the Key West Resort & Marina parallel to Front Street in the north of Key West. You can return from Sunset Key when you wish. No pets, no smoking.
Photos by Lucy Komisar